British novelist Roald Dahl is best known for his children's books but whilst they're aimed at a younger demographic, almost all of them have darkly comic and threatening undertones. Matilda, James and the Giant Peach and George's Marvellous Medicine all feature wicked adults that the child characters have to battle against. It's this darker vision of human nature – only touched upon in his children's fiction – that's explored in Dahl's more sinister short stories for adults.
Dahl had a macabre sense of humour and he wrote over sixty short stories that have been compiled into numerous anthologies over the years. The latest collection is a series of eight books from Penguin, gathered together for the themes they explore and the feelings they evoke, with illustrations by famed British artist Charming Baker. From fear and innocence to deception and madness, these books are designed to "entertain, amuse and shock" readers, and that's exactly what they do.
Fear: Tales of Terror and Suspense is a compilation of fourteen spine-chilling stories by various authors that conjure a sense of dread and trepidation. As Dahl openly admits in his introduction, he longed to write a good ghost story but could just never pull it off. So he did extensive research into other authors' stories, making several trips to the British Museum Library where he collected "just about every ghost story that had ever been written".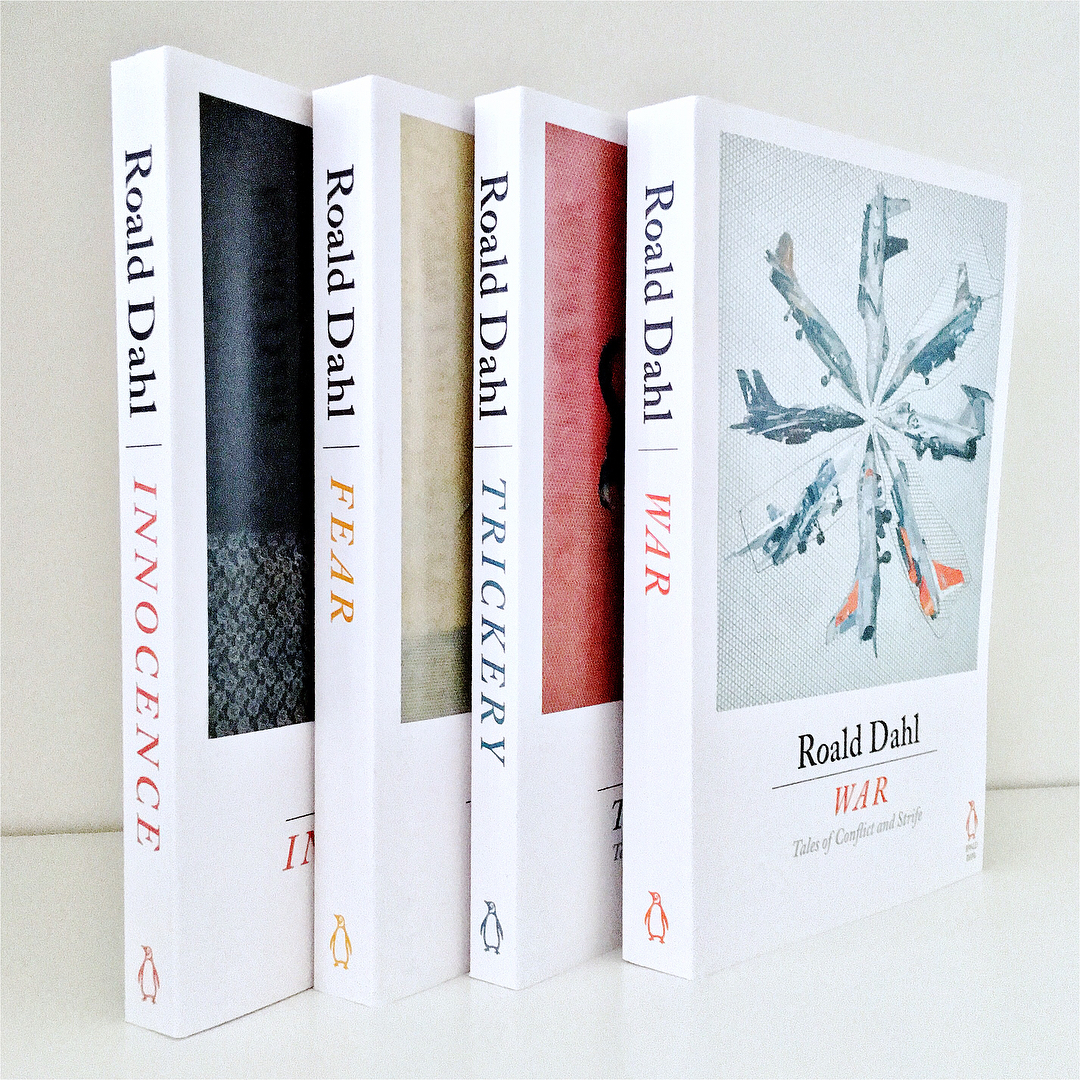 Dahl's original idea was to put together a stunning batch of twenty-four ghost tales and turn them into a TV series; in essence he wanted to do what Ryan Murphy has latterly been so successful with. The pilot was filmed and the American execs didn't bite; it wasn't the right story (the plot dealt with Roman Catholicism), or at least it wasn't the right time for such themes. So Dahl was left with all these notes, research and stories, the best of which are included in Fear. Featuring haunting tales from the likes of L. P Hartley, Cynthia Asquith, F. Marion Crawford and Mary Threadgold, it's the kind of collection that makes the hairs on your arm stand up on end.
Innocence: Tales of Youth and Guile is an altogether different book; a combination of autobiographical stories that Dahl wrote about his childhood and four further tales that explore the joy and pain of growing up. It's categorically "not an autobiography" and yet it recounts various moments and events in the author's upbringing through his own eyes. These real life memories are accompanied by illustrations, photographs and photocopies of letters that give glimpses into what makes us innocent and how all of us, no matter how much we try to hold on to our youth, eventually lose it.
War: Tales of Conflict and Strife takes a similar approach to Innocence, with autobiographical short stories of Dahl's experience working in East Africa in the late 1930's and as a fighter pilot with the Royal Air Force during WWII. We're given a glimpse into moments of history as Dahl reveals the human cost of conflict and war. Then there's Trickery: Tales of Deceit and Cunning, ten dark stories – previously published in the likes of the New Yorker and Playboy – about our ability to deceive both other people and ourselves.
Whether autobiographical or pure fiction, these collections of tales explore the very many facets of humanity, our emotions and actions, our desires and the motives that drive us. It's a very different side of Dahl that most of us who grew up on his children's stories are used to and it's an intriguing insight into the author's mind-set and perspective on the world, both generally and literary.
The other titles in Penguin's series include Cruelty, Deception, Madness and Lust, and they're all illustrated by Baker's particular brand of art, which feels at once beautiful, bizarre, nostalgic and disturbing. It's a terrific anthology for fans of Dahl and his short stories.
★★★★★
Roald Dahl's dark and twisted tales for adults are available now via Penguin. 

SaveSave
SaveSave
SaveSave