Read an extract from I Will Make You Pay by Teresa Driscoll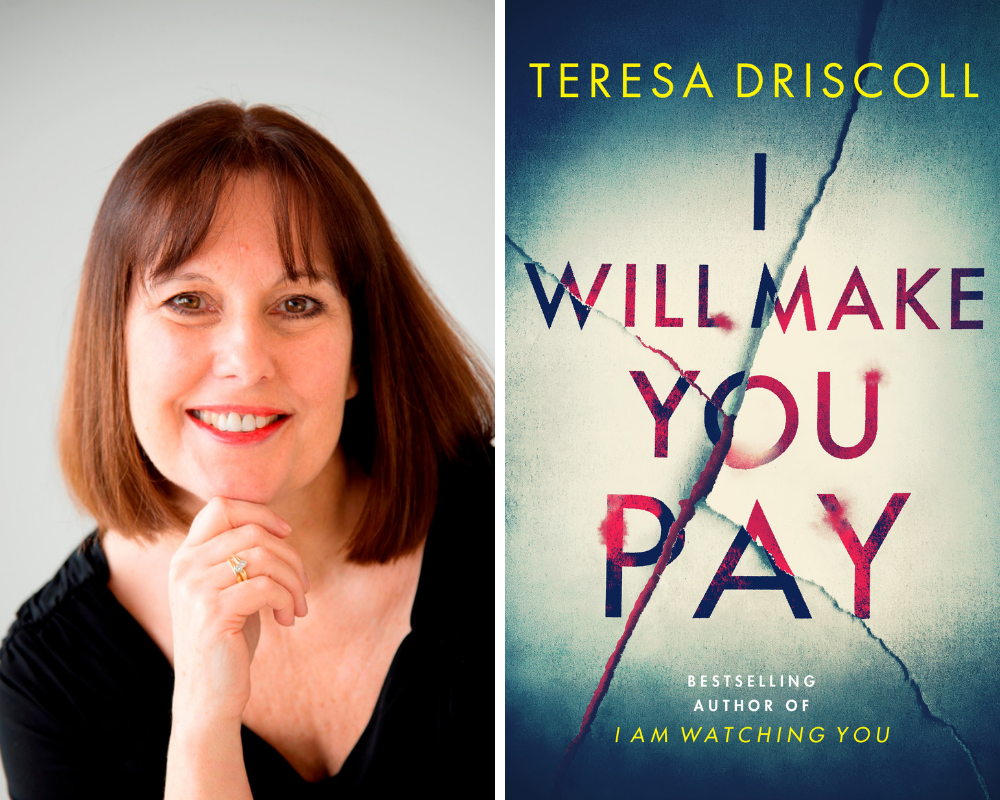 Every Wednesday like clockwork the terror returns…
It seems like an ordinary day until the phone rings. A mysterious caller with a chilling threat. Journalist Alice Henderson hangs up, ready to dismiss it as a hoax against the newspaper. But the next Wednesday, the stalker makes another move – and it becomes clear that this is all about Alice.
Someone wants her to suffer, but for what? Her articles have made her a popular local champion – could it be her past rather than her work that's put her life in danger? Alice is determined not to givein to fear, but with the police investigation at a dead end, her boyfriend insists on hiring private investigator Matthew Hill. With every Wednesday the warnings escalate, until it's not only Alice but also her family in the stalker's sights. As her tormentor closes in, can Alice uncover what she's being punished for before the terrifying threats become an unthinkable reality?
[divider]READ AN EXTRACT FROM I WILL MAKE YOU PAY[/divider]
I am someone who has always admired resilience in people. I see it often in my job. Write about it regularly. The truth? I had hoped and believed that deep down I was tougher than this. I have interviewed people who have had their lives utterly devastated and yet have risen above it. A man who had his foot blown off in Afghanistan and went on to run a marathon. A woman who threw herself in front of three children when a drunk driver mounted a pavement. I watch Tom's back as he pours the boiling water into two mugs, and I think of so many stories. So much courage.
And the first time I am tested?
'No, Tom. We should go out as planned. I need to get a bloody grip. This is completely ridiculous. Precisely what he wants.'
'Dinner doesn't matter.' Tom carries the drinks back to the sitting room area and places them on the coffee table.
'It does matter, Tom.' The booking this evening – Tom's favourite restaurant – was supposed to celebrate things going so well for him at work. He's pushed incredibly hard the last couple of months, working long hours to win a big new corporate client. His firm is delighted.
I sip my drink, new emotions pushing to the fore. Anger now. 'That's precisely what this creep wants. To mess with my head.'
'I honestly don't mind about this evening, Alice. We can order in. Chinese. Thai. Whatever you fancy.'
'No. I mean it. I'll have a shower. Get changed. Stuff the saddos of this world – we're going out.'
***
For all my bravado, I find – on the way to the restaurant – that I keep turning to check the cars behind us. By the time we reach the parking area, I'm almost dizzy with the flip-flop of emotions. Afraid then angry. Worried then furious. Yes. Livid, actually, that someone on the end of a telephone for less than a minute could do this to me.
So that, once we've ordered, I come clean. 'Do you know what, Tom? I feel ashamed. Me – always banging on about the resilience of people, and look at me.' I hold out my hand to show him that it is actually trembling.
'Oh, Alice. Why always so hard on yourself? It's no wonder you're shaken. It was nasty, what he said. Anyone would be shaken.'
I do not answer. I try not to think of the deli; of the wire slicing slowly through the slab of cheese. I wonder what would make someone say that – such a horrible image. I tear at my bread roll and spread far too much butter on it.
'OK. So has the paper upset anyone recently – any trolling online? Complaints about any of your copy? Court cases? Anything like that?' He is using his lawyer tone, practical and steady now, leaning in so I can see my reflection in his glasses.
I shake my head. The police asked this too, but I can't think of anything or anyone; I haven't covered court or crime for ages.
I Will Make You Pay by Teresa Driscoll is out 10 October, published by Thomas & Mercer, priced £8.99 in paperback original