Outlaw King – BFI London Film Festival Review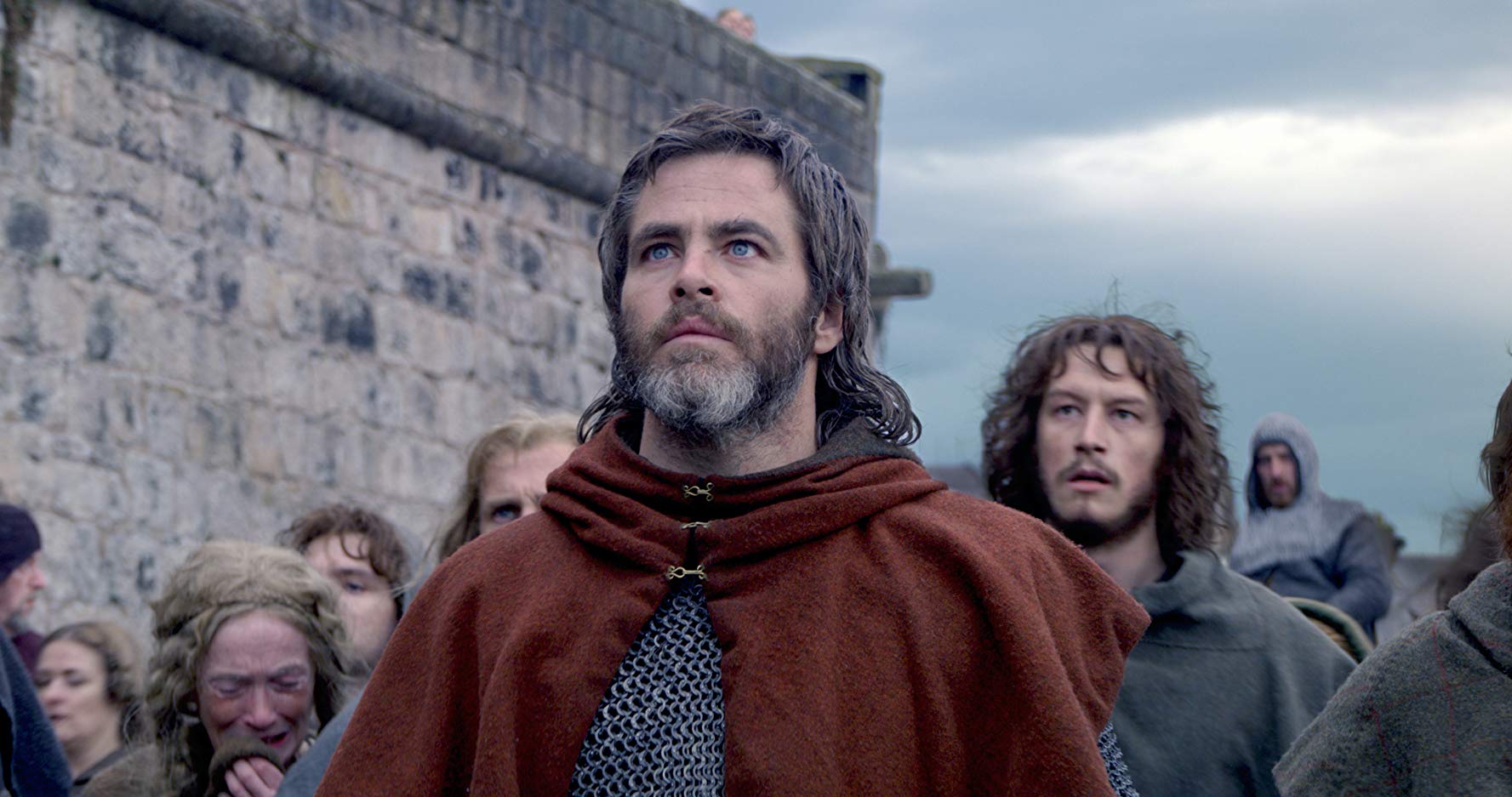 From the outset, Outlaw King clearly owes a debt to Game of Thrones, maybe a little of Justin Kurzel's Macbeth and an enormous dollop of Braveheart. Indeed, in many respects, Outlaw King could serve as a sequel to Gibson's Oscar-winner with William Wallace's detached arm and chest strung up as the catalyst that kicks off the tale of Robert the Bruce and leads us to his war with England. Outlaw King is a gruelling period war picture with Chris Pine at the top of his game in an enthralling plot, set upon the magnificent Scottish landscape.
Set in 1304, Robert the Bruce (Pine) has to pledge fealty to the King of England (Stephen Dillane), on the advice of his father (James Cosmo). The warring factions of Scotland have put their differences aside for the sake of their people, who had to endure tragedy, war and loss in the years prior. It is clear that few of the leaders are comfortable with the union but they have little choice. In the time that follows, Robert Bruce marries an English noble (Florence Pugh as Elizabeth de Burgh) and his father dies. Then, William Wallace is murdered and put on show as a lesson to Scotland. The people are angry and the peace will not last. Bruce goes to his rival, John Comyn (Callan Mulvey), and asks for a partnership but does not come to an agreement and he murders him instead. Robert Bruce becomes King of Scotland but he has few that are keen to follow his lead and the English, hot on his tail, are keen to reclaim what they believe is theirs.
Outlaw King is a violent, graphic movie that basks in the raw, brutal reality of the end of the middle ages. Director David Mackenzie, when screening the film at Toronto Film Festival, decided to trim a further twenty minutes off the film so that it became a more manageable two-hour feature. This means that in large part, the momentum is kept up from the impressive one-shot that begins the film through to the preparation for the final battle. It is at this latter point that the film drags ever so slightly. Between gory, muddy battle sequences and a strong central pairing between Chris Pine and Florence Pugh, you are rooting for the couple who are separated halfway into the film. Pugh in particular, since Lady Macbeth, has only gone from strength to strength and her robust and intelligent character is crucial for the heart of the film.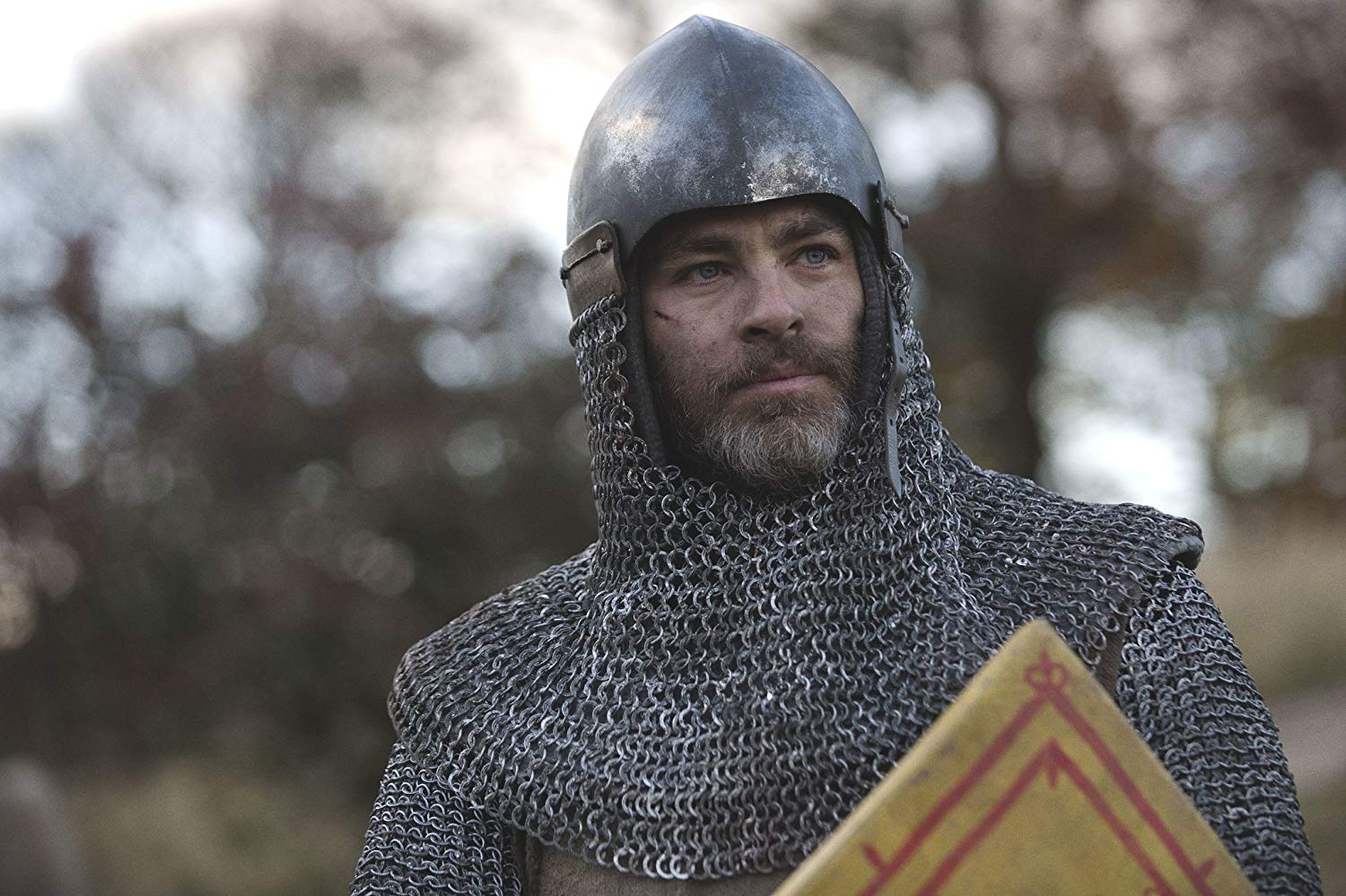 Considering the intricate detail required to research the period, and the marriage, funeral and coronation traditions that are impressively recreated, there is simplicity in the divided sides. The English leer over the women (with a few unnecessary threat-of-rape moments) and the Scottish, who are true to their heritage and are humble in their nature, creates an easy "good versus bad" tension. Edward, the Prince of Wales (Billy Howle) is a despicable villain, slightly dialling back a version of Ramsey from Game of Thrones. But these clear structures make Outlaw King easier to access and follow. As William Wallace was more violent and despicable then the heartthrob-of-'95, Mel Gibson, Robert the Bruce, James Douglas (an unrecognisable Aaron Taylor-Johnson with a wolfish desperation for revenge) and his army were bound to have darker demons that would muddy their heroic depiction here. 
An enormous strength of Outlaw King resides in its depiction of Scotland. It is impressively vast and superbly shot, with minuscule horses and banners on the grand landscapes that include Loch Lomond, the Isle of Skye and Glen Coe. This, unto itself, makes Outlaw King a marvel to watch and a slight shame that few will see this at the cinema when it makes its way to Netflix. Outlaw King nevertheless is a riveting retelling of history with performances that only secure the success of Chris Pine and Florence Pugh for the future. I choose you, Outlaw King.
★★★★