Nick Mason's Saucerful of Secrets breathe new life into old Floyd at the Half Moon, Putney
The last time Nick Mason played drums on stage, it was as one quarter of Pink Floyd's great reunion at Live 8. In front of 200,000 people, the most enigmatic of superstars made what was to be their final bow in grand style. The world looked on as the band behind The Dark Side of the Moon and The Wall gave one last curtain call and then walked off the pages of history.
That was 13 years ago. David Gilmour and Roger Waters have filled the intervening time with successful enormo-dome tours, but what of Mason? The erstwhile drummer was always the Ringo to Waters and Gilmour's John and Paul, both musically and psychologically – the steady anchor present through every album, tour and ego-fuelled breakup. But 13 years is a long time to go without the slightest musical statement, even for a drummer.
This month, Mason breaks his silence. With a band of crack musicians, including long-time Floyd sideman Guy Pratt on bass and (weirdly) Spandau Ballet's Gary Kemp on guitar, he is embarking on a four-date 'tour' of London pubs, with the stated aim of revisiting the Floyd's early work. Often left in the gargantuan shadow of Dark Side, Wish You Were Here and The Wall, Barrett-era wig-outs from Piper at the Gates of Dawn and Saucerful of Secrets are to receive their first airings in over forty years, along with deep cuts from some of the albums that cemented Gilmour's place in the band: More, Obscured by Clouds and Meddle.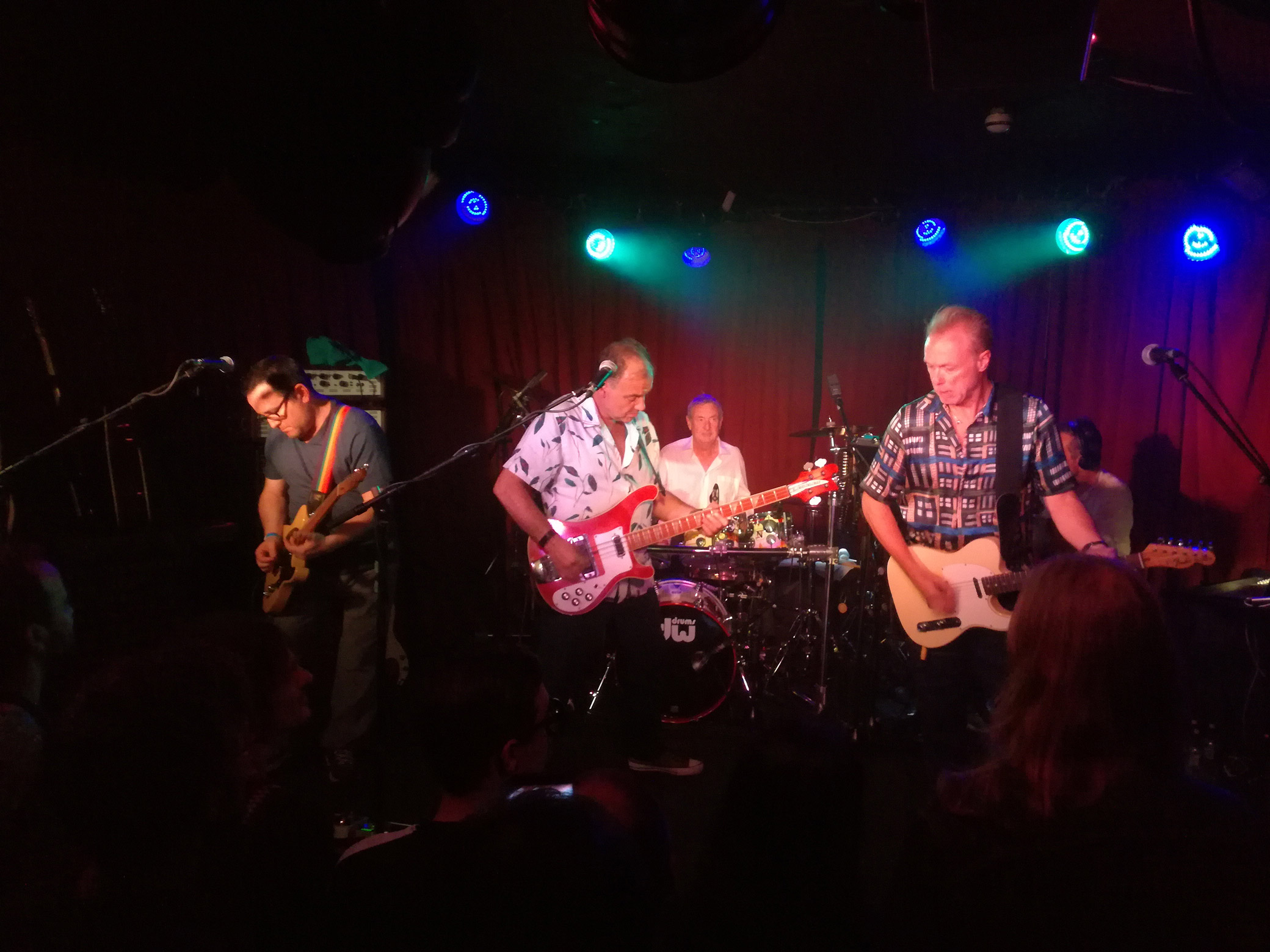 It all sounds like a die-hard fan's dream – and indeed that's what it is – but in the event it also turns out to be something rather more than that. In contrast to the meticulous re-enactments of Waters' Wall shows, or the clinical precision of tribute heroes The Australian Pink Floyd Show, Nick Mason's Saucerful of Secrets breathe real life back into rock's most worshipped back catalogue. They remind us that this music was not built on perfectionism, but on the sheer joy of creation. It's meant to be wrangled, stretched, exploded and played with – it's music to jam to, music to explore. Even four decades after it was written, it's still more avant-garde and weird than most, and the band take obvious pleasure in bashing it around.
The Half Moon is a miniscule venue, so the atmosphere is close, convivial and pleasingly reminiscent of the Floyd's famed early gigs in scrubby London clubs. A world away from the stadia Mason's conquered in the past, tonight there's plenty of heckling from the crowd and friendly banter from the man himself. The band are excellent – loud, spacey and smiling – and benefit from a powerful surround-sound system which swirls the more psychedelic passages around our heads.
Gel slides spin on the ceiling while flocks of blobs, stripes and zig-zags are projected around the room. To borrow a joke from the Bootleg Beatles, there's probably more antacid than acid being dropped in here, but there's no mistaking the rock'n'roll pedigree of this outfit – they're ferocious at times, mellow at others, but in all parts they make good on the colossal reputation of the music they're playing, doing total justice to Pink Floyd's living legacy.
Their reading of Syd Barrett songs like 'Bike' and 'See Emily Play' is all-out punky, bringing the riffs from their late-60s production hideaways and pushing them through twin HiWatt stacks to see what'll happen. Noise-fests 'Interstellar Overdrive' and 'Astronomy Domine' are kept to a tasteful five-minute mark, but we get enough aural chaos to remind us just how electrifying those early gigs must have been. Brief moments of Gilmourish calm like 'Green is the Colour' and 'Fearless' are beautifully delivered, and Kemp proves himself to be an unlikely master of his instrument, coming close to the fluid perfection of the original lines.
In the middle of it all, Nick Mason himself is the real reward. It's a privilege to watch him at work, and he's not a jot less than the rock sensei you'd expect. His tom-tom work on 'Set the Controls for the Heart of the Sun' is spine-tingling, harking forward to 'Time' and it's roto-tom atmospherics. That washy ride cymbal is as mesmerising as ever. His senses of timing and dynamics are choice and punchy, and every once in a while, his eyes close and his dour face breaks into a big, warm grin of pure enjoyment.
He looks like a man who's missed this. He sounds like a man who shouldn't wait so long to do it again.