Murina – Glasgow Film Festival 2022 Review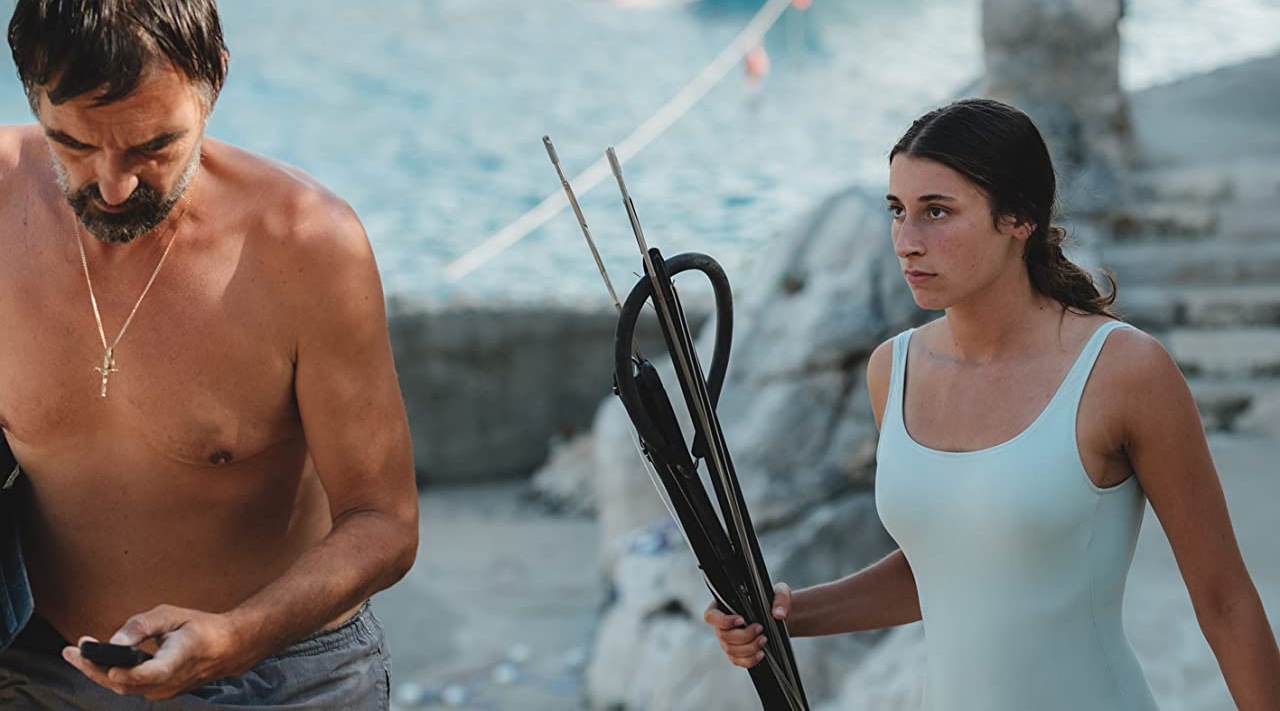 Look how she bit her own flesh to set herself free.
Teenage Julija (Gracija Filipović) lives in a picturesque spot on the Croatian coast with her mother Nela (Danica Curcic) and brutish father Ante (Leon Lučev). Julija despises Ante, and yearns to be out from under his thumb – she thinks she might have a chance when jet-setting businessman Javi (Cliff Curtis), a family friend, comes to pay them a visit.
In stark contrast to her father's brutal cruelty, Javi is attentive and gentle; Julija wishes he could be her dad instead, and sets about persuading Javi to take her and her mother away with him. That there's always been a frisson between him and Nela convinces Julija that she might succeed. But she only knows a small portion of her parents' history with Javi, and enacting her plan is a lot more complicated than she first anticipates.
A simmering four-hander set during one steamy summer, Murina is reminiscent of some of the best works of 60s European cinema; if this was made back then, you can easily imagine it starring legends like Alain Delon and Romy Schneider. Gracija Filipović often comes across like a young Jeanne Moreau in all her magnificent haughtiness; the sheer strength of her presence makes Julija's ongoing battle against her physically imposing father feel more even-handed than you might imagine.
Despite Julija often seeming much older than her years, first time writer-director Antoneta Alamat Kusijanovic never lets us forget that she's still a child, and looking at the events of Murina solely through her eyes means we aren't seeing the entire picture. Her admiration of Javi is understandable – Curtis plays him with a tremendously appealing laid-back glamour – but we can also see how the flirtation he has with her mother might not have the significance that Julija thinks it does; in contrast to her ogre of a father, it doesn't take much to seem like a saviour. Throughout her movie, Kusijanovic does an excellent job of acknowledging how Julija's youth is clouding her perspective, whilst never patronising her, or devaluing the force of her feelings.
The strength of both the screenplay and the acting is that this same story would be just as interestingly told from the perspective of any of the four main characters; all are written and performed with conviction and nuance. The suggestion of a long history between the four before we ever meet them adds valuable weight to the events we see take place over just a few days; it can be felt in shared lingering looks between the adults, and hushed exchanges conducted out of earshot of Julija and us. Kusijanovic really makes us feel the frustration of being kept out of those conversations, allowing us to empathise further with our furious heroine.
Sultry and absorbing, Murina is a coming-of-age tale told with gripping, enigmatic elegance. It's hard to believe this is the feature debut of the film's writer-director and its lead actress – with so much talent already, both women seem destined for seriously impressive careers.
★★★★★