Live Music Review: Imelda May at the Royal Albert Hall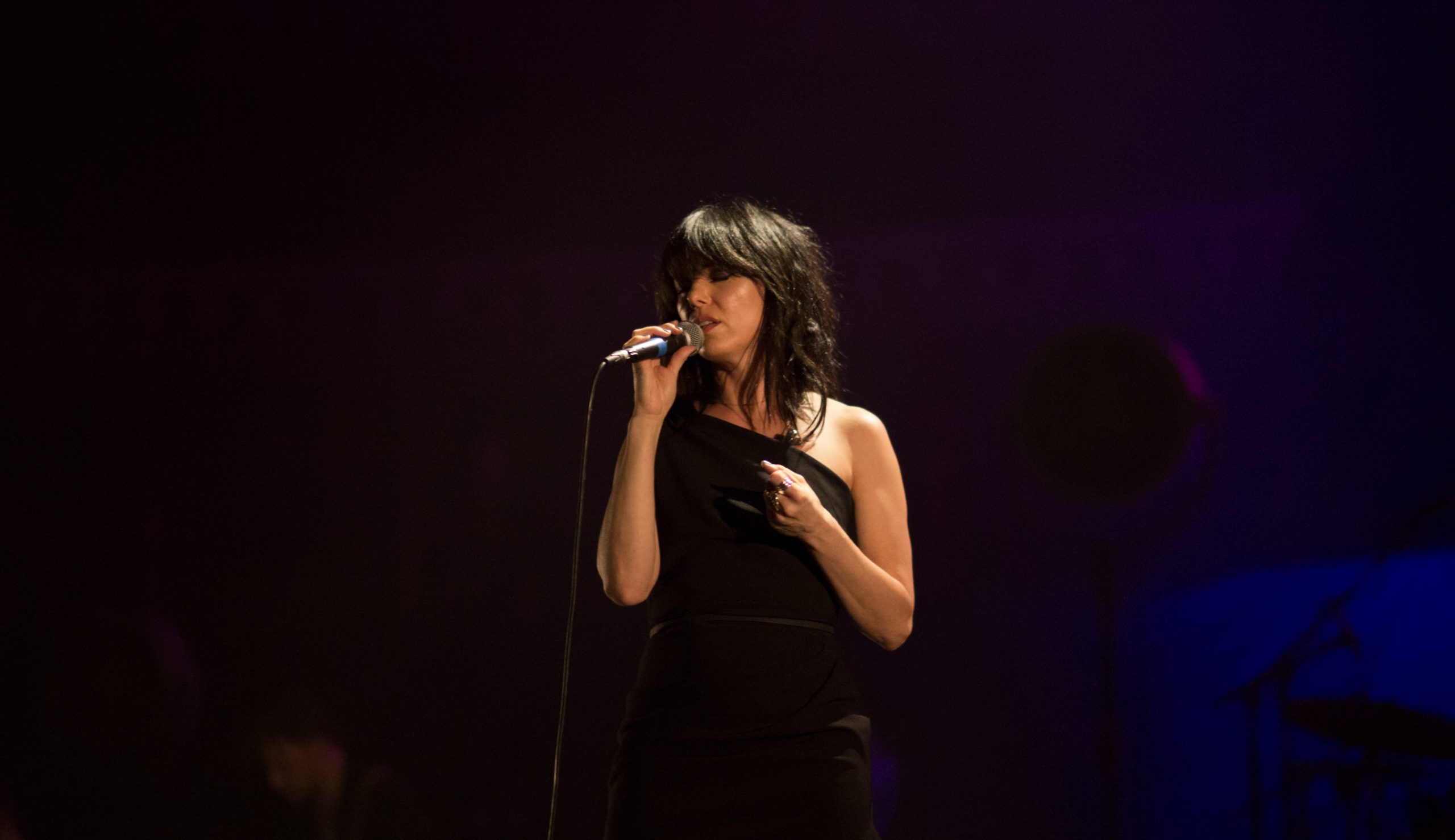 I'm just going to get this out there at the start of the review – Ronnie Wood and Bob Geldof make a surprise appearance at the end of this concert. There's a spoiler for you to set the tone. Gigs at the Royal Albert Hall have a tendency to feel like career highlights, and tonight's show by Imelda May is no exception. In her words: 'I've had the night of my life.'
Props must go to support act Andreya Triana first of all, a singer-songwriter in the soul vein with a truly lovely voice and a way with a looper. She sounds like a cross between Nina Simone and Amy Winehouse, all heart-wrenching blue notes and punchy vocal fire. Her songs are engaging and uplifting, focusing on life's little victories, and she sounds suitably epic inside the cavernous hall. Her solo cover of Eurythmics' 'Sweet Dreams', complete with layered vocals and beat boxing, is a triumph.
Imelda May's set is definitely a show of two halves. First up, we get songs from her latest album, Life Love Flesh Blood, a distinct change of tone from her earlier rockabilly material. Gone are the quiff and the leather and the leopard print; in their place, a Little Black Dress and a new air of restraint. May opens the show sitting on a stool and lingering over the gentle melancholy of 'Call Me', cutting a more sedate figure than we've come to expect. There's a more conscious sense of artistry about her now, a move away from the showgirl and towards the songsmith, and that's reflected in the songs' more radio-friendly feel.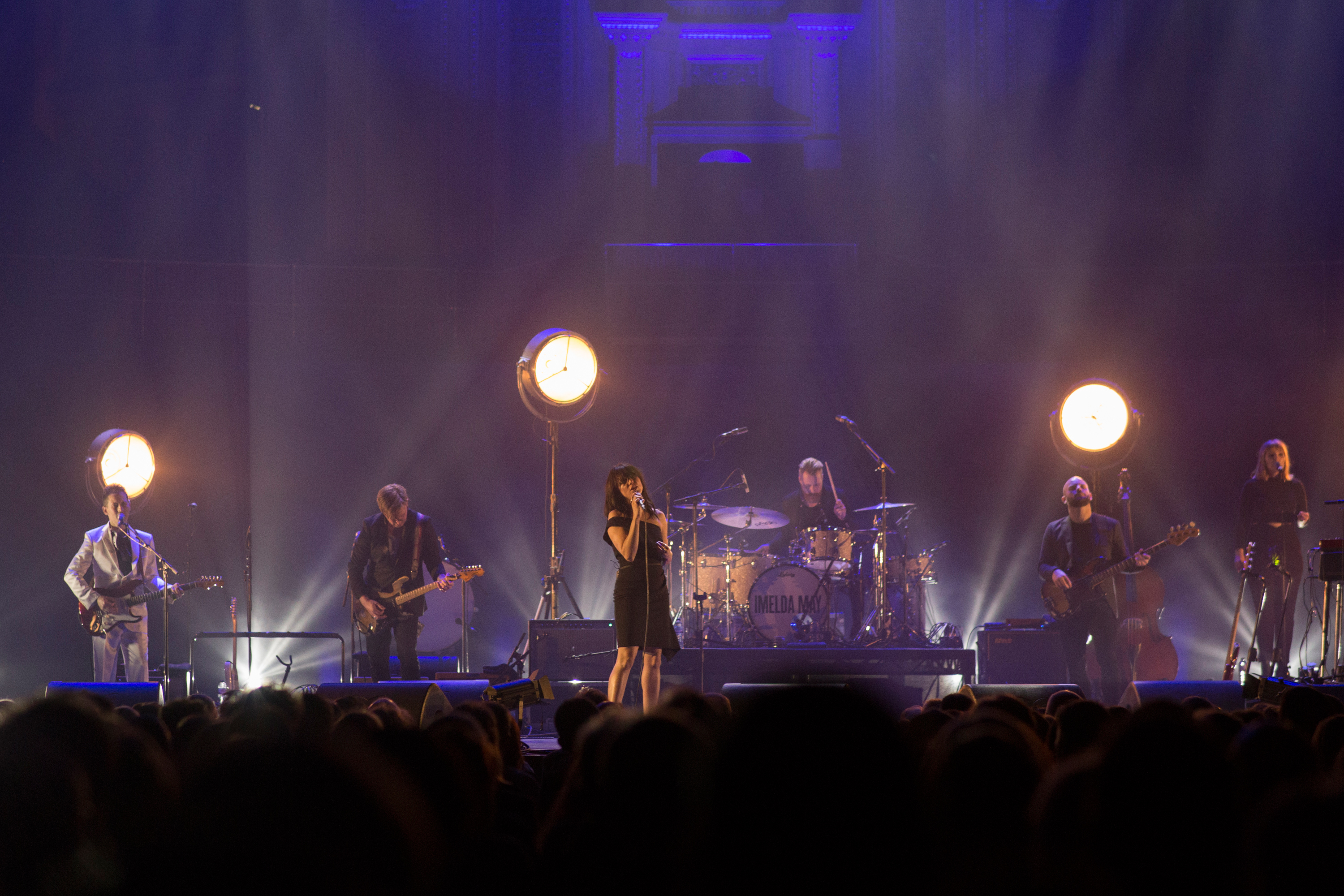 The second tune also starts slowly, contravening the golden rule that concerts must go off with a bang, particularly if your audience is of the silver-haired persuasion (which this one most certainly is). After the second chorus, however, the lead guitarist suddenly rips into a solo so face-melting that it made my eyes water, and we get a glimpse of the Imelda of old, bawling gorgeously over the top of the ballad's climax. She's at her strongest on these Etta James-style soul workouts, and she and her band positively soar at this early point in the set.
There is a slight dip in tempo over the next few songs, though, and we veer a little towards Gareth Malone territory. You know the sort of thing: earnest songs about earnest things that would make your mum tap her fingers on the steering wheel, but that don't exactly punch you between the eyes. It's all perfectly inoffensive, but for a few minutes it feels as though May might have sold a little too much of her old two-bit-sleazy-dive soul to get here.
Happily, things take a sudden upwards turn when she proceeds to the back of the arena to perform an acoustic set from the PA desk. She's a raconteur as well as a singer, and with the change of stage comes a real warmth and closeness – you can't help but warm to her everywoman blarney, and the songs, including a reworked version of Dublin classic 'Molly Malone' (there's that name again), are lovely and wistful. We all crane round in our seats and suddenly it's A Fireside Chat With Imelda May.
As for the second half of the set: it turns out that this is where May's been keeping the ROCK. With May back onstage the band rollick through upbeat bangers like 'Mayhem' with wild abandon, throwing out blistering solos left, right and centre. Everything is suddenly turned up to 11, including May's voice, which in full flight is closer to Axl Rose or Beth Hart than the Dubliners.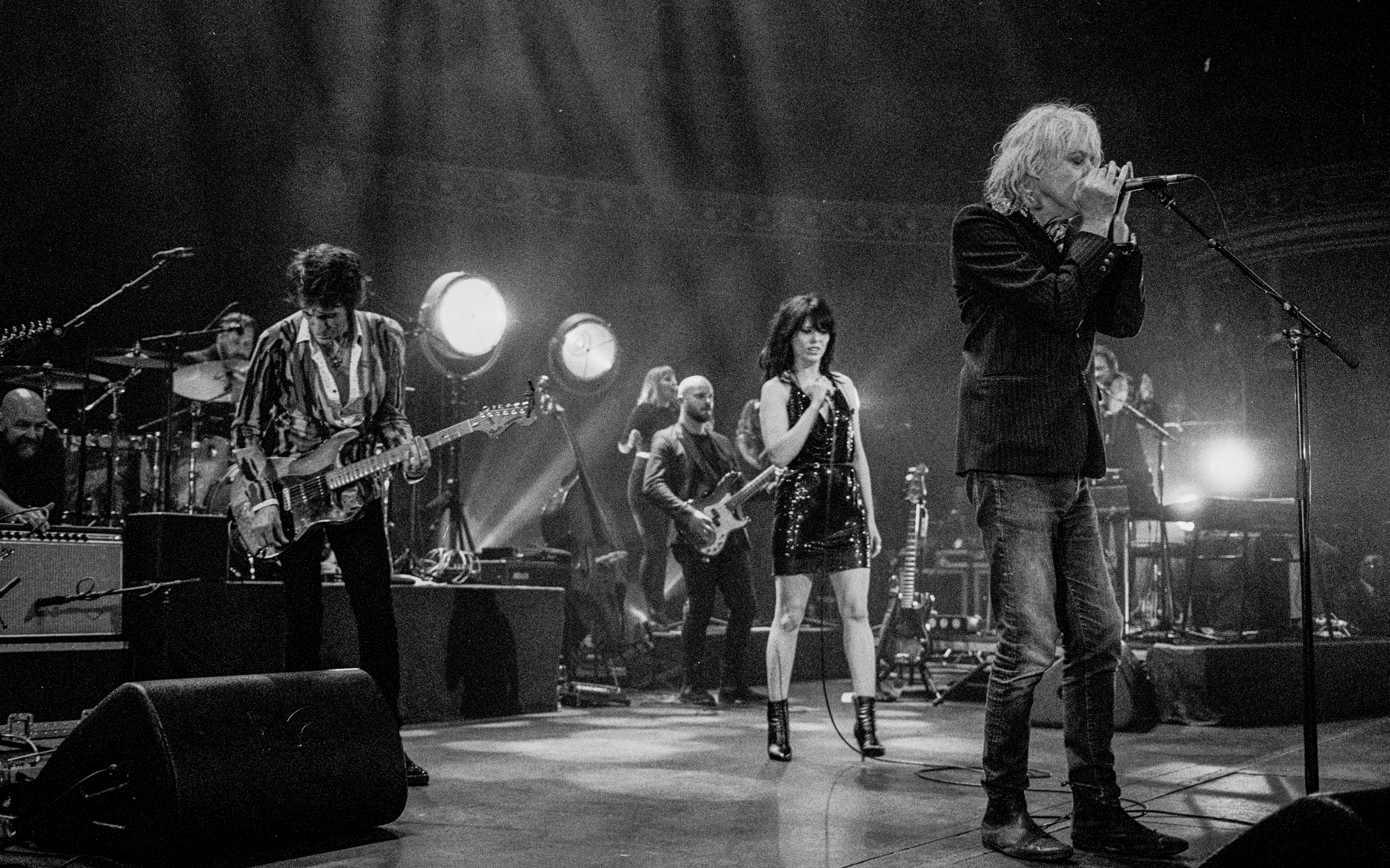 Just as we're all beginning to move about in the aisles, May tells us she'd like to introduce a couple of old friends – 'they're mad men, the both of 'em.' I was expecting perhaps a brace of childhood acquaintances, but you, dear reader, have guessed it – out prance one Rolling Stone and one Boomtown Rat, and the Albert Hall goes wild.
'We're going to jam the hell out of this!', declares May. And jam the hell out of it they do, the world's newest supergroup roaring through thumping old blues standards 'Rollin' and Tumblin'' and 'I'm Crying'. Ronnie Wood is a cocky old peacock, a fist-pumping little dervish, his slide guitar scything away like mad. Geldof is the real surprise, though – devoid of his soapbox, he's just a damn fine singer and harmonica blaster, reminding us all that experience usually does triumph over beauty.
After a slightly slow start, this show hit ecstatic heights. Imelda May deserves to walk these boards, and the obvious appreciation of her superstar peers is rightfully won. This was a varied and powerful performance, delivering Irish lass acoustic tunes with just as much conviction as full-throttle rock'n'roll. Great fun, and a convincing coming-of-age for Imelda May as artist.