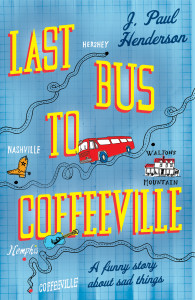 Released: May 2014
When the Last Bus to Coffeeville review book arrived, I was intrigued with the words at the bottom of the front cover, 'A funny story about sad things'. In my camp, it's rare for an author to successfully achieve both of the aforementioned without trying too hard! On the back cover one of the quotes likened the contents 'to a combination of Bill Bryson travelogue and humour of James Thurber' andI already had my bag packed, ready to get on board thebus. I have just finished the book and invite you to share my unbridled enthusiasm for J. Paul Henderson's exciting and imaginative new novel, which surpassed all expectations.
Set in various different locations across the USA, the story opens with a short prologue which catches your attention, followed by the first chapter which introduces one of the main characters, Eugene (Gene) Chaney, usually referred to by friends as 'Doc'. Gene is a retired doctor who, in his twilight years, has abandoned his conventional lifestyle and chosen to let old age and apathy take over his life. Given the extraordinarily unfortunate events which have befallen him it comes as no surprise. He carries his burdens deep inside and masks his inner torment with a gruff exterior.
Taking a step back in time we follow a younger Gene attending University Medical School in Durham, where he is rapidly absorbed into an intellectual and creative group of friends who navigate him towards civil rights activism. This was an era when deep racial prejudices and segregation were still very much in evidence in America, but none more so than in the Deep South. It is through their meetings that he is introduced to the feisty student Nancy Travis, with whom he soon becomes involved in a relationship. Nancy is passionate about racial equality but comes from a rich landowning family in the heart of the Mississippi Delta. At the very same meeting Gene is introduced to Bob Crenshaw, a friend of Nancy's – who happens to be black and who comes to Gene's rescue in the nick of time saving him from public humiliation. The unlikely three socialise together and quickly form an inseparable bond of friendship and lifetime loyalty.
Travelling south to Memphis, Nancy introduces Gene to her extended family in the Mississippi Delta and to their palatial home 'Oakland's', complete with Doric Columns and black servants. It is during this visit that Gene gets to know her family, sees Nancy's mother struggling with her memory, and realises Nancy has a huge burden to bear – inherited Alzheimer's – passed down in the female genes for generations. As Nancy's feelings pour out, she asks him something one could only ask the truest friend – to help her end her life when the time comes.
Following all three as life separates them and they move on with their individual pathways, destiny conspires to bring them back together again, only this time on the most bizarre journey of all. They are joined on a tour bus – once owned by Paul McCartney – by two more characters. One is Gene's middle-aged godson Jack, who has just experienced a very public crisis forced by his own total frustration with his personal life and work situation, and who has extreme issues of 'hair anxiety'. The other is Eric, a thirteen year old orphan obsessed with counting dead characters from the Bible, with a mission to find his closest living relative. He is also a fugitive! This mismatched group travel great distances, and some of the best and funniest parts of the book were during the road journey. I felt like I had visited so many different locations and met a multitude of disparate people, and the main characters really got under my skin as they grew together and bonded.
To describe this unique and touching story as 'funny and sad' is very pertinent and I was gripped from the offset. Gene and his companions became mine – I haven't laughed out loud, and even shed tears – quite unexpectedly – whilst reading a novel for some time. This book unearthed all the best qualities in the truly good people it featured. This is not only riotous and engaging, it is a story we would all like to have in our lives if situations beyond our control went pear shaped…
Last Bus to Coffeeville is expertly written with compassion and great warmth. Powerful but never mawkish, Henderson has perfectly captured human frailties through a poignant tale. I was swept along by the happiness, unconditional love, loyalty and true friendship that leapt out from the pages, projecting something that I hope is at the heart of all our souls.
Do I recommend this book? Absolutely YES, and I will be taking it on holiday with me to read again in a couple of months. One of the best feel-good books I have ever read!
★★★★★
SaveSave