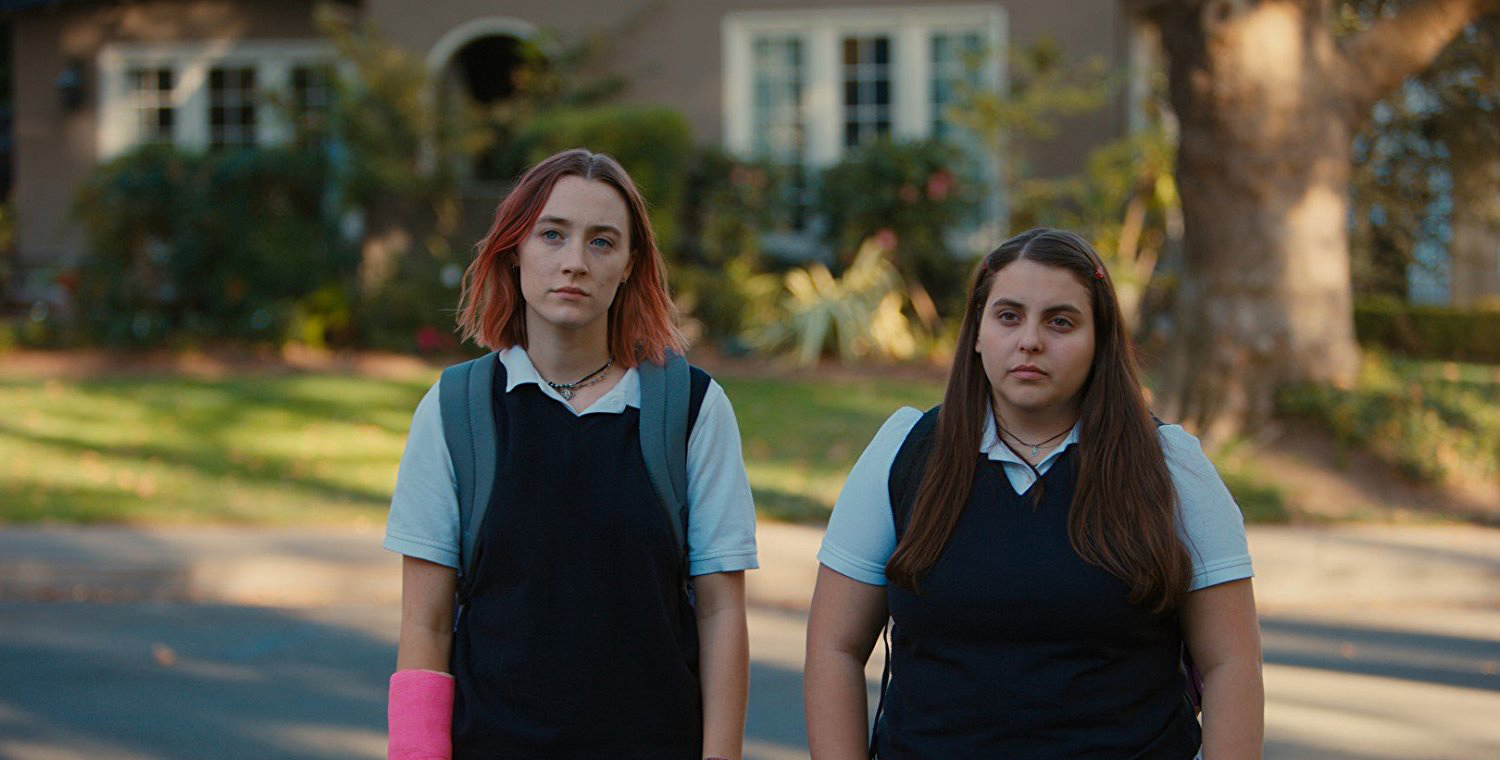 Genre: Comedy, Drama
Directed by: Greta Gerwig
Starring: Saoirse Ronan, Laurie Metcalf, Tracy Letts, Lucas Hedges, Timothée Chalamet
An angry teen, annoying parents, best friends who fall out and awkward romances that don't pan out – we've all been there. Lady Bird, on the other hand, is special. Greta Gerwig's directorial debut, with full credit for the screenplay, plays a master card with a personal, intimate story of a 17-year-old's eighteen months before University. Saoirse Ronan, carrying the film on her shoulders, is a triumph in the titular role and, with awards talk already, this will clearly go down as a game changer in teen dramedy. Seriously, this will be up there with John Hughes' established canon of brat pack comedies. Laugh-out loud funny, poignant and immensely relevant, Lady Bird will be your new favourite film.
Christine "Lady Bird" McPherson (Ronan) argues with her Mum. She's doted upon by her Dad and she's brutal with her foster siblings. In an argument about college in the opening scene, Lady Bird ends the argument in the most shocking (and hilarious) fashion. Inevitably, the relationship with her Mum (Laurie Metcalf) is strained. Christine doesn't clear up after herself; she criticises how her Mum speaks; she's embarrassed about her family's standing in the community. They aren't rich and her attendance at a Nun-run Catholic school is earned on a scholarship – her peers do not live in the same neighbourhood as her. As her college days ebb ever closer, she has to choose where to go and money is an enormous factor. The costly New York universities are where she wants to go but Davis, a school barely thirty minutes away, is the preferred choice by her family. Still, there are boys she fancies and the slight problem about her grades to worry about. It is 2002 and she has to work out who she is, quick.
And quick is very much how Lady Bird runs. There's no room for wastage. Every detail is placed carefully and when a scene has outstayed its welcome, we cut away to the next one. This provides ample opportunity for well-timed gags and a constant stream of events to flesh out the city she lives within. There's so much that Gerwig expertly weaves into this coming-of-age tale. Music of the aughts isn't entirely memorable but if 'Cry Me A River' and Dave Matthews Band is on, then we know where we're at. Mobile phones are on the rise and Iraq is on TV, and rather than a nostalgic look at the period, it is more of a gentle touch of a confident filmmaker who knows exactly what she wants.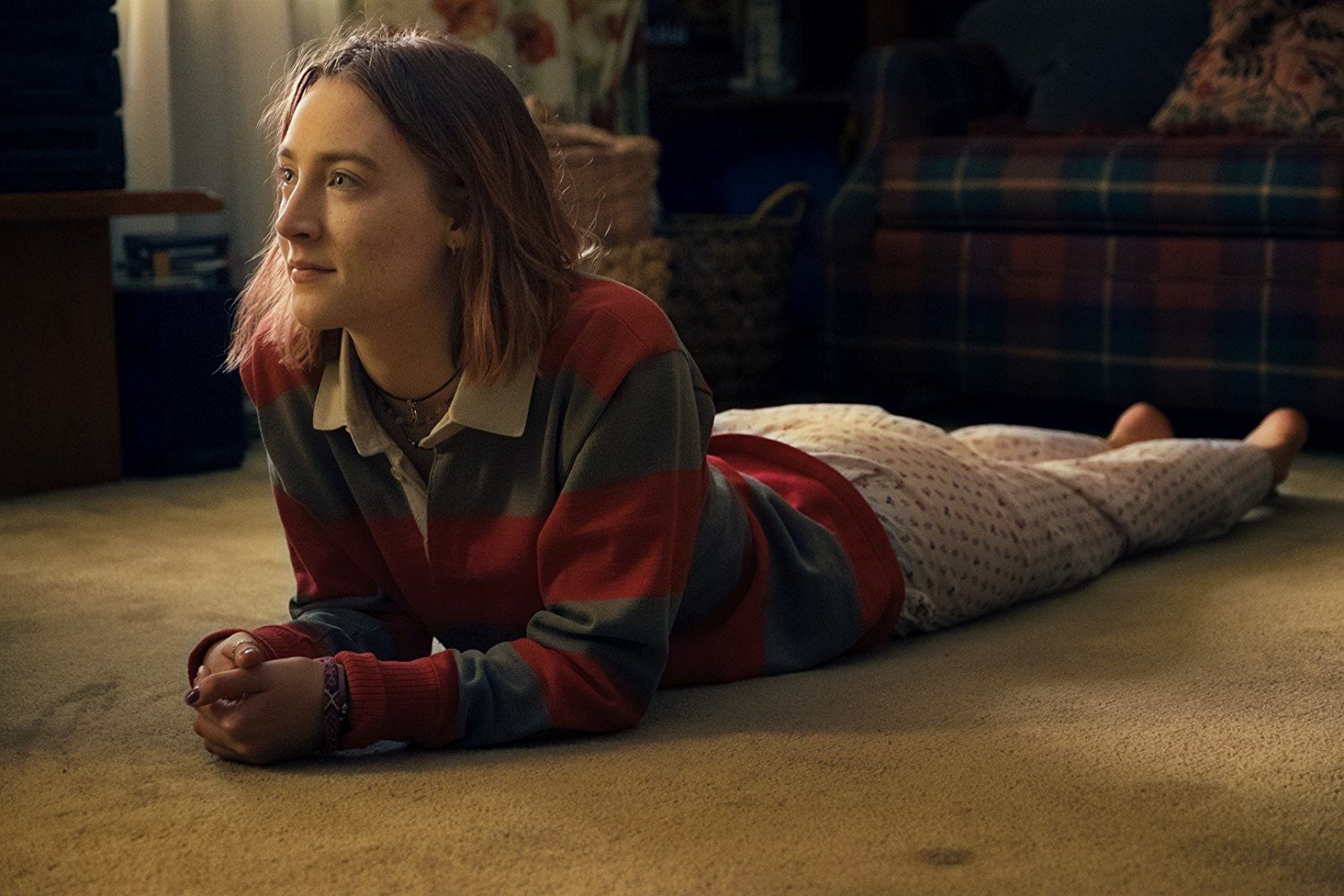 The Edge of Seventeen, last year, shared similar attributes to Lady Bird. But Lady Bird has the foresight to add themes to the mix that the lead character may fail to appreciate at such a young age. Viewers, on the other hand, are privy to the details. Gerwig, in a Q&A at the BFI London Film Festival, explained how the film she made isn't necessarily the film Lady Bird thinks she is in. The big love isn't the boy and, in fact, everything is filled with nuance and complexity. When watching Sixteen Candles, Molly Ringwald is clearly from the "wrong side of the tracks" – something rarely depicted in teen dramas – but this is still secondary to all the romance she has to contend with in her high school. The financial constraints in Lady Bird, in contrast, are more than mere context; it impacts on every facet of this struggling teen's life.
This is magnificent filmmaking, with lovable characters and a lightning pace. A score by Jon Brion (Eternal Sunshine of the Spotless Mind) plays with percussion and keeps a playful edge to the proceedings. Saoirse Ronan is equally sublime, in a role that will further cement her reputation as an actor who can only get better, choosing unique projects and injecting a quality that can only be a product of her perceptive ability to capture an attitude that's equally fragile as it is empowering. On recollection, Lady Bird has so many scenes that are just emotionally devastating, each one relying on Ronan's perfect encapsulation of Lady Bird's emotional journey. Lady Bird is utterly delightful and tough as old boots. Audiences will cherish the first time they will watch the film and relish the opportunity to introduce others in the future.
★★★★★
SaveSave