Jacqueline Winspear on Eleanor Roosevelt and the British Women Ferry Pilots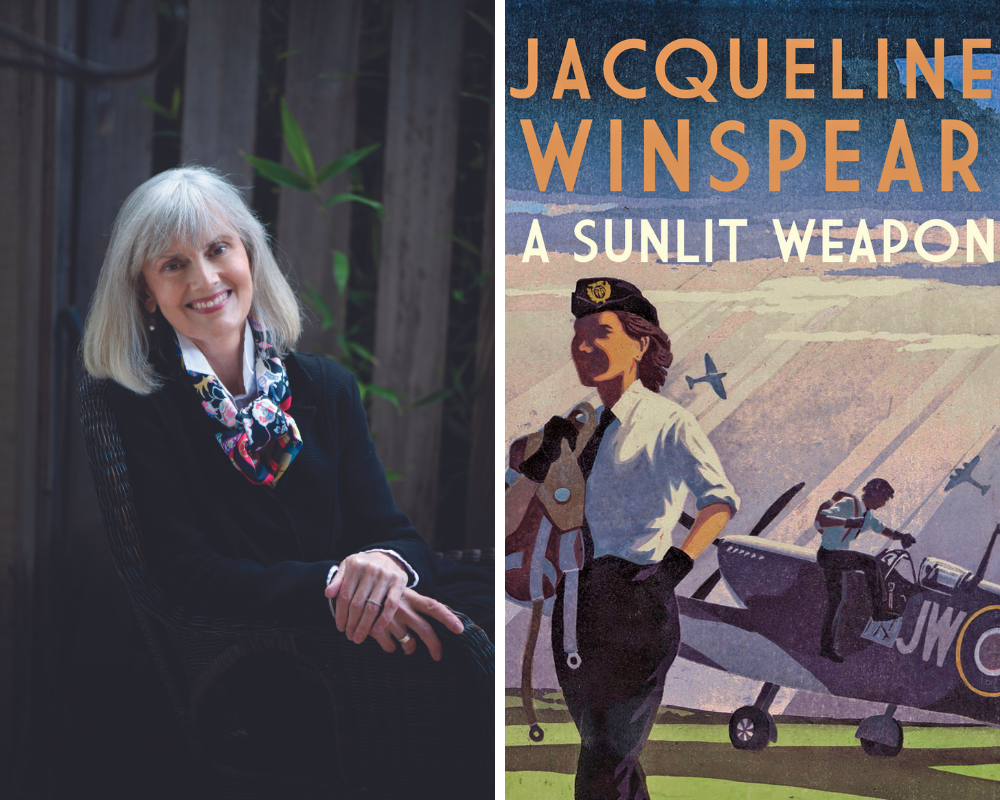 © Stephanie Mohan / Allison & Busby
For twenty years I have kept a notebook with themes, ideas and events I wanted to weave into my historical fiction. Two of those elements came together in A SUNLIT WEAPON, set in 1942 – the visit to Britain by American First Lady, Eleanor Roosevelt, along with a focus on the extraordinary women ferry pilots of Britain's Air Transport Auxilliary (ATA), which was operational from February 1940.
Eleanor was no stranger to England, having been sent to Allenswood Academy – a private finishing school near Wimbledon – at the age of fifteen. She did not return home until she was eighteen. It was Queen Elizabeth – later the Queen Mother – who invited Eleanor to Britain to observe our women engaged in all manner of war work. The First Lady did not hesitate to accept the invitation to return to a place where happy memories had been forged. Eleanor's schedule was punishing, but she was determined to meet everyone who turned out to see her – and despite wearing holes in her shoes from so much walking, she kept her word.
One of the scheduled visits was to meet the women of Britain's Air Transport Auxilliary at their base in White Waltham, Berkshire. Eleanor had a special interest in the work of the women pilots, not least because a friend, the American Jacqueline Cochran, had come to Britain with a band of fellow American aviatrices to volunteer with the ATA even before America entered the war.
According to Mary Ellis, a former ferry pilot who died at the age of 101 in 2018, the women of the ATA were the "glamour girls of flight." However, though they garnered most attention, women formed only 10% of the total number of ATA ferry pilots – yet those women were not only the first government employees to attain pay parity with men, but initially they were given the toughest ferrying jobs – open cockpit aircraft and less than airworthy planes destined for the breaker's yard or the factory for maintenance. One woman was killed when the propeller dropped off the aircraft she was piloting.
Eleanor Roosevelt was impressed with the ATA aviatrices, and began lobbying for women to do the same job on a formal basis in the USA, pressing her point that, "Woman pilots … are a weapon waiting to be used."
The US Women Airforce Service Pilots (WASPS) was founded in America on August 5th, 1943, almost a year after Eleanor's UK visit. She brought home stories of the extraordinary women of Britain's ATA and their stellar wartime service. Jacqueline Cochran left the ATA to become director of the WASPS, which she led along with famed aviatrix Nancy Love, the founder of an earlier US initiative, the Women's Auxilliary Flying Squadron.
The women of the ATA proved that their "airmanship" was every bit as good as male pilots – indeed, they racked up more flying hours and flew more types of aircraft than the "Brilliantine Boys" of the RAF, often piloting new aircraft following just twenty minutes with the handbook.
A SUNLIT WEAPON, a Maisie Dobbs mystery, by Jacqueline Winspear publishes on 22 March in hardback from Allison & Busby.