Interview with Daisy Clark at The Great Estate Festival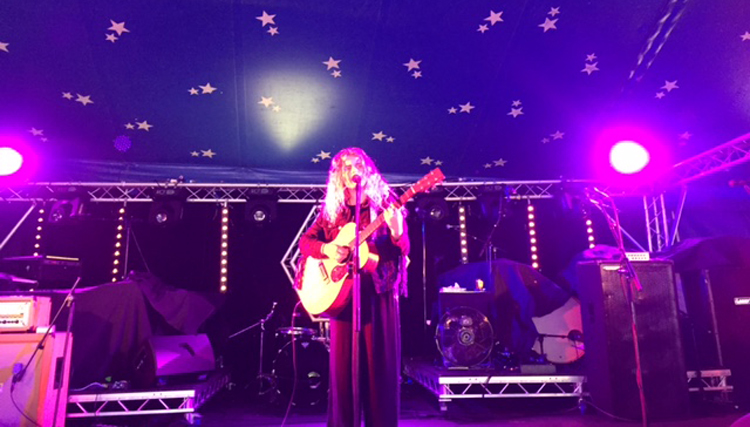 Daisy Clark is an up and coming singer-songwriter from Newquay, Cornwall, having gained public attention after she uploaded a video of herself singing on YouTube, which has had over 6 million views and reached many countries including Brazil and Australia. Daisy has a timeless voice that holds so much soul and passion behind it that it could evoke emotion from the coldest of hearts. Having just performed twice at Cornwall's The Great Estate Festival, I was lucky enough to interview her.
As I walked up to the tent to interview Daisy I saw her sitting in a patch of sunshine with her boyfriend and her best friend, smiling and laughing. Dressed all in black, with Doc Marten boots and a black tasselled jacket, she seemed very relaxed for someone who has just been signed to Warner and is embarking on a music career that any musician would be proud of. A few hours before, we had watched Daisy play her set on the main stage singing her own renditions of 'American Boy' and 'Hopelessly Devoted To You', along with her own songs with a cool and calm manner.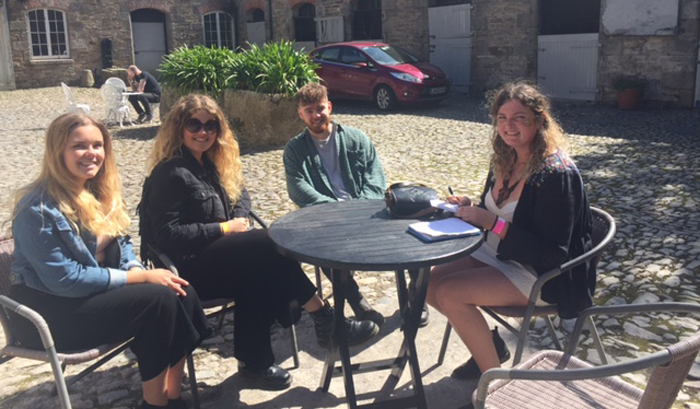 After being shown into a beautiful courtyard, we began the interview.
What is your background in Music?
I have always been into all things theatrical, then I went on to music, I can't remember when I didn't love it.
Are you self-taught on guitar or did you have some lessons?
I had a few lessons but I'm mainly self-taught.
So how are you enjoying Great Estate festival so far?
It was my birthday yesterday and my friends are here and I can't believe how many people came!
You sang 'Straight A's' as part of your earlier set – what's the meaning behind it?
Basically, I don't really like talking about meanings of songs because I like people to have their own interpretation of it, then they connect more to the song than if you're telling them the meaning. I like telling people the meaning of this song though! I had a friend at home who was very academic, I didn't have perfect grades and she did so she made digs. It's my favourite song because it's quite sassy.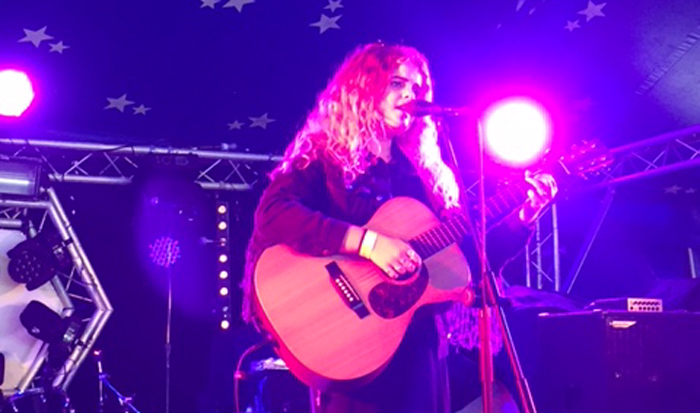 Do you play your music to your boyfriend and friends first?
My boyfriend hears a lot but I would rather put it onto YouTube then show them, rather than serenade them.
Why did you decide to cover 'Hopelessly Devoted To You'?
Because I'm into theatre and musicals. Grease is my favourite musical and I sat down with the camera and said I've had this song in my head all day, and literally just did it. Next thing I know it's being shared on Facebook around the world.
How was it when you saw how many hits you had got on YouTube?
Very Surreal, it's been played in America, Australia and everywhere. People message me all the time. [Friend says that she is big in Brazil] My music career is basically from social media.
https://www.youtube.com/watch?v=38arPkTGRC8
You've put university on hold haven't you, was that a hard decision to make?
I thought about it and I would be going to uni to come out doing what I'm already doing. Music isn't a stable job, there's no routine, it's random. I have looked at some universities and might do a creative writing course but right now I'm immersed in music.
Do you get nervous when you go on stage? When I saw you earlier you seemed so confident.
Sometimes I am very nervous, it depends if I have done it before. If I have, then I'm not really nervous. Today was very chilled, I'm more of a festival girl.
Looking ahead at the future, where do you see yourself in five years time?
I want to be doing what I'm doing, as long as I have originals out. I really like song writing so it doesn't matter if I'm not singing. I really like Gabrielle Aplin, I like how she is quite famous but is lesser known. I want to be like her.
Daisy's cover of 'Hopelessly Devoted To You' and her new single 'Worlds Away' are both available to download now. She's also performing at lots of UK festivals across the summer including Boardmasters, which is in her hometown of Newquay.