Hockney: A Pilgrim's Progress Volume 2 – Christopher Simon Sykes Review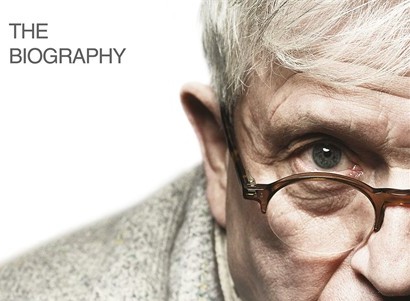 Released: September 2014
He rests from art in art.
After reading this biography, I'm inclined to agree with these words quoted by art critic, historian and curator Henry Geldzahler to describe his friend David Hockney. Just 20 pages in and it's evident that Hockney has lived the kind of life all artists and creative types crave. In these first few pages alone, it's clear to see that this man is an artist through and through – a painter, an illustrator, a photographer – and that his life is his art, a fact that his biography makes all the more apparent.
Big disclaimer up front: I'm a fiction kind of girl. I've never been too interested in autobiographies, but when this synopsis found its way into my email account, I jumped at the chance to read something new. Hockney: A Pilgrim's Progress charts the life of prolific British artist David Hockney in the second half of his career from 1975 through to the present day.
It showcases his life and works as he builds relationships with cultural icons of the day and embraces the changing medium of art at the advent of new technology throughout the 80s and 90s and into the 21st century. From exploring the glamorous circles he moved in to charting the highs and lows of his personal life, this second volume of the Hockney biography truly becomes the story of one man's extraordinary journey through life.
While this book definitely wasn't what I was expecting, more important to note is that this is not necessarily a bad thing. I think we can all be a little guilty at times of taking works of art at face value and it's worth being reminded that these are the creations of an individual who has been driven by the need to express themselves in a very specific way.
Each period of Hockney's life informed both the art he was creating and medium he was inclined towards using at the time. His subject was similarly affected, charting his relationships with friends, family and lovers in sketches, oil paintings and acrylics in works that the biography showcases throughout, providing a fascinating look at the life behind the art as we track Hockney's career through his influences and motivations.
Hockney: A Pilgrim's Progress spans an era of time defined by its development and the emerging technologies that we associate with modern life today, and seeing how one artist reacts to these changes in his life and in his work is a profoundly interesting read. This biography introduced me to a time and an artistic process that I'd not paid much notice to before, as well as a lifestyle worth aspiring to – at least in the context of fulfilling your passion in whatever way you can express it.
Living that elusive, creative and carefree existence is a reality that most of us are unable to achieve, but which Hockney is able to access and manifest into an incredible collection of work that garners new appreciation the more you know about its history. Overall, this is an interesting read, but potentially one purely for the biography aficionados.
★★★