Herself – BFI London Film Festival Review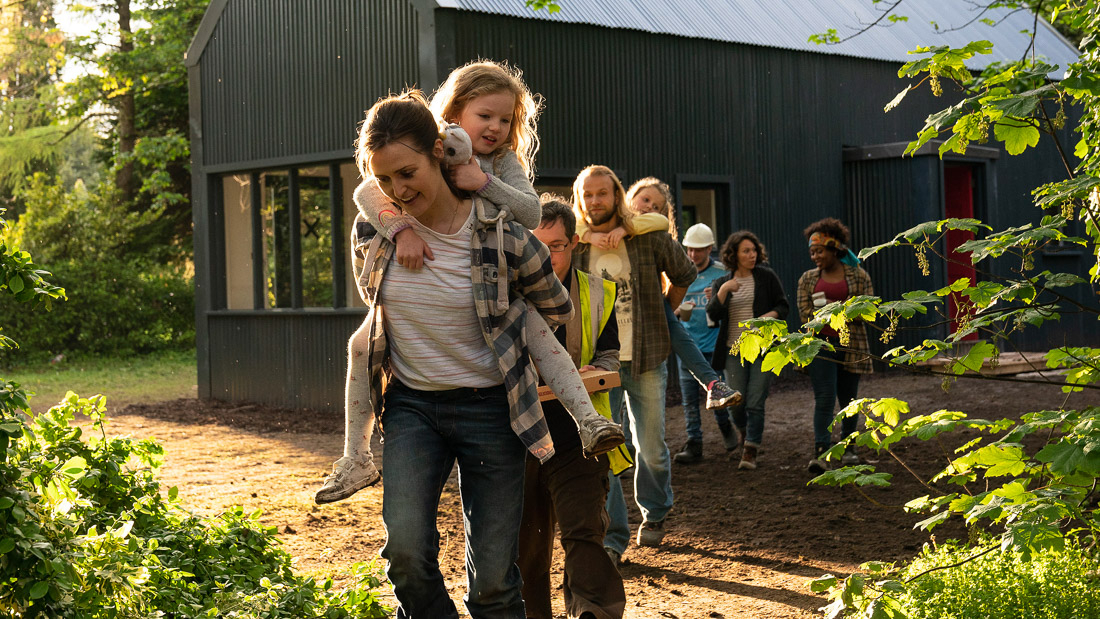 Finally, she's had enough. The last beating was the last straw: Sandra (Clare Dunne) and her two daughters Molly and Emma (Molly McCann and Ruby Rose O'Hara) leave the clutches of her abusive husband (Ian Lloyd Anderson) and move into a hotel. Once she's out from under his grip, however, Sandra's life doesn't get much easier. Balancing two jobs and childcare, and staying in temporary accommodation, takes its toll.  And she still has to take the girls to visit their dad every weekend.
Hope appears in the form of an online video that teaches viewers how to build a house for €35,000. Although sourcing the money, know-how and assistance proves a daunting challenge, Sandra is determined to do everything she can to give Molly and Emma a home where they can feel safe once more.
Herself marks Irish actor Clare Dunne's first time as a movie lead, and it will not be her last. She's the resilient heart of Phyllida Lloyd's emotionally bruising film; she's in almost every scene, and her performance is riveting. She's equally adept at playing the showy parts of Sandra's journey – the desperation, fury and determination – as she is the quieter times, when she's just hanging out with her girls (who are both funny, engaging little actors). Look at the moment her kind employer (Harriet Walter) gifts her the land she needs, and the mix of relief and gratitude and disbelief that overwhelms her face over just a few seconds – that level of precision in portraying such vast, unwieldy emotions is seriously impressive. It's a really winning turn, which becomes even more so when you realise Dunne also co-wrote the absorbing screenplay (with Malcolm Campbell). There are big things ahead for her, that's for sure.
It is in large part Dunne's performance that shepherds the film through its weaker segments, where it frequently veers too far towards the crowd-pleasing. The main culprit is the music cues, which are often heavy-handed and clumsy – 'Titanium' to suggest strength, 'New Shoes' when she gets new shoes; it's that sort of level. And these songs accompany an almost comic number of montages. Considering Lloyd is early on in her cinematic directorial career, and that her two previous films were Mamma Mia! and The Iron Lady, it's perhaps not surprising that she has a tendency to paint in broad strokes. Still, it remains a little frustrating whenever the truth of Dunne's performance butts up against such cheesy choices.
Overall though, as Lloyd's movie is full of warmth and sincerity, it's hard not to find yourself cheering for it. Because it's so well meaning, because the acting is so good, and the story is so gripping, it becomes an easy task to grit your teeth through the clunkier sequences. You end up rooting for Herself almost as fiercely as you root for Sandra.
★★★★