Graphic Novel Review: When Stars Are Scattered by Victoria Jamieson and Omar Mohamed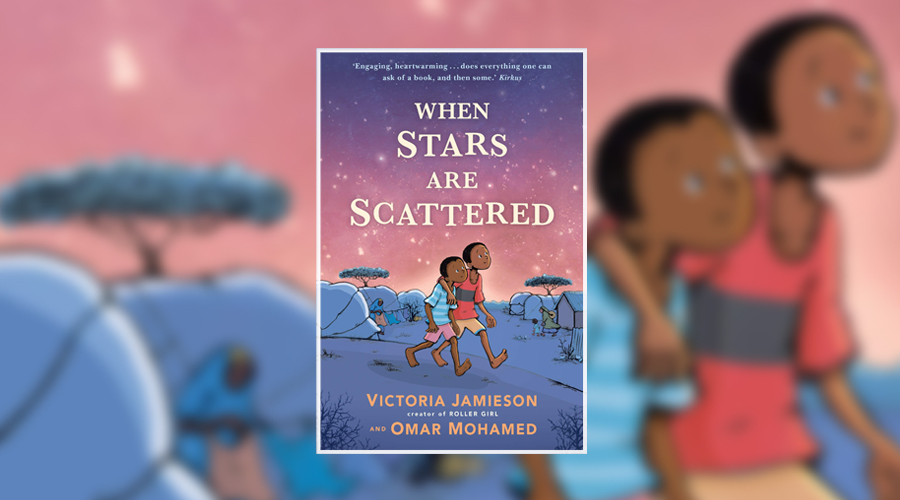 Joining forces with graphic novelist Victoria Jamieson (Roller Girl) and colourist Iman Geddy, Omar Mohamed shares his heart-wrenching and moving story of growing up in a Kenyan refugee camp.
Omar and his brother Hassan are just children when the novel opens. Having been separated from their mother, the Somali boys have spent most of their lives in the Dadaab camp. They're not entirely on their own – they're cared for by a kind stranger who acts as a pseudo mother figure to the pair, and they have friends, other refugee children forced to flee their homes – but life in the camp is tough. They have little in the way of clothes or belongings and they're plagued by constant hunger.
When he gets the opportunity to go to school, Omar sees this as a chance to better his situation. If he can get a good education, maybe he and Hassan will get sent to America, where they can make a safe, secure life for themselves. Balancing his studies with looking after his brother is a challenge for Omar, still only a boy himself, and he has to continually wrestle with his dream of being resettled in the US – a seemingly unattainable wish that carries with it more and more disappointment the longer it doesn't come true.
Omar's upbringing in a refugee camp is alien to so many of us, a life of hardships that's almost incomprehensible unless you've experienced or witnessed it first hand. He and Hassan have lost everything, and they pine after their mother who was wrenched away from them without a proper goodbye. And yet, despite all the difficulties and setbacks he faces, Omar's story is ultimately an uplifting one. It carries with it the power to restore your faith in human kindness and happy endings achieved through self-belief, hard work and a little faith that if you want something enough, you will eventually achieve it.
It's difficult to imagine anyone more suitable for a task of illustrating Omar's story than Victoria Jamieson, who has worked with and helped refugee families arriving in America. Her beautiful, affecting art, combined with Geddy's rich colour and, of course, Omar's touching memoir, feels both far-reaching and intimate – telling a personal tale of two brothers' survival alongside the wider plight of refugees across the world.
Full of of compassion, warmth and empathy, When Stars Are Scattered is essential, important reading but it's also an absorbing children's story too – made all the more poignant because it's true.
★★★★★
When Stars Are Scattered was published by Faber & Faber on 2 July 2020