Golden Plains 2019 Review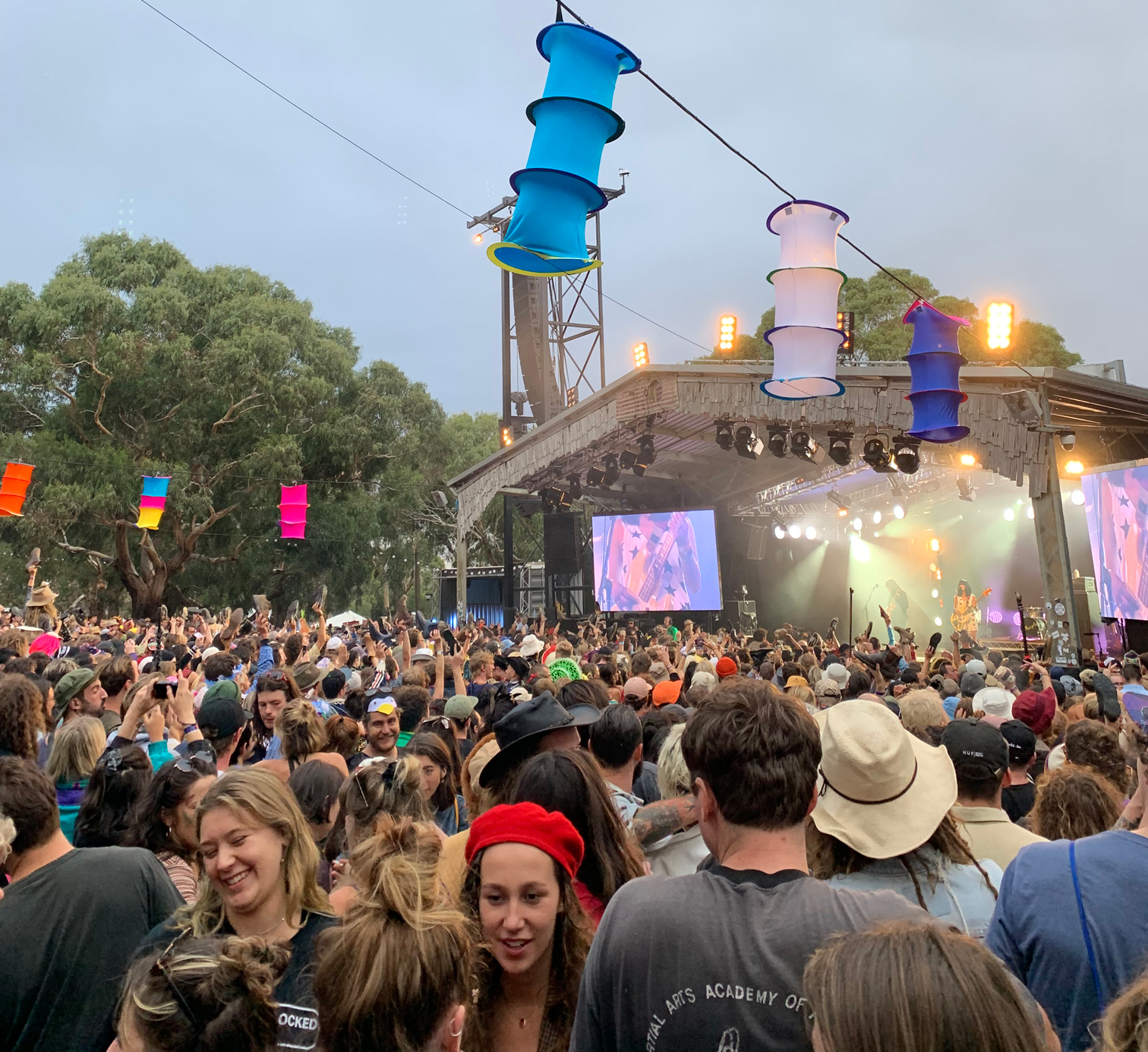 Ever wondered what it would be like to go to a festival without constant advertising banners and corporate greed staring you in the face? Where you can take your couch along for the ride, and it's seen as normal? Well, let me introduce Golden Plains 2019.
It was 4am on 9 March and I was sitting on my bed; a sleep deprived zombie looking down at a pile of camping stuff, hoping that I'd packed the essentials. Being a solo Brit abroad, I'd been adopted for the weekend by a group of Golden Plains veterans who leave at this time every year to secure their favourite camp ground. After a slight reshuffle of belongings between the convoy, we were off, triple j playing on the radio as we headed towards a town called Meredith, which is where the festival was held.
We were allowed on site after sunrise, promptly securing a spot under a tree. The first thing I noticed was how the crowd were already a community, lending each other air pumps and hammers and asking if people had enough space, rather than some UK festivals where people get very territorial.
After a nap, we headed to the main stage to watch Welcome to Country – a ceremony intended to highlight the cultural significance of the surrounding area to a particular Aboriginal clan or language group. In this instance it was Wadawurrung and this involved a five-minute silence which everyone participated in.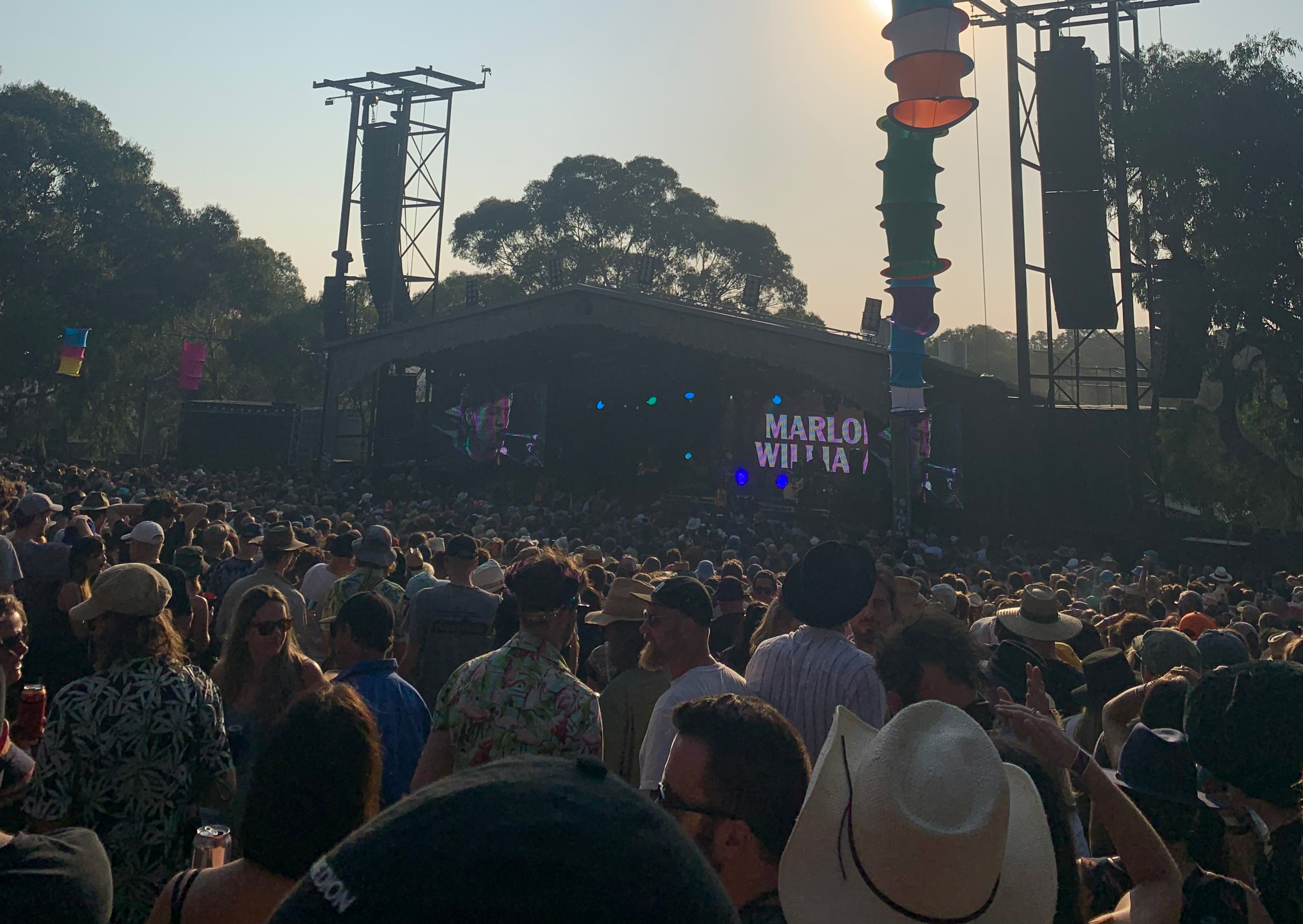 The main and only stage at Golden Plains was a supernatural amphitheatre set in lush green surroundings. This was where all the couches came in handy, with people bringing them to the main stage at the rear of the crowd for the weekend to live in comfort with their eskies and picnics.
The first band on were Californian quartet Shannon and the Clams who played rock n roll swing; they had lots of people bopping, especially the group next to us who had fashioned themselves as a picnic for the occasion. I wasn't too into the Saturday line-up but singer-songwriter Marlon Williams and American band The Internet were pretty fun.
Sunday was the day I was excited about and the reason I'd bought my ticket: Four Tet, Khruangbin and Happy Mondays. In the afternoon an announcement was made on stage that a storm was coming with strong winds, so everyone left the main stage to check their gear was secured. Being from the UK, where almost all festivals have a storm, I was able to sit and relax whilst people hurried around pegging down guide ropes and securing the camps. The rain came and went (whilst I had a nap), then it was back to the stage to get dancing.
Four Tet drew an awesome crowd happily dancing under the green trees of the SUP. Yet my highlight was Khruangbin. If you don't know who they are, you need to listen to them pronto. They produce a lyric-less blend of dub, soul and psychedelia. Their nonchalant stage presence and funky riffs created a great atmosphere as the whole crowd danced in waves to hits such as 'People Everywhere' and 'Two Fish and an Elephant' as the orange Australian sun set behind the trees. It was a magical set.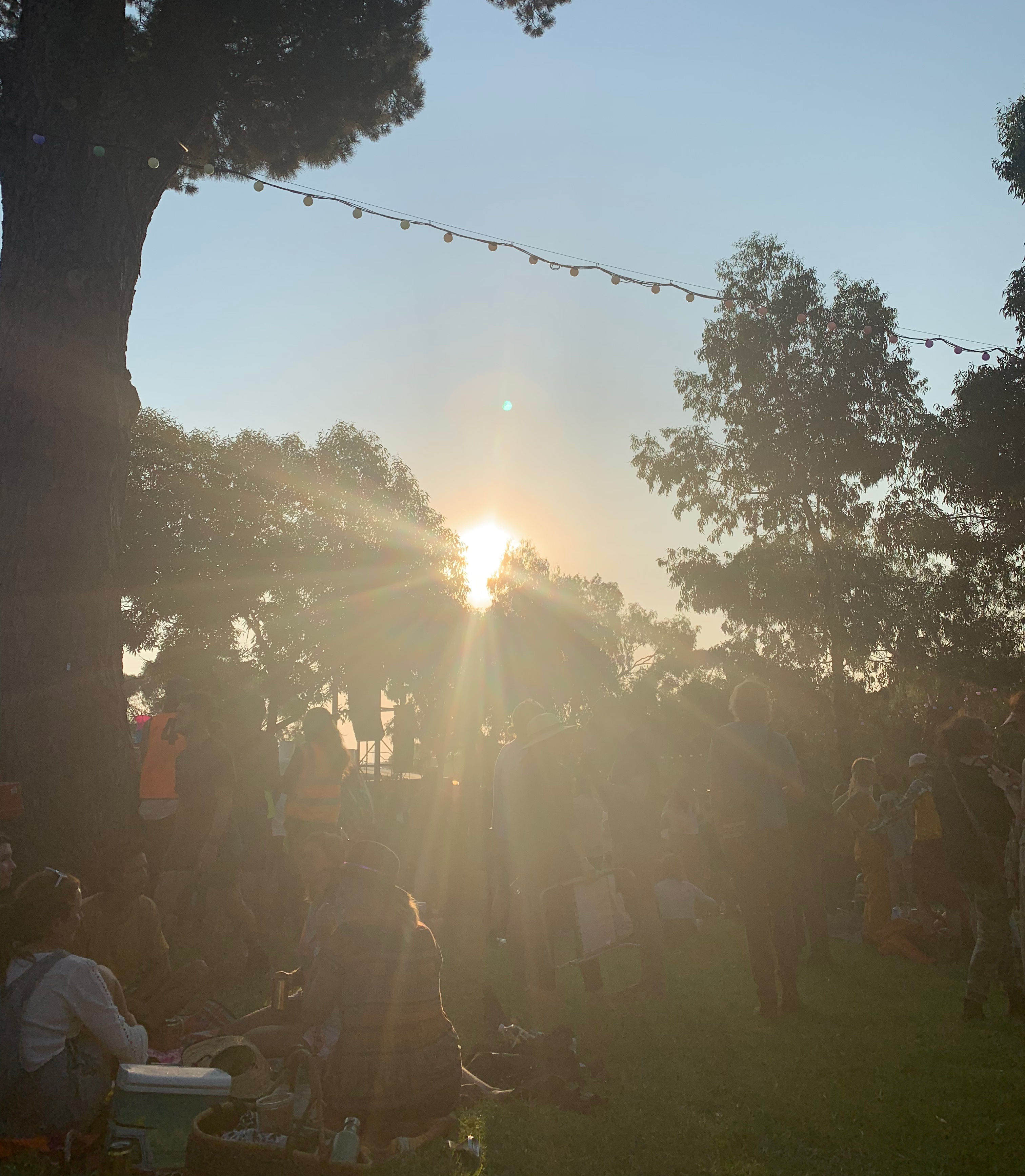 Next up were Manchester legends Happy Mondays, who played their classics to a crowd still high on energy. If I'm honest, I was a little disappointed – their sound wasn't what I was expecting, but Bez threw some pretty sweet shapes on the stage with his maracas. Confidence man also carried on the good vibes and funky crowd dance moves.
Golden Plains has some strange traditions, one of which was decorating the compost toilet cubicles. Throughout the weekend a number of different cubicles became themed; from Miami Vice to a grandmas salon, and even one covered in pictures of birds – people went all out putting in phones, mirrors and chandeliers. These definitely added to the experience when nature called.
Now at most festivals the rides (if there are any) are pretty overpriced but here the Ferris Wheel was free. As soon as I heard one of the group sing "Uber Ferris" I knew I had to give it a go before the weekend was out. Being a person that's terrified of heights, the mere fact I went on it was an achievement.
Thanks for having me Golden Plains. I've been converted and will definitely be back to bask in your glory!