Book Review: Do You Dream of Terra-Two? by Temi Oh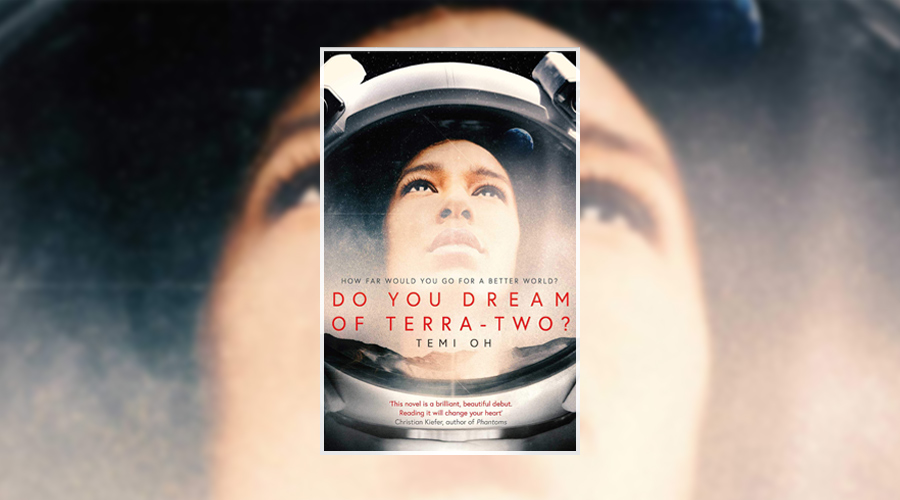 What kind of person chooses to leave everything and everyone they've ever known behind? That's the question Temi Oh ponders in her first novel Do You Dream of Terra-Two? – a thought-provoking sci-fi drama about humanity, survival, sacrifice and hope.
The year is 2012 and Britain is leading the space race. Ten astronauts – four veterans and six teenage scientists – are preparing to set off on a twenty-three year journey to Terra-Two, an earth-like planet they hope will eventually sustain the world's population. Whilst the older astronauts take the mission in their stride, the atmosphere between the younger crew is tense. They've all been specially primed for this mission and yet they're inexperienced and anxious. They'll never return to earth; never see their families or friends again; they don't even know if their mission will be a success. Everything relies on their individual mental strength and, most critically, their unity as a group.
Jesse is the standby who unexpectedly finds himself joining the other teenagers on their mission into space. He's had the same training as the other teens and yet his arrival is met with hostility. The most hostile towards Jesse is alpha male Harry – a determined, overconfident and competitive commander-in-training. Harry makes no attempt to hide his contempt for Jesse, his aggressive behaviour escalating as they launch into space and try to settle into their respective roles.
Harry is the public face of the mission alongside Poppy – the ship's linguist and translator. She's tasked with documenting the voyage and live-broadcasting on-board footage to earth. Yet early on she's stricken with a melancholia she struggles to shake as the gravity of leaving earth hits home. The remaining teenagers are twins Juno and Astrid, who have very different reasons for journeying into space, and robotics whizz-kid Eliot, whose own sorrow is causing him to hallucinate. As the saying goes, a team is only as strong as its weakest link, and there are plenty of weak links to break this particular team.
"They planned the journey to Terra-Two and when they named the six of us how could we say no? We were young. They had hauled us from obscurity to hurl us at the stars, and we were dizzied by shallow fantasies of being the first, of leaving our footprints on the land, pushing our flag down into the dirt, giving it a name, dividing and taming it."
As with all space-set stories where quarters are close and stakes are high, things don't exactly go to plan. There's space sickness, psychological breakdowns, unexpected technical glitches and devastating malfunctions. Yet this isn't a CGI-fuelled action movie prioritising interstellar melodrama over character development. Temi Oh is more concerned with exploring her young characters' internal struggles and how their setbacks affect their mental states. Those who waver at the beginning of the mission find hidden wells of strength in the face of panic-inducing calamity. And those who believe they're invincible will eventually discover the hard way that they're not.
This is a very human tale, driven by its characters, their losses and their faith. These astronauts have nothing but time and infinite space to contemplate their existence, to think about what they're heading towards, and to reminisce over everything they've left behind. It's an incredibly powerful and compelling book, with Oh drawing from a range of inspirations, from her own feeling of melancholy on the eve of her eighteenth birthday, to her grandparent's relocation from Nigeria to the UK in the 70s, to the Mars One project application process in 2013. It all works together to build a multi-layered, intense and intelligent story that will resonate with anyone searching for meaning or mourning a lost part of their lives, whether that's in the shape of a place, a person or a feeling.
Epic in scope with compelling characters, Do You Dream of Terra-Two? is an immersive and imaginative debut. It'll have you staring up at the stars, wondering if a place like Terra-Two actually exists, and whether you'd have that same courage and fortitude to venture into space if you had the chance.
★★★★
Do You Dream of Terra-Two? was published by Simon & Schuster on 7 March 2019