Friend Request DVD Review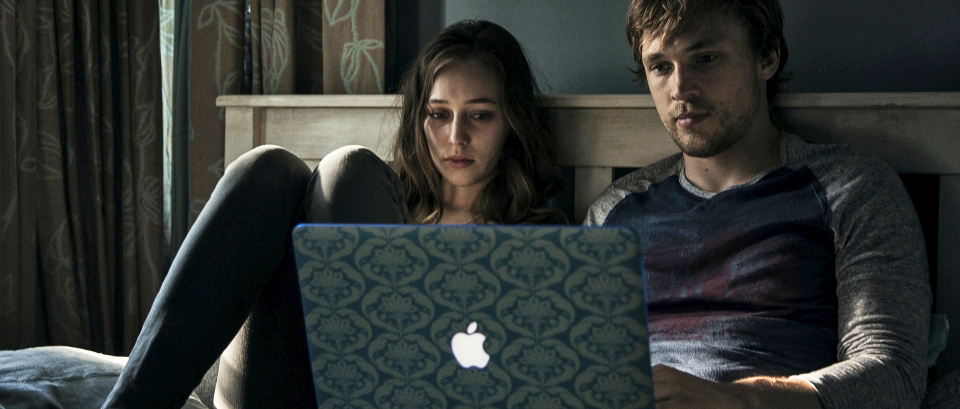 It takes a lot for a horror film to be able to shake off that feeling of déjà vu and become something completely innovative and original – which is why when a game changer like Paranormal Activity or Don't Breathe comes along, it's something to be excited about. Friend Request spends a lot of time treading this line, running the risk of becoming yet another run-of-the-mill horror film even while it plays with the possibility of becoming something altogether more memorable. What we're left with is a film that combines a classic horror set-up with a modern day twist, all within the kind of clever production that could quickly push Friend Request to the front line of the emerging social media horror sub-genre.
The film begins, as you'd probably expect, with a Facebook friend request that popular Laura Woodson (Alycia Debnam-Carey) quickly begins to regret accepting as loner student Marina (Liesl Ahlers) soon attaches herself to the college sophomore with constant messages, video chats and self-invitations to events with Laura's friends and family. Fast forward through lots of pretty social media shots, a particularly nasty fight in the school's cafeteria, and an unfriending, and Laura goes from popular to tormented as Marina's filmed suicide sparks a downward spiral that sees Laura's friend count go down in more ways than one. 
So kicks off Marina's e-spirit/poltergeist's attempts to render Laura as lonely as she is, delivering thrills and jump-scares aplenty even if the evil witch spirit-turned-social media hacker premise is a little hard to swallow. But what Friend Request lacks in a logical premise, it more than makes up for with its gripping, quick-paced twists. The tension is quite clearly present throughout, coming across brilliantly in the disintegrating relationships between the core group of characters, including one spectacular scene in a computer lab, as one by one they all begin to hit desperation point and turn on Laura. Not to mention all the gory detail in each death, complete with jump-scare demonic appearances and sinister black wasps.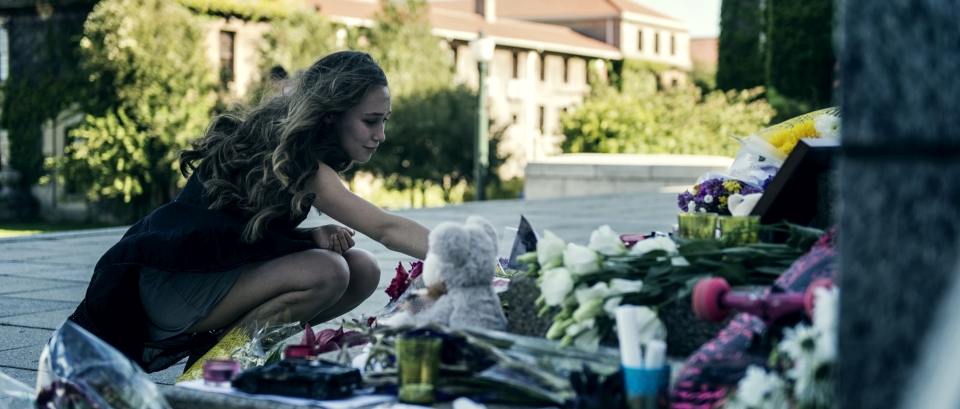 But what really makes this film so engaging is a powerhouse of a performance from lead Debnam-Carey – which is quickly becoming the standard for the Fear the Walking Dead and The 100 actress. As Laura, Debnam-Carey pulls off popular, party-loving and carefree student and grief-ridden, haunted friend with ease, all culminating in the final 20 minutes with a performance that is hard to tear your eyes away from. This is aided in large part due to a memorable supporting role from former Gossip Girl and Revenge star Connor Paolo, who goes from dopy best friend with an unrequited crush to ally to paranoid and hitting out in self-preservation mode – and the more desperate Kobe becomes, the better the film gets.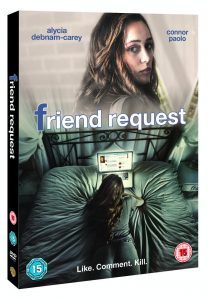 It's a little slow to get going, but when the going gets jumpy, Alycia Debnam-Carey is on hand to make this film as engaging a watch as you could hope for. While it does fall victim to some of the more frequent horror movie criticisms – one or two lines of clunky dialogue interrupting the otherwise largely natural speech patterns and dodgy expositions/on-the-nose explanations – Friend Request is predominantly a clever, well-thought out film that takes the very real concerns associated with social media reliance, internet privacy and hacking and turns them into a chilling 90-minute thrill ride that'll have you second-guessing every random friend request for a while.
★★★★