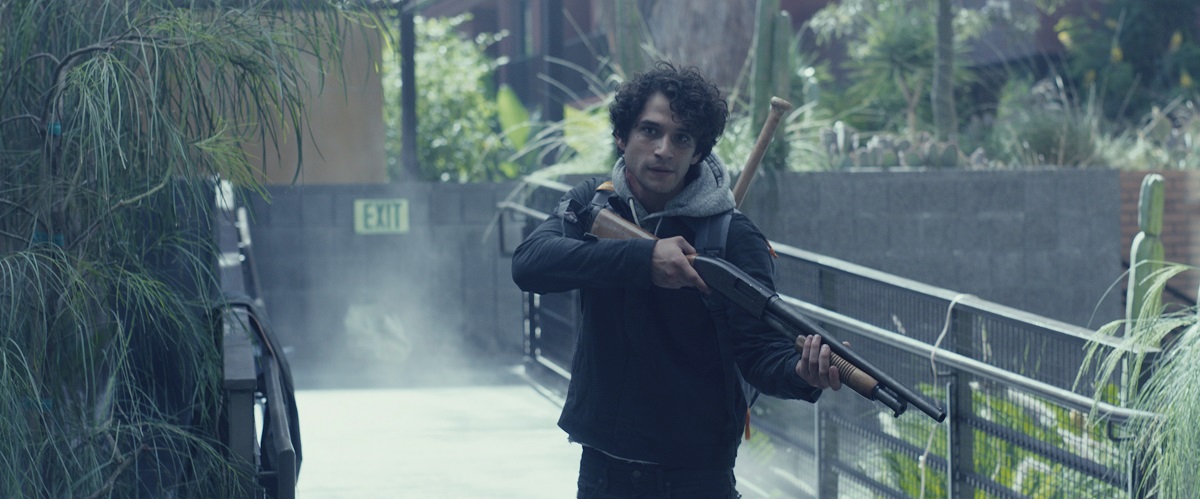 Final Days is a zombie horror movie that looks more introspectively at the struggle to survive alone during a pandemic (how relatable). Managing to go from a classic zombie virus breakout premise to a solemn mental collapse vignette, it then shifts towards a romance, all interspersed with jagged horror jump-scare scenes – which are thankfully more brutal than gory.
Aidan (Tyler Posey) is a simple, pseudo-bro drifting through a wake-and-bake life. He awakens one morning to sirens, screams and news warnings to stay inside. As the zombie virus causes havoc, including a spiralling helicopter crash and a young victim who turns out to be infected and super strong, Aidan barricades himself in his flat for one. Alone, he hopes to wait it out, but the situation only gets worse.
Impressively, he does manage to store and ration some food and water, though takes up video logging his experience after the first week too. Slowly, he descends into a bleak stillness. He drinks, covers his windows, and tries to call him family (occasionally) to no avail. The power goes out, he hears voicemails that suggest his family has died and he breaks down. Losing all hope, he almost takes his own life when he spies a young woman in the flat opposite him.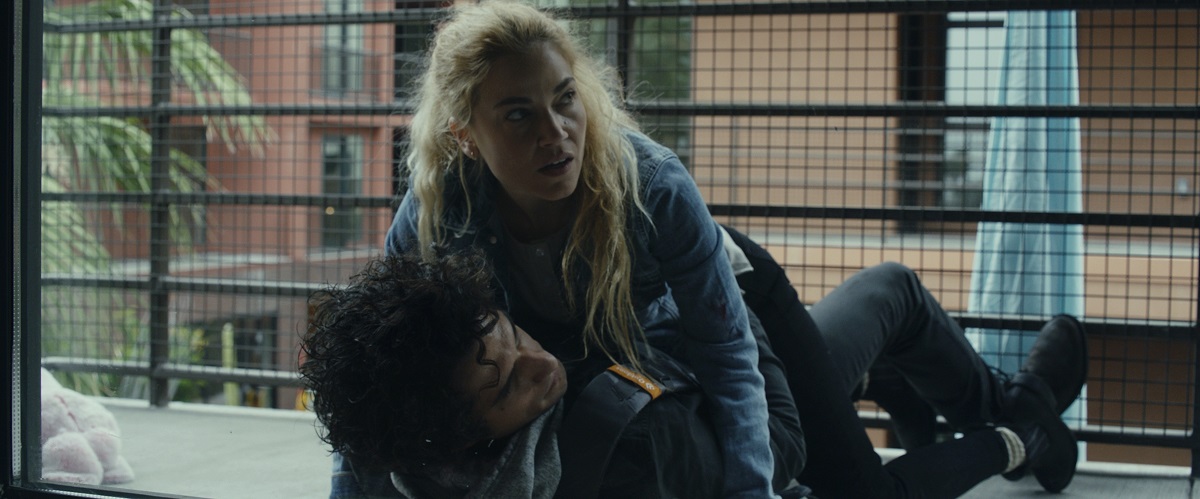 Previously unaware he had living neighbours, Aidan meets Eva (Summer Spiro). Communicating at first through notes across the divide between their apartment buildings, Aidan finds walkie-talkies in a neighbouring apartment while looking for supplies and that allows them both to finally speak to another person after weeks alone. Their cheerful messages and little jokes to one another through their cards are sweet and offer relief from the intensity of what's come before. The two bond and this renews both of their hopes to be able to survive the pandemic.
Posey is remarkably convincing as a distraught young man who questions his own courage in the face of danger and is scarred by every death he causes for his own survival. He's traumatised by the experience and he has an honest demeanour that makes his desire to help Eva feel like it's about saving another human life, rather than just masc heroics. Spiro's Eva is also determined and kind, never becoming a damsel in distress, rather meeting Aidan at his level. They are both average-ish people doing their best in an apocalyptic scenario.
It's hard not to compare this dark world pandemic to the one that we currently find ourselves in. Granted, the turns haven't been quite as dramatic or horrific, but the mental toll of being stuck inside and fearing a virus that has already claimed many lives does strike a certain cord. All in all, Final Days feels like a catharsis from the emotions of the last year or so.
★★★★
Signature Entertainment presents Final Days on DVD and Digital Platforms 12 April