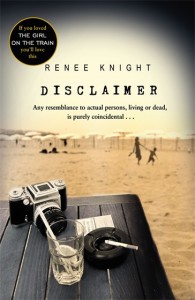 Released: April 2015
Renee Knight is a graduate of the Faber Academy and her debut novel, Disclaimer, is gritty and full of psychological suspense. It was therefore no surprise to learn that the film rights had been bought by a major Hollywood studio.
Disclaimer is set in London and centres around two main characters. Catherine Ravenscroft is a smart, successful business woman who believes she is in control of her life. Catherine and Robert, her devoted husband, have recently downsized house now that their only son Nicholas has finally got his own flat. Her life is set on a destructive path which spirals out of control when she is attracted to the cover of one of the books amongst the stack beside her bed. Catherine fails to notice a red line through the disclaimer and after the first few chapters she finds herself sucked back into a past she had hoped was buried so deep it was unreachable and would never resurface.
Stephen Brigstocke is the second main character we follow. He's a retired schoolteacher who has been learning to cope on his own and has many ghosts to lay to rest. He and Nancy (his late wife) lost their beloved son Jonathan in a tragic accident whilst he was travelling abroad for a year which left them both reeling. Nancy never recovered from the loss and she eventually passed away leaving Stephen to pick up the pieces. In an attempt to turn his life around he returns to writing and, whilst innocently rummaging through drawers for some paper, he discovers a concealed handbag and some photos which Nancy had kept hidden. What these photos reveal leads him down a tortuous path of misery and he's driven by obsession and revenge as he uncovers much more than he bargained for.
Disclaimer is an extraordinarily gripping tale, having all the taut twists and turns I would expect from a thriller. It was a compelling read, whilst simultaneously being deeply disturbing. At the heart of the story is a tangled web of intricate deception, misguided motherly love, revenge, despair, hate and, above all, fear. The story of a woman hunted by a sinister stalker who will stop at nothing to see justice done is suspenseful enough, but add in the surprise factor of the most unlikely person turning your nearest and dearest against you makes it unnervingly creepy.
This is a book which gets under your skin and invades your dreams – Disclaimer is unpredictable and definitely took me by surprise. Don't expect to put it down!
★★★★