Genre: Romance, Comedy
Directed by: Jon M. Chu
Starring: Constance Wu, Henry Golding, Michelle Yeoh, Gemma Chan, Awkwafina, Ken Jeong
Romantic comedy discourse tends to re-emerge every couple of years, usually framed as 'is the romcom dead?' (note: no other genre seems to "die" with the same frequency). But in fairness, it certainly is justified to point out how this summer has seen a deluge perhaps unseen since the 2000's. For the first time in a long time, one has had to choose between the 2018 romcom releases – a lot of them coming from Netflix.
Crazy Rich Asians is the latest addition to this 'summer of romcoms', but for true fans of the genre, the journey to sitting down in a cinema to watch it has taken several years. It was a slow series of announcements, with seemingly every major Asian (be it British-Asian or Asian-American or Asian) being added to the cast list. That, on top of the fact that the film is already based off Kevin Kwan's wildly popular books, made it the perfect candidate to revive the romcom, should it need bringing back to life.
But more than that, as has been widely discussed, Crazy Rich Asians marks a huge landmark for representation in mainstream, Western cinema – the likes of which we haven't seen since Joy Luck Club (1993). Famously, the author of the Crazy series optioned the rights for only $1 in order to secure an Asian-American lead, after receiving offer after offer from studios only willing to make the film if a white actress played Rachel, and her Chinese heritage thus erased. Kwan, alongside director Jon M. Chu, also rejected an offer from Netflix, generous both in monetary sum and promise of creative control, because of the international impact they knew would be a game-changer.
They were entirely correct. As aforementioned, it's now in a long list of romantic comedies released this summer that have found critical as well as commercial success. And unsurprisingly, considering it's actually good.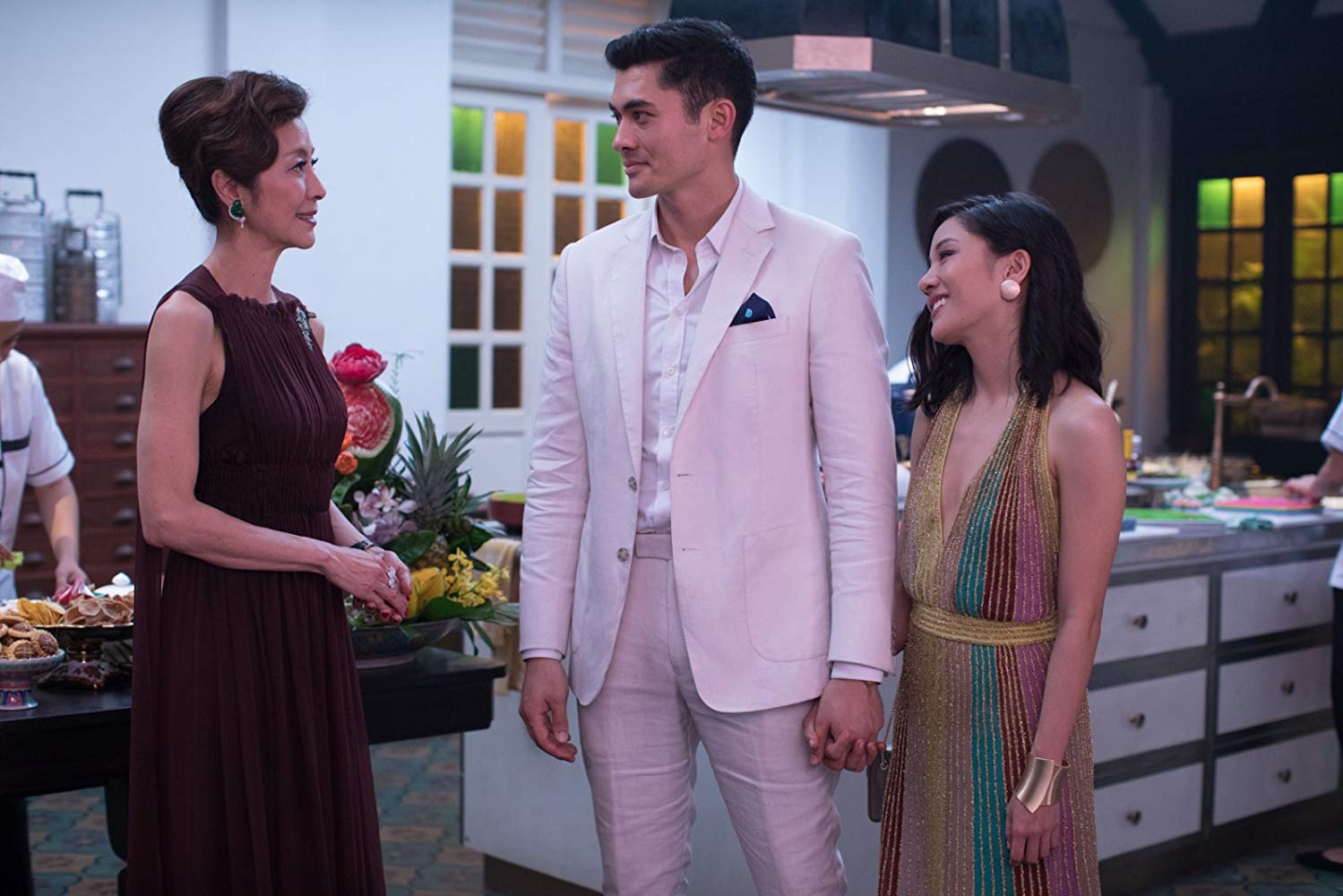 Our protagonist is Constance Wu's (Fresh Off the Boat) Rachel Chu, an Economics professor at NYU. Her boyfriend is the eponymous crazy rich Nick Young (Henry Golding), heir to the Singaporean Young dynasty, though Rachel doesn't know that yet – the audience presumably does (again, the title of the film does give it away a tad, to say nothing of the marketing). Nevertheless, it's crucial that our first impression of Nick is that he has a habit of stealing half of Rachel's desserts, even after insisting he doesn't want one. It's important that the first scene we see between them is their playful, clearly smitten banter; Rachel doesn't seem to mind at all that her boyfriend never orders his own pudding. Their easy, cosy chemistry very much holds up the rest of the film.
The two of them travel to Nick's homeland for a wedding (classic romcom event), where the cast of characters is as vibrant as the food and scenery. Notable mentions are Oceann's 8 Awkwafina as Goh Peik Lin and Nico Santos as Oliver T'sien. The musical choices are also distinct and representative of the way the film simultaneously invites and, in the best way possible, excludes, with many covers of known pop songs. If you don't get it, it'll pass you by, but if you do, it means everything.
Further, the way Chu depicts the lavish lifestyle has the perfect balance – sexy and fun, but not without criticism for when it's vapid and silly. In a paid shopping spree for a bachelorette party, it's noted, "No-one loves free stuff more than rich people."
All of these elements are refreshing and engaging in their own right, but in the legacy of romcoms what stands out the most to a genre devotee is the place we find their relationship in. Usually romcoms would have cut away to the credits before Crazy Rich Asians even started; preceding it, a breathless, heartfelt declaration at an airport and the start of a relationship. Instead, Rachel and Nick have been together for a year when we meet them, and are very, very sappily happy.
Their issues are external, at their core coming from Nick's own mother (Michelle Yeoh – Star Trek Beyond) but never do we see any issue with the relationship itself. They're solid and happy and in love, which is exactly why we care. At times their dynamic has a sort of giddy shyness; both of them have started to realise they want this to be the start of the rest of their lives. The film concerns itself significantly with legacy and heritage and lands on the message that what two people build together out of love is far greater than living up to what others have done before them, or expect of them.
There will be a lot of talk about how the film's 'deviation' from cliché is the secret to its success. This isn't true. Of course, romcoms tend to be much whiter, but it is clichéd, and clichés arn't bad by nature – there are only poorly executed clichés. Even in Crazy Rich Asians you may find yourself knowing exactly where one plot point will resolve, and even where the climactic scene will take place, but that doesn't dampen the impact or lessen the fun. In video game terms: it's not a bug, but a feature. An earned, clichéd moment is exactly what any audience needs. On that same note, it's being proven time and time again that for romantic comedies to succeed or "live", they don't need to directly fly in the face of expectation; they don't need to be radical or edgy for us to want to see them. They just have to be thoughtful, and earned. They just have to be good.
★★★★