Boy About Town – Tony Fletcher Review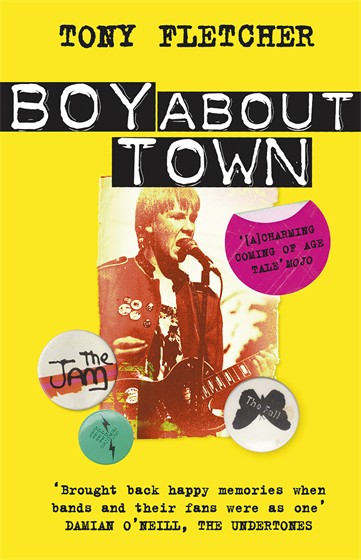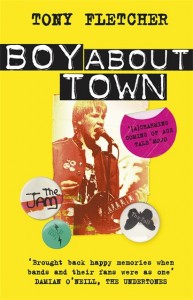 Published: August 2014
It is very easy to underestimate the power of music in our lives. As an accomplished music biographer, Tony Fletcher knows better than anyone the defining capability of music and in his own memoir shares the music that influenced him as he grew up in one of the most creative periods of British cultural history. Presented as a collection of vignettes each headed by a song that defined the moment, Fletcher recreates his coming-of-age in a Top 50 countdown starting in 1972 at eight years old with the purchase of his first single (David Cassidy – 'Could it be Forever') and ending as a sixteen-year-old school leaver on the old cliché that life is just about to begin.
The whole thing has a very Almost Famous feel to it, and I think the similarities just prove how different life in the 1970s was for the music industry. Fletcher manages to be both an awkward and unpopular boy trying to survive secondary school, and an emerging music journalist rubbing shoulders with musicians. What Fletcher is most famous for is, of course, the success of his fanzine Jamming! which hebegan during his time at school. Fletcher shares the history of this fanzine, beginning with the idea and building up its increasing popularity as he gained exclusives with his favourite bands for cover interviews. In a world of social media where we're supposedly more connected to our idols than ever, Fletcher really highlights that the relationship between musicians and their fans has changed dramatically over the past thirty years, and most likely for the worse.
For myself, it is because of this that the memoir becomes very much a story of its era. Fletcher grew up at the heart of a musical revolution that was defined by its eclecticism and the immersive relationship between musicians and their fans. Although the apparent ease of bumping into your idol on the street and being invited to the studio for an interview seems far-fetched in itself, for Fletcher it was his life and the whole journey is built up within a world he recreates with such unflinching realism that it can get a little embarrassing at times.
What really drives this memoir, however, is not the story of Fletcher's adolescence but rather its relationship with music that becomes the very essence of his narrative, and his life. One of the most memorable passages of the book came in Fletcher's tribute to The Who's late drummer, Keith Moon, and what he and his music taught him. Namely that: "you didn't have to sacrifice your dreams for the security of normality, that you could, by your talents and determination – and yes, your lunacy – take control of your own destiny to live your life in the stratosphere, far above the miserable majority of the human race, like a comet streaking through the night sky".
I came into this book with no real awareness of the '70s music scene beyond what I remember from my parents, which brought a smile to my face every time I recognised a band, or a song, they used to listen to. Through Tony Fletcher's life the diversity of the 1970s is completely and utterly exposed in both its best and worst lights. I think we tend to forget that music in itself is a form of expression and for Fletcher this music became his education, his source of employment and, most evidently, his lifeline.
★★★★