Book Review: Wonder Woman by Nancy Holder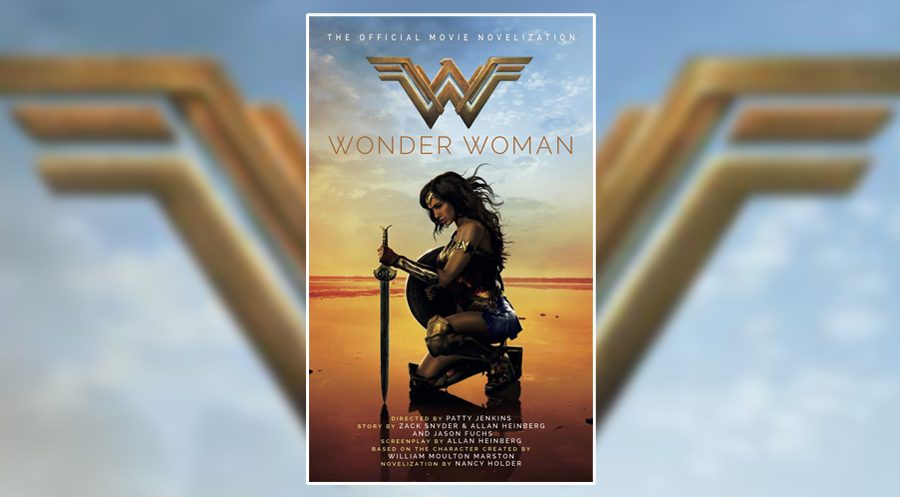 Movie novelisations are strange beasts; they're released alongside major movies and all they set out to do is re-tell the plot of the film in a sustained, longer format. Inevitably, then, there's a lot of competition, especially when the majority of the film's audience are likely to opt to see the film as it was intended to be seen: in a cinema. Put all that together and Nancy Holder's novelisation of the record-breaking Wonder Woman film already had all the odds against it – so it's a credit to the novel that it manages to be a detailed and engaging story of an iconic heroine.
There isn't much in Wonder Woman: The Official Movie Novelisation that strays from the film, if anything, and the plot of the novel is a familiar one: Diana, princess of the Amazons, is trained to be an unconquerable warrior, but it's not until an American pilot called Steve Trevor crash-lands on her home lands of Themyscira and tells of a massive conflict raging in the human world that Diana decides to leave her home and protect mankind as she was destined to do. Off her idyllic home island, Diana is faced with the reality of a human world in the midst of a war to end all wars, and in her fight to bring peace again, she soon discovers her full powers – and the truth about her destiny.
"And Diana answered; she found a deep well and inside it, the steady thrumming of her own heart. It was a warrior's heart – the very core of her essence."
By its very nature, there are a few elements of Wonder Woman that don't always translate well into narrative. Films, as a rule, are a spectacle, and the scenes designed for grand filmic sequences come across as clunky and stilted in text. The novel falls victim to this a few times across the major action sequences, with the final showdown in particular becoming a disjointed jumble of characters, problems and events that are worked through in quick succession. However, this is a very visual story to depict, and messy though it sometimes is, it doesn't detract from the adrenaline-fuelled action scenes. As far as the descriptions go, Holder doesn't miss a beat, faithfully adapting everything from busy galas to the horror of No Man's Land without missing a single detail.
Where the novel proves its worth beyond being a simply descriptive rehash of the film is its exploration of its heroine's roots. Split into three sections – Amazon, Warrior, Wonder Woman – the novel draws heavily on quotes from Ancient Greek writers, re-enforcing Diana's connection to the Gods and her place in mythology through epitaphs and her own internal musings as the book develops. It adds a depth of world building to the events, especially given Diana's being brought up among the Amazons, and her own legends being tied up in the stories of Zeus and the Gods, and the narrative of the book manages to explore how being brought up within such history has shaped Diana's world view and processes a lot more easily than it could have been portrayed on screen.
Ultimately, with Wonder Woman: The Official Movie Novelisation, you get what you expect from it: a rendering of the hit film in text form. There's not a whole lot of extra content, there's no deleted scenes or even any extra insight to be gained from reading the book in addition to seeing the film. It's just a clear and concise book that takes Wonder Woman (the film) and transforms it into a form that you can relive again and again. It's a filmic novel, and definitely lacks some of the nuances you'd expect most narratives to have, but if you wanted to get inside the head of Steve Trevor just that little bit more, or are interested in Diana's mythical history then it's worth giving this one a read too. Even if it just tides you over until the release of the DVD.
★★★
Wonder Woman was published by Titan Books on 2 June 2017