Book Review: Witches Steeped In Gold by Ciannon Smart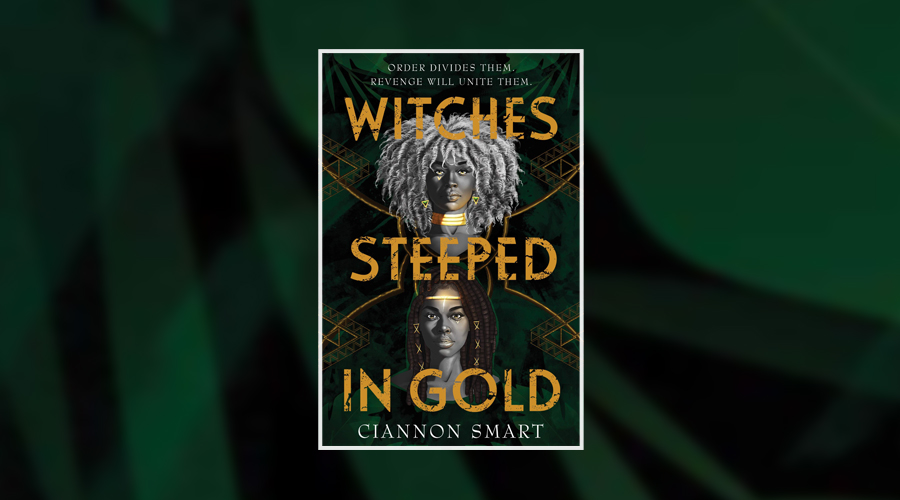 The first book in Ciannon Smart's Caribbean-inspired YA fantasy duology follows two witches who are forced into a deadly alliance in order to take down the woman who threatens both their worlds. Iraya Adair is the heir of an overthrown and magically gifted dynasty. As a child she witnessed her parents murdered and her people ousted, before she disappeared, hiding her true identity in order to stay alive. Now an exile and prisoner of the same woman who betrayed her family, Iraya yearns for freedom and vengeance. On the other side of the fight, superficially at least, is Jazmyne Cariot, emissary and daughter of the self-crowned doyenne. She might stand by her mother's side but she lives with the knowledge that she's a constant threat to the doyenne's rule, and she has no intention of being another casualty in her mother's all-consuming pursuit of power.
Iraya and Jazmyne are sworn enemies but in order to get what they both want – be it revenge and liberty, or peace and justice – they need to learn to trust each other – something that doesn't come naturally to either of them. Even as they secretly work together on their shared objective of overthrowing the doyenne, independently Iraya and Jazmyne are both scheming to undermine each other. Iraya has the innate magic, passed down from her ancestors, and Jazmyne has insider knowledge and a position that enables her to get close to the doyenne; together they should be unstoppable. However, Iraya is overconfident and impatient – too unpredictable and reckless a witch for Jazmyne to put her faith in. Jazmyne is less sure of herself and her stolen magic, but she's grown up in the shadow of a merciless woman and she's learnt a thing or two about how to be ruthless, even if she doesn't show it, or indeed know it.
As the first book in Smart's duology, Witches Steeped In Gold is very much a novel that's built on introductions. There's so much for readers to familiarise themselves with – from the large cast of main and peripheral characters, to the magic system, to the different dynasties and their respective histories, beliefs, allegiances and grudges. It takes the first half of the novel to assimilate everything Smart throws into her story and whilst it's a slight case of too much too soon (a glossary of characters and lingo would have been very welcome!), it wouldn't be such an engrossing tale if it weren't for Smart's exquisite world building. She transports readers to an island nation that's rich with Caribbean sights, sounds, customs and influences – and while there are plenty of dangers lurking behind every corner, it's an exciting, magical world that's easy to lose yourself in.
A fantasy novel needs brilliant world building but even more important are the characters at the heart of the tale, and Smart presents readers with two very different witches, united in their thirst for revenge but divided in literally every other way. Out of the two, Iraya comes across stronger; she's angrier, more sure and more determined to fulfil her mission. Jazmyne doesn't have quite the same ferocious impact as her counterpart and at times she fades into the background, but she more than pulls the focus back in the third and final part. Iraya and Jazmyne are surrounded by other strong, vividly drawn characters – chiefly Kirdan, another emissary with his own ulterior motives, and Anya, a member of the resistance helping Jazmyne bring down her mother. And let's not forget the roguish pirate Roje, who absolutely needs a bigger starring role in the next book.
If you enjoy vibrant fantasy with complex characters, shifting loyalties and magic that crackles through each page like lightning, then you're bound to love Witches Steeped In Gold. It's a fierce and magnetic book of witchcraft, revenge and political intrigue, with an end that sets the scene for more witchery, vengeance, complicated alliances and fiery romance as the story continues.
★★★★
Witches Steeped In Gold is published by Hot Key Books on 20 April 2021