Book Review: Velvet Was The Night by Silvia Moreno-Garcia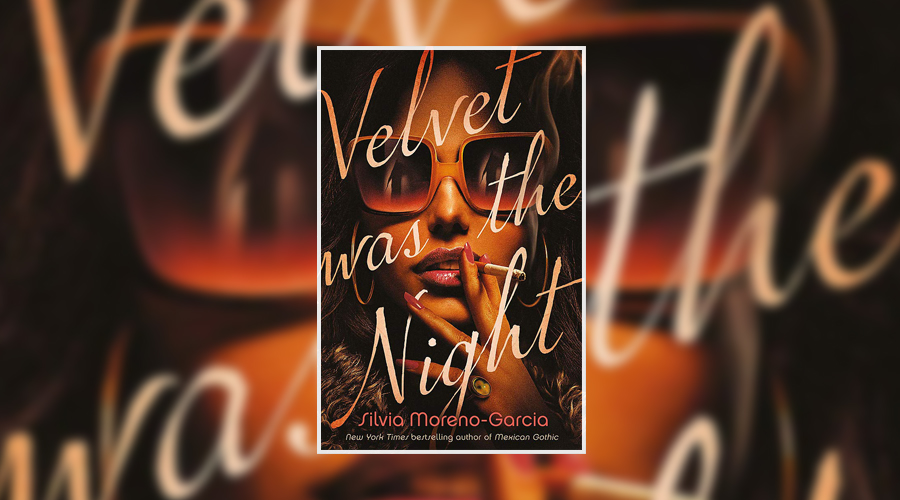 Many authors have a characteristic formula with their fiction. Be it swoony romance, spine-tingling chills or escapist vibes, readers purposely seek out these authors' books because they know exactly what they're going to get. But if there's one thing I've come to expect from Silvia Moreno-Garcia's novels, it's that you never actually know what to expect. Switching between fantasy, romance, gothic horror and noir, no two stories are ever the same, and each of her novels are riveting in their uniqueness. Moreno-Garcia's Velvet Was the Night, a slow-burning noir thriller set in 1970's Mexico City, is no exception.
As student protests and political unrest sweep through the city, two lonely souls are seeking an escape from the lives they've found themselves unexpectedly trapped in. Maite is a secretary who daydreams of the passion, danger and exotic adventures that fill the pages of the comics she adores. She's bored and envious of the other women around her – specifically her neighbour Leonora, an art student who seems to live the charmed life that Maite craves. She's not the only one with an interest in Leonora though. Elvis is a small-time enforcer who loves old movies and rock 'n' roll. He aspires to be affluent and suave like his elusive gangster boss but he loathes the violence he's so good at inflicting. He's been tasked with tracking down an art student with secrets, but he'd much rather watch her solemn neighbour…
When Leonora goes missing under suspicious circumstances, Maite unwittingly wanders into a dark and shadowy underground world that not even her comics could have prepared her for. As she and Elvis independently investigate Leonora's secret life, their search puts them on a collision course with revolutionaries, government agents, hitmen, Russian spies, and eventually each other, as they all race to find the incriminating item that Leonora hid before she disappeared; an item that people will lie, steal and kill to get their hands on.
Capturing a vivid snapshot of a specific period of Mexican history, Silvia Moreno-Garcia invites readers into Maite and Elvis' lonesome lives. Maite isn't an instantly exciting or particularly likeable character; she's judgemental and disgruntled with her lot, yet she's unwilling to do anything about it. She spends a lot of time in her head, and so does Elvis. Out of the two, it's Elvis who takes risks and throws himself into situations – but it's not his choice. He's a tiny cog in a much bigger criminal operation and he's dispensable, which means he must do what's asked of him – no matter how monstrous – if he wants to survive. These characters are not only united by their profound loneliness and discontent but their love of old movies and music. It's strange, then, that they don't actually come face to face until close to the end.
The unhurried set-up exploring the two characters' respective humdrum and dissatisfying existences might put off readers yearning for a fast pace from the offset, but this slow, deliberate and atmospheric build-up is leading somewhere truly special. Once Maite and Elvis become embroiled in the danger that Leonora left in her wake, the novel seems to palpably shift gear. Moreno-Garcia lulls readers into a false sense of security that's whipped away in the second half of the novel as everything starts to come together and the truth of what Leonora was hiding comes to light.
Velvet Was the Night is an evocative historical crime noir that quietly simmers with underlying danger and suspense. Its characters are intriguing in their mundanity and they develop naturally, in a way that suits their slightly aloof personalities. This isn't really a romance story but there's one small scene in a diner, where Elvis and Maite – quite unbeknown to her – share a moment over a jukebox, and it's so beautifully written and oddly intimate that it'll make you wish Silvia Moreno-Garcia had peppered the story with more interactions between her two main characters. The whole encounter is also a reminder of just how easily and seamlessly Moreno-Garcia can move between genres. She's a writer whose books I'm always eager to read and after this, I'm looking forward to seeing where her next book will take readers. Personally, I'm hoping for another noir, with just a touch more romance.
★★★★
Velvet Was the Night is published by Jo Fletcher Books on 17 August 2021