Book Review: Twin Crowns by Katherine Webber and Catherine Doyle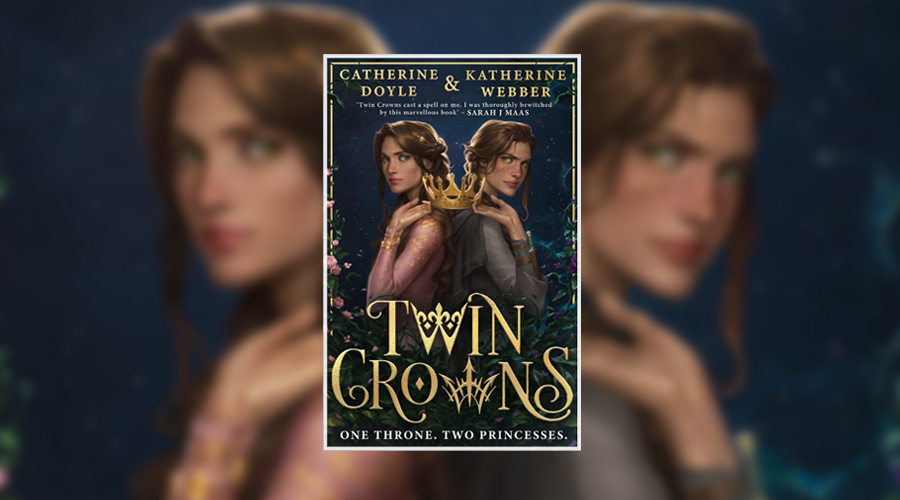 Individually, Katherine Webber and Catherine Doyle are both bestselling, critically acclaimed authors of magical and adventurous YA and children's books. Given they're soon to be real life sisters-in-law, it was inevitable that they were destined to join creative forces and write a novel together. And what a novel Twin Crowns is. At once enchanting, witty, romantic and exhilarating, it's a page-turning princess switch story with a fantasy twist.
Wren Greenrock has always known that one day she would reclaim the crown that was stolen from her. Whisked away from the palace as a baby after her parents are murdered and trained under the protective eye of the persecuted witch community, Wren will stop at nothing to save those who saved her. Which means stealing into the palace, kidnapping her twin sister and pretending to be the princess in order to plot the demise of the man who destroyed her family, and is still trying to obliterate what's left of it.
Princess Rose Valhart knows the responsibilities and power entrusted to her. She has lived a pampered life but she knows nothing of the wider world, or the threats masquerading as friends inside the palace walls. Kidnapped one night by what she believes to be a bandit and taken across the desert to a land of witches, Rose thinks it's only a matter of time before her fearsome army track her and her abductor down. But nobody is looking for Rose, because nobody realises she isn't the princess still residing in the palace.
With their roles reversed, Wren and Rose are given a chance to see the world through each other's eyes. For Wren, that's a life of royalty, riches and ruling power, but she finds pretending to be her doppelganger harder than she anticipated – her preparations hampered by Rose's fiancé's all-too watchful (and all-too attractive) guard. For Rose, she's finally introduced to the witches and magic she was brought up to hate, but her own fear holds her back from becoming who she truly is. Both sisters ultimately want the same thing for their people though, and they must learn to embrace their differences – and their similarities – if they want to achieve it.
All she had to do was make it, undetected, to her eighteenth birthday – the day of Rose's long-awaited coronation. And then she would be Queen; the sole ruler of the island nation of Eana. Free to tear it down, and rebuild it exactly as she liked. Exactly as it once was."
Like all the best author collaborations, Webber and Doyle are effortlessly in tune with each other's vision, humour and delightful sense of adventure. From the very first chapter, Wren is an instantly captivating character – drawing readers into her single-minded mission with an endearing mix of wit, daring and underhanded plotting. Rose takes a little longer to warm to – not because the character is any less well written, but because she doesn't initially have the same snarky spirit as her twin. Turns out, all it takes is an uncomfortable horse ride across a baking desert and the company of a brazen 'bandit' to bring out the sparky and brave side of her that has been quashed over the years.
Wren and Rose have unique voices but they somehow always feel like sisters, despite the fact they're complete strangers at the start of the book. Indeed, if you didn't know this was a novel written by two authors, you wouldn't be able to guess. It's a testament to the sisterly bond between Webber and Doyle, and how in sync they are as storytellers, that the changes in perspective are so seamless and the chapters flow into each other so naturally. As a result, reading this book is a genuine joy.
Twin Crowns is a YA novel that sparkles with magic and a sweeping sense of adventure. It's such a fun and diverting story, utilising the princess switch trope and all the complications and machinations that entails – complete with enchantments, zippy dialogue and not one, but two romances that are simultaneously swoon-worthy and sizzling. It's essentially a romantic comedy, high-stakes fantasy crossover, but the soul of the story rests with two sisters separated at birth and raised on opposing sides of a war that was started before they were even born. Whether you're Team Wren or Team Rose when the story begins, you're guaranteed to be Team Both of Them by the end.
★★★★★
Twin Crowns is published by Electric Monkey on 12 May 2022