Book Review: The Wolf Den by Elodie Harper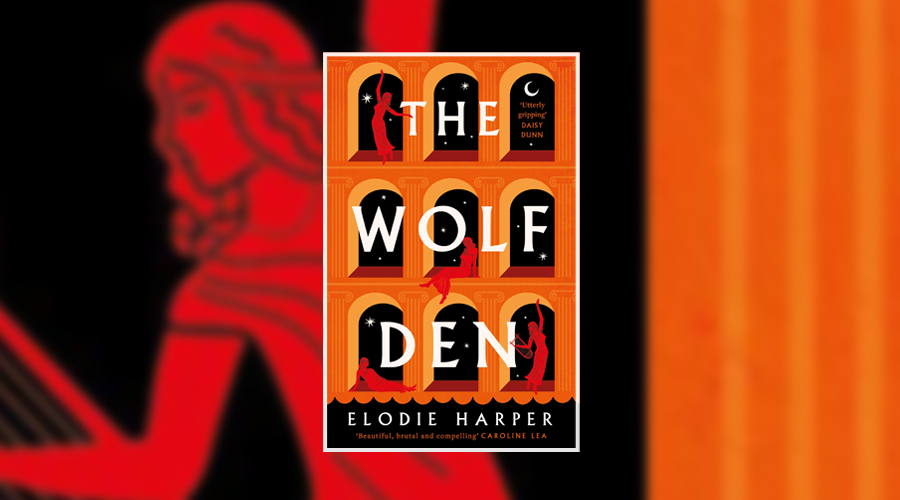 Welcome to the Wolf Den, where women don't own their bodies, let alone their freedom. Sold by her mother after her doctor father dies, plunging her respected family into poverty, Amara is now a slave in Pompeii's seedy lupanar. She lives in fear – of her cruel master, of the uncaring men who visit her in the brothel, of the men on the street who would simply take what they want rather than pay. Amara's only purpose in life is to be a she-wolf, stirring desire in her patrons and making her master rich. But what the men around her don't understand is that wolves have teeth and claws, and Amara isn't afraid of using hers.
By day, Amara wanders the streets of Pompeii with the other she-wolves, the only people in her life who treat her with kindness, love and loyalty. The women come from different countries and have different histories, but they share Amara's constant pain and shame – particularly sweet, pretty Dido, who becomes Amara's partner in a performing duo that catches the attention of a different class of punter to the men who visit the brothel. These men have power, wealth and influence, if only Amara can charm one of them enough to persuade him to buy her freedom. But liberty comes at a price beyond just money, and Amara must decide just how much more of herself she's willing to lose in order to gain what she wants most.
"May men fall to me as this offering falls to you, Greatest Aphrodite. May I know love's power, if never its sweetness."
Set in AD 74, Elodie Harper's The Wolf Den reimagines the lives of disregarded and mistreated women existing in a brutal and unforgiving male-dominated world. By elevating their voices, Harper humanises the she-wolves, giving them hopes and dreams and yearnings – even if they don't have the power to act on them. Amara begins the story as a victim but as the tale evolves, she learns that to better the men around her, she must be smarter than them. She must play their games and laugh at their jokes and submit to their constant demands. It is not a pleasant, enjoyable journey but the strength that Amara carries with her in the face of complete degradation propels the story forward, making every chapter more compelling than the last.
The Wolf Den is at its heart a tale of female solidarity and sisterhood, of women having each other's backs and caring for one another when nobody else will. Their lives are hard and they suffer so much violence, but they're still able to experience laughter and warmth with each other. The book briefly explores the plights of other slaves – of men forced into prostitution and servitude, as well as what happens when the beauty and youth that makes a slave desirable gives way to old age – but Harper never lingers too long on anyone other than the she-wolves. This is their story from beginning to end, and the intense focus on the women of the Wolf Den makes readers live every single struggle with them.
If you enjoyed Jennifer Saint's Ariadne, another gripping and beautifully written book that pulls the stories of overlooked women out from under the feet of their male oppressors, then you'll be unable to put The Wolf Den down. It's also the first in a trilogy of novels about the lives of women in ancient Pompeii – a place so rich with history and tragedy that it guarantees Elodie Harper's next book will be one to look out for.
★★★★★
The Wolf Den is published by Head of Zeus on 13 May 2021