Book Review: The Two of Swords – Volume One by K. J. Parker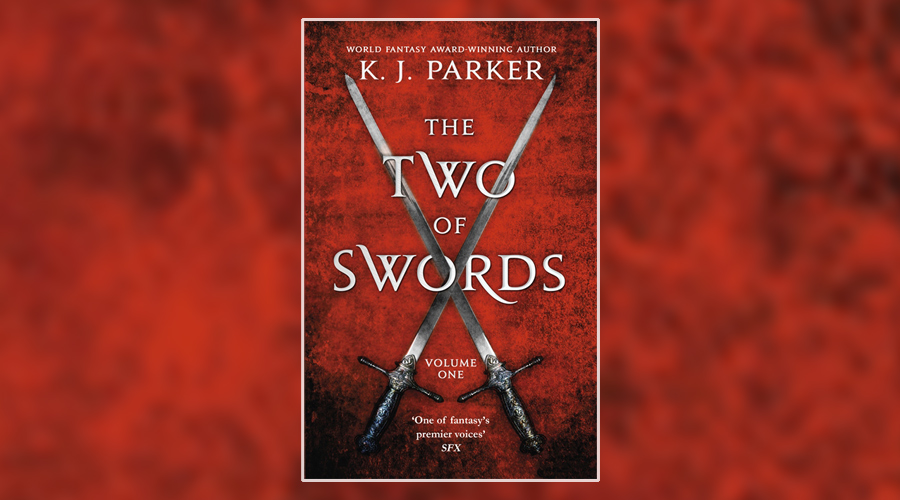 Volume One in award-winning fantasy author K. J. Parker's The Two of Swords series is a sweeping, epic and beautifully detailed story about naive soldiers, sly assassins and feuding brothers. More pressingly, it's a tale of a great war that nobody in the vast Empire can run or hide from, no matter who they are and how much power they wield.
The book expertly weaves between characters and their individual missions, starting with two simple farm boys: Teucer, whose talent for archery is the only thing keeping him alive when others around him are being slaughtered, and Musen, an adept thief with loose ties to a mysterious organisation that looks out for its own.
Elsewhere the story follows Telamon, a priestess and spy who goes where she's sent and kills who she must without a second thought for the blood on her hands. Then there are the infamous Belot brothers, Senza and Forza, both unbeatable generals fighting for opposing armies; both hell-bent on killing the other and winning once and for all.
The Two of Swords is the kind of novel that's difficult to encompass in a review; there are just so many characters and locations to keep track of, not to mention the many power plays and missions taking place simultaneously across the Empire. Each chapter packs in as much detail, machinations and scene setting as is possible and it makes for an all-encompassing and incredibly intricate read.
A character you meet in the very first – admittedly lengthy – chapter won't appear again until near the end of the book and that can be frustrating when you've just got invested in a particular strand of the story. However, given this is a three-volume tale, it's easy to give in to the grand set-up that is this first instalment. Volume One is all about introducing the characters, what drives them and what they might have to gain and lose from this ensuing war to end all wars.
"Why are we fighting this war? Because evil must be resisted, and sooner or later there comes a time when men of principle have to make a stand. But at this stage in the proceedings,' he added, with a slightly lopsided grin, 'mostly from force of habit."
Parker's detailed characterisation and world building is incredibly vivid. One particular section, which finally brings Forza and Senza face-to-face in hand-to-hand combat, is brilliantly written, each line of the ferocious fight jumping off the page like a scene from an epic fantasy movie.
None of the characters get short shrift but some are more interesting than others, chiefly the warring Belot brothers and the gutsy priestess, as well as the mysteriously neutral intermediary and famed musician, Oida, whom they all come into contact with. These are characters I wanted to read more about and hopefully others like Teucer and Musen will become equally intriguing as the books progress.
If you love epic and engaging Game of Thrones scale fantasy but on a more human level, you'll love this.
★★★★
The Two of Swords: Volume One was published by Orbit on 17 October 2017