Book Review: The Stars We Steal by Alexa Donne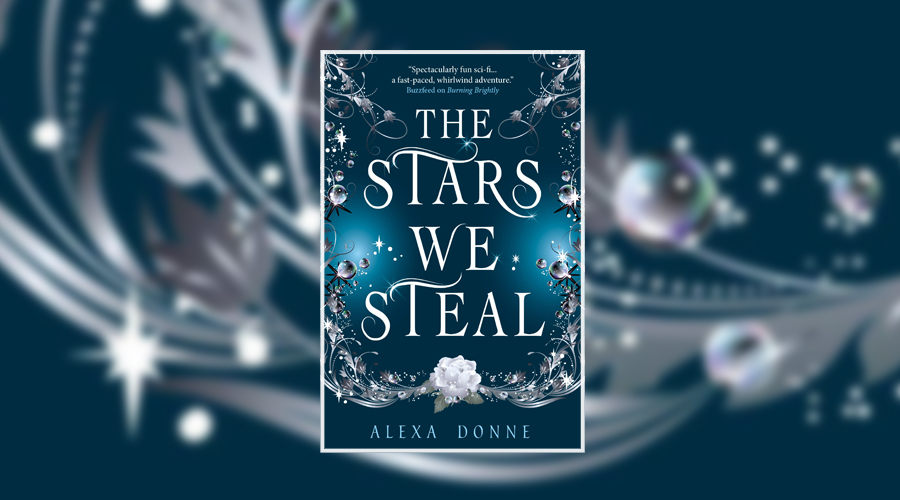 After adapting the classic novel Jane Eyre for her first novel Brightly Burning, Alexa Donne has turned her attention to Jane Austen's Persuasion for book two and given it that same YA sci-fi spin. But even with the recognisable plot beats and narrative arcs from Persuasion guiding it, The Stars We Steal is still very much its own story – and, happily, it's a fun and enjoyable one too.
As the heir to a run-down European spaceship, it's on Princess Leo Kolburg to marry a wealthy bachelor to save her family from financial ruin. With the Valg Season – aka engagement season – firmly underway, Leo's father is pushing her to make a wealthy match but Leo has her own plans to save her family – plans that don't involve marrying someone rich. But then Leo's childhood friend and first love Elliot returns, and it changes everything. Having made his fortune while he's been away, Elliot is now the catch of the season and it seems he's determined to make Leo's life miserable.
As the glittering balls and endless social gatherings of the matchmaking season continue, Leo soon finds herself falling for her first love Elliot all over again. But Elliot is keeping a few dangerous secrets of his own, and it comes at a time when the divide between the wealthy elite and the deprived lower classes is greater than ever. With past regrets looming large and old feelings being stirred up, Elliot and Leo are soon locked in a battle of wills and trapped in a game of love, lies, secrets and betrayals, where the stakes could prove deadlier than either of them thought.
"My eyes scanned the room, and I reigned calm, despite the way my heart was pounding in my chest. Finally I found Elliot holding court by the canapés. I scolded myself for locking onto him like a heat-seeking missile. He'd been here only twenty-four hours, and I'd lost all sense."
It's safe to say that there's a lot going on in The Stars We Steal and unfortunately, not all of it hits its mark. The very premise alone presents some challenges to the author – how do you tell a story so heavily dependent on the norms and values of society in Regency-era England in a futuristic space setting and still have it resonate, for example? In this case, the answer is to set it among royalty and it works – to a point. The upstairs-downstairs nature of Leo and Elliot's relationship feels like strong enough grounds to have Leo's family object to their engagement, and Leo feeling a duty to stay and provide for her family rather than running away with Elliot is an understandable means of separating the young couple too.
The problem is that we're not given enough context as to why everything in this world is so traditional in the first place, and it leaves so many questions unanswered. This is a world where women are in power and able to lead and the only thing stopping Leo from implementing her own plan to save her family is money, not her gender. So why couldn't Leo have left with Elliot, found a job and supported her family that way? Why is so much stock put on the Valg Season and the matches it makes, when we're told quite early on that even Valg-made marriages fall apart and there doesn't seem to be a 'till-death-do-us-part' commitment? There's a mismatch between the early 19th century manners and the futuristic setting in this novel that never really comes together; instead, there's very much a sense of 'this is just how it is', and it's a shame not to get a more in-depth social history of this very intriguing universe.
But while the world-building could be frustratingly superficial at times, where The Stars We Steal shines is in its main cast of characters, and particularly in the relationship between the two leads. Leo is a likeable protagonist whose desire to always do what's right for her family is admirable, even if it is a little one-note at times. Her relationship with her younger sister Carina is a sweet one and Donne ensures that it remains relatable throughout even the soapiest of subplots. Elliot, meanwhile, offers readers a mystery in character form, and it's a lot of fun seeing the different sides of his personality emerge as the plot unfolds, leaving readers to try to work out his motivations. But, of course, with the blueprint of Anne Elliot and Captain Wentworth to guide them, Leo and Elliot's relationship is a swoony delight – made even more so by the added Bachelor-esque element of the Valg Season and all the group and one-on-one dates that orchestrates. The two characters are a good match for one another, and the will-they-wont-they of their relationship will keep you turning the pages through to the very end.
Packed with plenty of romance and tension, and featuring a dash of political intrigue too, The Stars We Steal takes the base notes of Austen's Persuasion and runs with them, making this a novel that offers an entertaining story, but one that also falls a little flat sometimes. While I would have liked to see a little more made of the class divides, the activist group that caused a stir early on and the corrupt politics the novel hints at, it's clear that the lost loves getting a second chance at romance plot is the driving element of this story and if you enjoy YA romance novels, you can't go far wrong with this one. With wonderfully vivid descriptions and a strong cast of characters, The Stars We Steal offers twists, adventures and romance aplenty, making this a fun dose of escapism and an easy book to spend an evening with.
★★★
The Stars We Steal was published by Titan Books on 4 February 2020