Book Review: The Prime of Ms Dolly Greene by E.V. Harte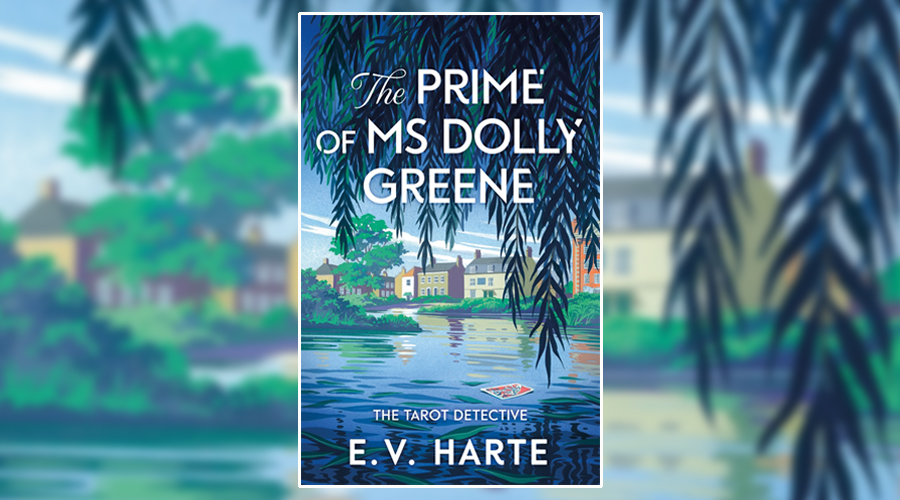 A brand new contemporary crime series will hit the book scene in September and the first in this series, The Prime of Ms Dolly Greene, is a refreshing departure from the usual hard-hitting crime novels. Author E.V. Harte operates under several aliases: As Daisy Waugh she has written several historical novels and a couple of non-fiction books. Under the pseudonym Daisy de Sales she is also a professional Tarot reader and her interests lie in all magical arts.
The Prime of Ms Dolly Greene is therefore a subject Harte is well equipped to write about, with her protagonist, the delightful Dolly Greene, also being a professional Tarot card reader. Dolly is divorced and living with her 21-year-old daughter Pippa. Dolly is kind-hearted, intuitive and comfortable in her own skin. Content with her local community, she keeps an eye on the hot-potch of loyal residents who she counts as friends as well as neighbours, all residing in an isolated road called Tinderbox Lane. Hidden away in the heart of southwest London, only a short stroll from the Thames, it is situated down an overgrown bike path, where Dolly's tiny mews house is part of a single row of cottages.
It is here that the story opens on a stifling hot summer's day, when Dolly holds a Tarot card reading in her miniscule study – aka the broom cupboard – for a voluptuous and anxious young woman called Nikki. Nikki was referred to Dolly's Tarot reading by Maurice Bousquet, Dolly's next door neighbour, and Nikki seems desperate for answers to her rather complicated life, which appears to involve numerous men and sexual liaisons. Unfortunately for Dolly, her reading with Nikki reveals every Tarot readers worst fears, the sinister Death card, and despite skirting around it so as not to reveal her fears, Dolly has a disturbing vision which looms ominously over her client.
When days later a woman's battered body is washed up on Chiswick Bridge, Dolly fears the worst. She tries to find answers and probes Maurice – who obviously knew Nikki – but he evades her questions. Dolly knows things aren't all they seem and, assuming Nikki's sudden disappearance doesn't bode well, she begins her search for the truth.
During this time she meets Sergeant Raff Williams, who is assigned to investigate the murder. He visits Tinderbox Lane during his enquiries and as the plot thickens, and the residents of Tinderbox Lane get drawn into the story, Dolly reveals her worries to the officer and the tale quickly develops some delightful twists.
There was lots of humour peppered throughout this charming and warm-hearted novel. I really enjoyed all the characters and I could visualise Dolly's daughter Pippa's over-the-top college teacher blundering his way through situations, and the other well rounded characters of Tinderbox Lane who are definitely not what they initially appear to be.
Usually a slow reader, I literally hurtled through The Prime of Ms Dolly Greene and would recommend it as the perfect holiday read. I look forward to the next book in this series to re-connect with Dolly and her unusual sixth sense.
★★★★
The Prime of Ms Dolly Greene is published on 7 September 2017 by Constable