Book Review: The Dressmaker of Paris by Georgia Kaufmann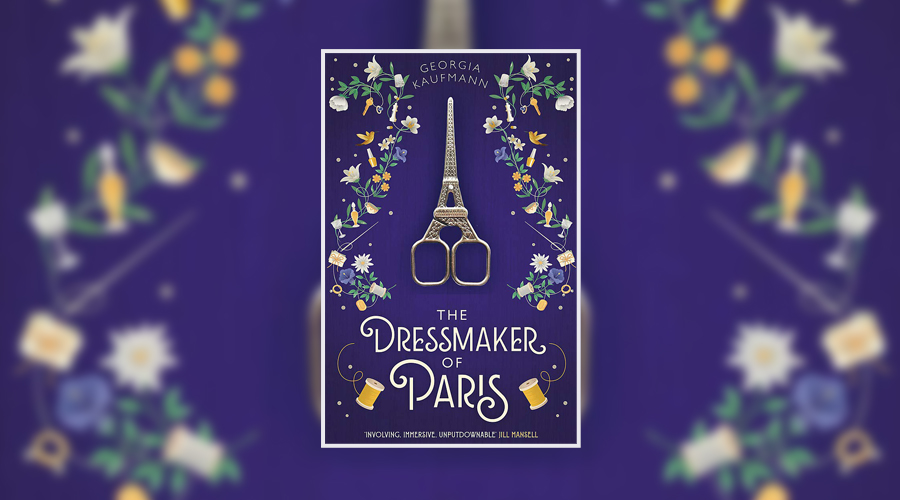 Between the grand scope of the story itself and the gentle way it's being told, The Dressmaker of Paris soon proves itself to be the kind of quietly immersive novel that sneaks up on you, until Rosa Kusstatscher's life, loves and journey of self-discovery is a world you willingly want to get lost in.
Georgia Kaufmann's debut novel begins in 1991, as a 63-year-old Rosa sets about getting ready for an important meeting. For a woman who's built a career and a global fashion empire on her ability to dress perfectly for any occasion, the nerves and uncertainty she feels ahead of this particular moment are unheard of, and it prompts her to reflect on her story so far, recounting everything that brought her to this moment, right now, and this meeting.
And so begins Rosa's incredible story, which begins in a mountain village in Northern Italy before she is forced to flee Nazi occupation in the middle of the night at the age of 16. From there, her journey takes her to Switzerland and onto Paris, before crossing the ocean to Rio de Janeiro, New York and beyond. Through the years and across continents, Rosa chases love, success, glamour and ambition as much as she runs from the heartbreak, devastation and the tough decisions she's made along the way too. It's a life that has been spent running, searching and hiding from the past, but every decision and every experience has brought her to where she is now, and Rosa is finally ready to face all of it.
"You may think it odd that I am telling you this, ma chère, but you won't understand unless I tell you everything. The choices we make are based on earlier choices, and mistakes."
From early on in this novel, The Dressmaker of Paris feels very reminiscent of Taylor Jenkins Reid's wonderful The Seven Husbands of Evelyn Hugo, only while Evelyn tells her life story through the framework of each of her marriages, Rosa recounts her story through the contents of her medicine cabinet, from make-up and perfumes, to medicines and moisturisers. It's an interesting framing device, and while it initially feels confusing and perhaps even a little irrelevant too, within a few chapters Kaufmann begins to draw on these items and the role they've played in Rosa's life over the years in wonderful ways, turning it into a fascinating narrative structure that fits perfectly with Rosa's personality and interests. For Rosa, her make-up and her appearance is her armour; the choice of the perfume she wears, the oils she bathes in and the lipstick shade she decides on for this meeting are all informed by these events in her past and the story she's telling.
Surprisingly for a novel with a title like The Dressmaker of Paris, this book actually spends very little time in Paris itself, and the story is all the better for it. Throughout this sweeping story of Rosa's life, Kaufmann is adept at creating a very real sense of place, whether it's the picturesque scenery of Rosa's childhood home in the mountains or the wondrous sights and sounds of Brazil at New Year that overwhelm Rosa when she arrives in the country straight from Paris. Also adding to the magic of this story is the intriguing mystery running throughout Rosa's story as readers are left questioning both who Rosa is talking to, and who she is going to meet? There are certainly a lot of clues sprinkled throughout the novel, and while the question of the important meeting itself is perhaps slightly easier to work out, these are questions that keep readers flicking through pages to the very end, desperate to get some answers.
This does, however, also lead to one of the novel's biggest disappointments, although it is a criticism that's very much a double-edged sword in this case. In a bid to keep the mysteries going through the final chapters, the author is left with decades of Rosa's life still unexplored by the final pages, and what has been such a wonderfully immersive and impressively detailed story so far switches to a rush of filling in the blanks as Rosa brushes over the last 20 years of her life in a page or two. The saving grace is that, narratively, it makes sense, but for readers who've invested on this journey with Rosa over the last 300 or so pages, the sudden change of pace is jarring, and it's a testament to Kaufmann's writing that I wanted Rosa's journey to continue on beyond the final page.
Still, this is a wonderfully enchanting story that's been beautifully written throughout, even when it ventures into somewhat implausible areas. This novel has a little bit of everything in it and offers up genuine surprises, unexpected heartbreak and thoughtful considerations, including a very heartening championing of women supporting women through all aspects of their life too. At its heart The Dressmaker of Paris is a story of one woman's resilience, perseverance and regret, and it's a story that will stick with you long after you finish reading.
★★★★
The Dressmaker of Paris is published by Hodder & Stoughton on 28 January 2021