Book Review: The Court of Miracles by Kester Grant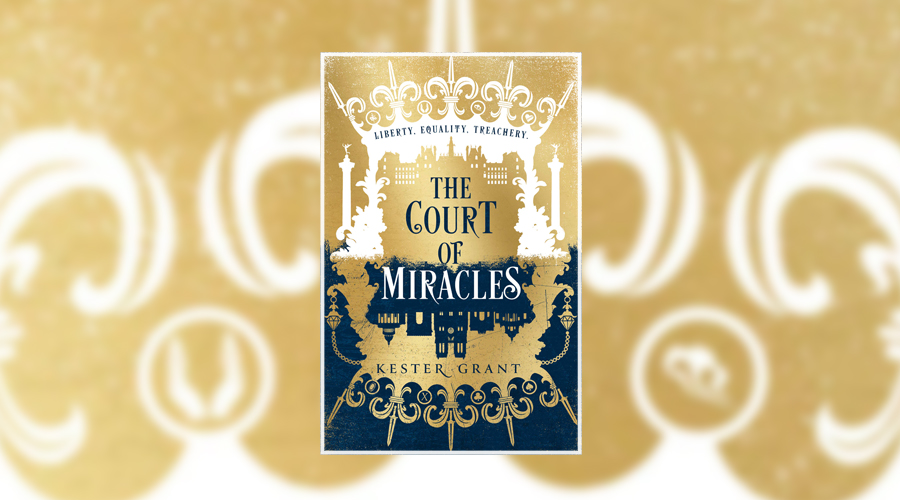 Last year delivered conclusions to two of my favourite YA fantasy trilogies: Stephanie Garber's Caraval and Holly Black's The Folk of the Air. I was in need of a new series to fall in love with, one with devious characters, devastating betrayals and darkly romantic undertones. Enter Kester Grant's The Court of Miracles, a fantasy retelling of Les Miserables set against the backdrop of 1828 Paris in the wake of a failed French Revolution.
In Grant's alternate history, the city has been divided between the heartless royalty and nine underworld guilds of thieves, smugglers, mercenaries, spies, assassins and more, known as the Court of Miracles. Paris is a poverty-stricken and lawless place, held together by a precarious accord by the lords of each guild. They welcome the Wretched into their midst but as famine spreads through the city, another revolution is building.
Eponine 'Nina' Thénardier is just a child when her older sister Azelma is taken by the Tiger – the ruthless lord of the Guild of Flesh. Devastated by her loss, Nina becomes a cat burglar with the Thieves Guild. She's small and light and can steal the most valuable objects without getting caught. But what Nina really wants is justice for her sister, and revenge on the man who stole her. When Nina's sweet and innocent adopted sister Cosette (Ettie) catches the Tiger's eye, Nina becomes caught in a dangerous race to keep her safe.
Nina steals away with Ettie and pledges her to the Dead Lord and his ghosts – the only guild defiant and dependable enough to protect Ettie against the Tiger. It's a decision that puts in motion a war between the Lords, with Nina at the centre of it all. The Tiger doesn't abide by the laws and once he sets his sights on something he wants, he won't stop until he has it in his possession. Nina might be out of her depth and grappling for allies but they don't call her the Black Cat for nothing. She will use every one of her nine lives to protect the one sister she can still save.
"You're just a little monster that hasn't grown into her claws yet."
Taking readers from the deprived underbelly of the city to the dazzling court of Louis XVII, Kester Grant turns Victor Hugo's original story of justice, love, morality, antimonarchism and revolt into an alternative fantasy tale that melds perfectly with the historical themes and characters. Eponine is such a tragic figure in Hugo's tale but Grant gives her the starring role, putting Nina front and centre of the fight for both her city and her sisters. Her small stature and stubborn nature are akin to Ayra in Game of Thrones or The Folk of the Air's Jude, and she's every bit as ferocious and painfully human as those two characters.
The Court of Miracles might be a fantasy story but it's not a fairytale; you'll find no faeries or magical creatures here. It has elements of the animal kingdom brutality of Rudyard Kipling's The Jungle Book (the Tiger is the human equivalent of Shere Khan) but it's rooted in the bloody history of the French Revolution – something that's at the core of Les Mis. It's a delight to read through the pages and identify the characters we know and love – from Nina and Essie to Thénardier, Nina's father – who's as despicable as ever – to Valjean and Javert, a convict-cum-spy and female inspector respectably, whose complicated past is all the more complicated here. Grant makes the story her own by weaving in underworld criminals, an intriguing guild system and a lonely heir to the throne who might just be the most valuable ally – albeit an annoying one – Nina could ever have.
This isn't a romantic novel per se – Nina is too busy fighting and surviving to think too much about her fluttering heart – but Grant teases more than one potential romance. A particular favourite is Montparnasse, the shadowy Master of Knives and deadly assassin who takes an unexpected shine to our heroine. It's just one of the strands of the story that I can't wait to explore more in the next two books.
With a diverse cast of characters (a notable change for the better from Hugo's narrative) and a satisfying story that feels like it's only just beginning, The Court of Miracles is a thrilling tale of treachery, rebellion and retribution – and a must-read for fantasy readers and Les Mis fans alike.
★★★★★
The Court of Miracles is published by HarperVoyager on 18 June 2020