Book Review: Sweet William by Iain Maitland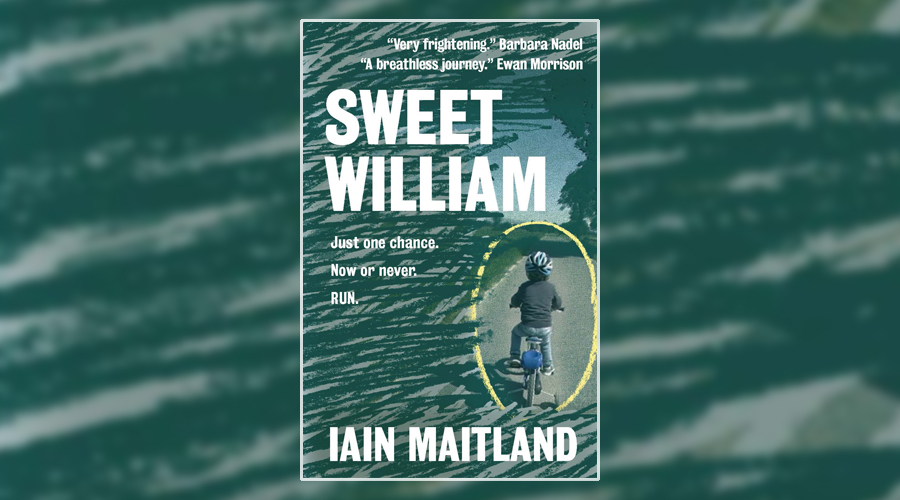 Sweet William is a pulsating thriller about fathers and sons, mental illness and addiction. The story is set over the span of 48 hours and begins with a patient escaping a high security psychiatric unit. This patient is Raymond Orrey, an unstable man with a sketchy past (our narrator) who is out to 'rescue' his son, William.
Meanwhile, William is living with his mother's sister, Nat and her husband. The book begins without any preamble and we are immediately thrust into the action. We find out that William's mother was a substance user and died in a car accident, which everyone presumed was Raymond's fault. Raymond was then sent into psychiatric care and it's apparent why as we glean from the narration that he has an unstable personality and anger issues.
The timeline alternates between Raymond's quest to find William, and William's life at his aunt's house. Parts of the narration done by Raymond are urgent and anxious with him repeatedly breaking the fourth wall. The story of Natalie and Jeff is told from a more objective, third person point of view.
What makes the chase of William all the more vital is the fact that he has Type 1 diabetes and requires strict abstinence from sugar and regular injections. His clearly deranged father is not aware of this condition and puts his life in danger several times.
The character of Raymond is believable but I wish the plot had focused more on William's parents' backstory and the events that led to this moment. Similarly, the real issue with William's mother's untimely death is never revealed fully. What the book gets right are the pressures of a foster family who are struggling to adjust to this new unforeseen setup and, at the same time, not ready to call it quits.
The tense undercurrents of agitation and resentment are depicted brilliantly, whether it's Natalie and William's relationship, or Natalie's relationship with her in-laws who are unaccepting of her decision to adopt her sister's child. Natalie, on the other hand, is struggling with her overnight role as a mother to William, who is young enough to already consider her his mum.
A minor quibble of mine was the elaborate and often unnecessary descriptions of local landmarks of Nottingham and its surroundings. In my opinion, not only did they serve no purpose but they also distracted from the frantic pace of the plot. As it stands, even though the book is set only through the course of 48 hours, it often felt plodding.
Sweet William is a story about the power of familial bonds and mental illness which unfolds at breakneck speed.
★★★
Sweet William was published by Saraband on 16 November 2017