Book Review: Stay Up With Hugo Best by Erin Somers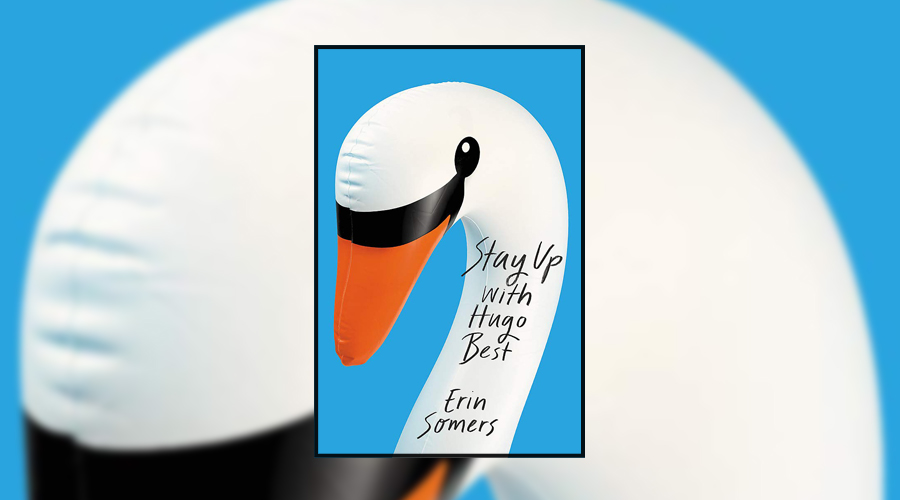 Twenty-nine year old June Bloom is finally getting somewhere in her career, as a writer's assistant on the late-night show Stay Up With Hugo Best. And then it's cancelled. Depressed and drifting, she accepts an unexpected offer from Hugo Best to spend the weekend at his fancy upstate New York home. It proves to be a weekend full of outsized characters, surprising situations, and painful revelations.
Stay Up With Hugo Best is – forgive the unintentional pun – the best kind of novel: funny, easy to read, and deceptively weighty.
June isn't quite thirty, and Hugo is more than three decades her senior. She is a lowly assistant; his face is on billboards all over the country. There's a massive power differential in their relationship. June is very aware of the situation she has found herself in, and despite the disparity in their positions, she acquires an increasing degree of sympathy for Hugo. Though he is exceedingly wealthy and has achieved huge career success, there's an emptiness eating away at him from the inside. He hasn't been on top of his game for a long time – hence the cancellation of his show – and his mediocrity is haunting him. His proclivity for younger women is treated as something more pitiable than disturbing. From a certain angle it looks like it's June – with her whole life ahead of her – who has the upper hand. Then there's the wide-spread assumption amongst both her friends and his that she is only spending the weekend with him – and perhaps sleeping with him – for the job opportunities that might subsequently arise.
As she watches him over the long weekend, she meditates on all of this, but doesn't find any easy answers. Although she spends a lot of time talking with Hugo, he remains enigmatic. Unknowable. A Gatsby-esque figure, if Gatsby had lived long enough to get a beer-belly. But this is her story, it isn't his. We meet June at the end of her job, but in the long-run, we know that it's going to be the start of something new. He might be in his epilogue, but she's in her opening chapter.
Stay Up With Hugo Best is redolent with the stress of being young, creative and ambitious, and stuck right at the bottom of the career ladder with no discernible way of making it up a rung or too. June is such an appealing narrator because she's clear-eyed about both the difficulties she faces in getting somewhere in the entertainment industry, and the fact that she hasn't fully worked out how far she's willing to go to achieve her ambitions. When we leave her at the end of the novel, as smart and hard-working as she is, you know that she's going to be fine. Whether she decides to stay in the industry, and risk becoming another Hugo Best, is another matter.
★★★★★
Stay Up With Hugo Best is published by Tinder Press on 23 January 2020