Book Review: It Started With A Secret by Jill Mansell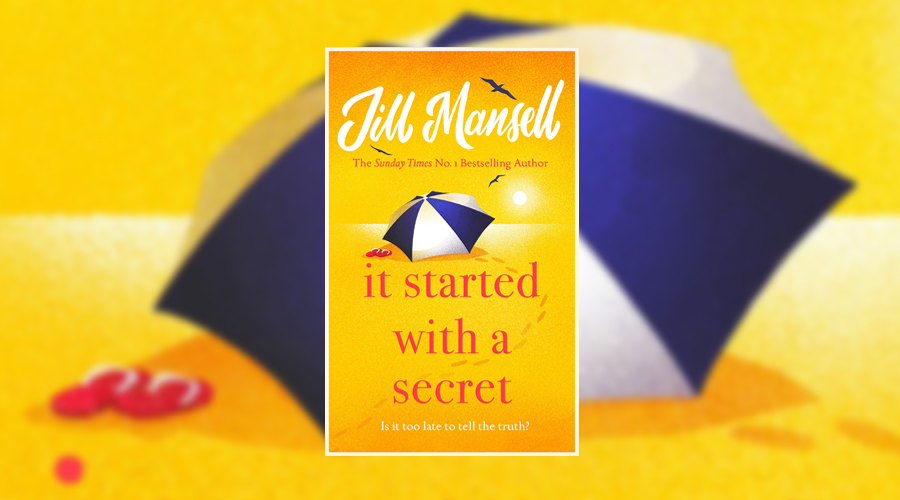 With a couple dozen books to her (very recognisable) name and a longstanding legacy as a romantic comedy novel author, Jill Mansell knows exactly what she's doing when it comes to writing new books. For many, a new Jill Mansell book is a much-anticipated treat, one that can be enjoyed regularly, and it's fair to say you more or less know what you're getting when you pick up a Mansell novel – a light read, some personal twists and turns, and a romance that's almost guaranteed to end in a happily ever after.
But if you were expecting more of the same from Mansell's latest title, It Started with a Secret, then you're likely to be left thrown, because in this novel it often felt like the story being told wasn't really the one that had been promised. Per the official synopsis, It Started with a Secret follows recently-jobless Lainey who quickly lands the job of her dreams in a stunning house by the sea in equally beautiful Cornwall – only she had to tell a bit of lie in order to get the gig in the first place.
As she settles into her new job as housekeeper/personal assistant for a retired actor and his chaotic family, Lainey soon crosses paths with the actor's attractive grandson Seth and, despite having sworn off men, she certainly can't deny there's an attraction between them. As the lie that landed her the job in the first place becomes more of a secret that's hanging over her, Lainey has no doubt that Seth and the family will fire her if they learn the truth. But, the synopsis adds, Lainey isn't the only one keeping secrets, and everything is about to start unravelling…
"And there it was, the tiniest flicker of amusement lifting the corners of his beautifully shaped mouth, confirming that she was right. Lainey smiled too, because they'd passed the test. Better still, they hadn't inadvertently given away their own secret. Thank goodness."
So far, so Mansell, and it's certainly true that Lainey and Seth's connection and their bubbling chemistry is a key part of the novel, serving as a central thread connecting all of the book's narrative ties together. But despite the blurb and the opening third of the novel focusing in on the secrets and lies that prove an initial obstacle to Lainey and Seth's relationship, It Started with a Secret is actually less to do with Lainey and Seth as a couple, and more to do with Seth's family as a whole.
From Seth's Hollywood actor grandfather Richard to his stepmother Majella and his half-siblings, each member of Seth's family has their own role to play here, and the narrative often digresses to follow their own plot points and threads, which wouldn't be so jarring if there had been more to suggest it in the earlier pages. Instead, after a solid build-up of Lainey and Seth's attraction with the family delightfully serving as supporting players, it feels like the novel takes an abrupt turn when it starts spending pages on Majella's forays into dating and Richard's debauched Hollywood past.
That's not to say it's an unwelcome development; fortunately, the family is vibrant and charming enough that you don't mind hearing their stories too, with Mansell creating engaging and memorable supporting characters that quickly justify the storylines being given to them. Their roles in the novel never feel forced, and each new thread is introduced and interwoven with other plot points naturally and with a lot of skill that pays dividends by the time the novel is ready to wrap up some 300+ pages later.
It does mean, however, that It Started with a Secret feels like less of a romance novel and more like a family drama – and it does diminish Lainey and Seth's own story too, which is frequently sidelined and unnecessarily drawn out the more they're drawn into various other exploits. Lainey, in particular, suffers the most in this regard as the more she's involved in the wider family's outlandish stories the more perfect she appears to be, to the point where the character becomes unrealistically (and frustratingly) amenable and accepting.
While the plot sometimes takes a few too many turns into soapy dramatics and runs for a chapter or three too long in the back half of the novel, there is still plenty of enjoyment to be had from this book – not to mention plenty of colourful characters to entertain readers too. The novel does have its faults and it does feel unfairly balanced, but there's no denying It Started with a Secret is ultimately a very warm and enjoyable read.
Pick up this novel expecting purely romance, with all of the typical missteps and misunderstandings along the way, and you'll no doubt be left disappointed. However, if you're prepared for a sprawling family comedy with a little romance, a lot of hijinks and plenty of secrets besides, then be sure to cancel any other plans you may have, because it won't be long before you happily lose yourself in Mansell's latest work.
★★★
It Started With A Secret is published by Headline on 23 January 2020