Book Review: Shipped by Angie Hockman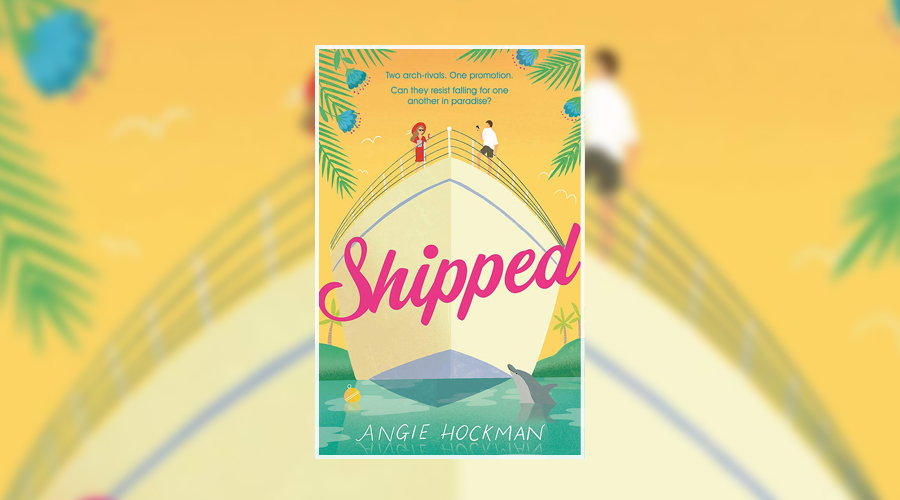 If romance novels offer up the best kind of escapism, then Angie Hockman really made certain to go the extra mile with her debut Shipped by taking that romance story and setting it in paradise, providing readers with a double dose of reality-escaping fun. And in a nutshell, that's exactly what Shipped turned out to be: a quick, fun read with a glorious backdrop and a central romance storyline that follows a lot of familiar beats, making it a great book to lose yourself in for a few hours, especially as you dream of all the holidays, relationships and adventures to come as soon as the world opens up a bit more again.
The story focuses on Henley Evans who, between her MBA night classes, day job as a marketing manager for a world-class cruise line and determination to rise up the corporate ladder at work, barely has any time left in the day for herself, her family or her friends. When she's shortlisted for the promotion of her dreams, it feels like all of her hard work has finally paid off – but first she has to actually get the job, and that involves going head-to-head with her work nemesis, Graeme Crawford-Collins.
Soon Henley and Graeme are both sent on a company cruise to the Galápagos Islands with the task of coming up with a proposal on how to boost cruise bookings, but when the duo meet in person for the first time, Henley quickly learns that the impression she got of Graeme from their first meeting and his curt emails may not be entirely accurate. And, as Henley and Graeme spend the next week exploring the Islands together, it's not long before Henley finds herself developing feelings for her competition and questioning her entire future.
"Warmth bubbles through my chest and my breath quickens like I've run a sprint. I'm not sure what happened there, but it was unprofessional, unprovoked, and I liked it. Way. Too. Much."
Shipped is a novel that's been touted as a cross between Sally Thorne's The Hating Game and Christina Lauren's The Unhoneymooners and it's easy to see why. Between the office and work element, the rivals-to-lovers hints and the forced proximity-on-holiday premise, there are a lot of similarities to be found between Shipped and the books that came before it. One of the biggest differences, however, is in the characters. Henley is a hard worker and is quick to jump to conclusions, sometimes to the detriment of her likability, but she's also determined, loyal and dedicated to a fault, with good intentions, a willingness to listen and a strong sense of justice. Graeme, too, comes across as just a generally nice, mature man – and as such is much more relatable than the arrogant, obnoxious and cocky male hero caricatures that typically dominate romance novels.
Perhaps more importantly, however, is that Henley and Graeme's relationship isn't the only focus of the novel. As much as this is a romance story, Hockman also spends a lot of care and attention in building up the nuances of Henley's relationship with her sister Walsh too, which quickly emerges as the most heartening and realistic plot thread in Shipped by far, and builds up a strong core of supporting characters around Henley in her workplace too. They may not be the driving force of this novel, but it was great to see a group of women ultimately supporting one another at every turn, and I would definitely have loved to see more of this had the novel spent a bit more time in the office and less time on the cruise ship.
And, for all the novel's good points, that is the one big story flaw that lets the rest of this novel down: everything happens so quickly, and so a lot of the emotional resonance falls flat. From start to finish, the plot of this novel unfolds over about a month, with the majority of it covering the week-long cruise that Henley and Graeme go on together – and even then two days are skipped over in a paragraph. Considering that Hadley had spent the year that she and Graeme had worked alongside each other prior to the cruise completely hating him, it was hard to believe in such a change of emotions so quickly, especially as so many of the novel's conflicts also relied on the ever-frustrating miscommunication trope. As a result, Henley and Graeme's relationship ended up weathering a lot of hot and cold moments within a short space of time – to the point where you had to question why either one of them (and particularly Graeme) thought that this relationship would be worth it.
But if you're after a rom-com to provide you with a perfect break from the humdrum of everyday life, there's a lot to like about Shipped. This book is filled with the kind of cute, flirty encounters, fizzles of attraction and interrupted moments to drive up the UST that we love to see in any novel of this genre. Couple that with the glorious setting and the wondrous beauty and scenery described throughout, and Shipped is a novel that offers readers a cute and breezy getaway and a fun and easy read, albeit one that skims the surface rather then delves into any greater depths.
★★★
Shipped was published by Headline Eternal on 19 January 2021