Book Review: Punching The Air by Ibi Zoboi and Yusef Salaam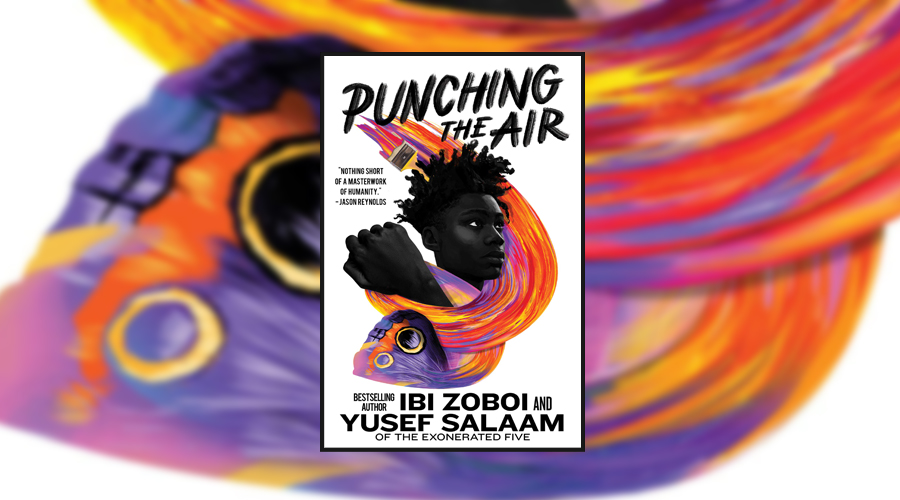 When Ibi Zoboi first met Yusef Salaam back in 1999, neither could have foreseen that twenty years later they'd be collaborating on a book together. Salaam is a member of the Exonerated Five, a group of Black and Latino boys who were falsely accused of assault and rape in 1989, a case that was recently depicted in Ava Duvernay's Netflix series When They See Us.
Just fifteen at the time of his conviction, Salaam served 6 years and 8 months in prison, before eventually being acquitted in 2002. Though Punching the Air isn't Yusef's story as it happened, in Zoboi's own words, it pulls 'from his experiences'. The result is a powerful and emotional verse YA novel that speaks to generations of young people who've faced injustice because of the colour of their skin.
Punching The Air centres on Amal Shahid, a Black Muslim teenager who is convicted of a crime he didn't commit – in this instance, assaulting a white boy during an altercation in a gentrifying neighbourhood – and sent to prison. As an art student and poet, Amal had a bright future ahead of him but that one fateful night upends his entire life. Locked up and treated like a criminal, Amal is filled with hopelessness and anger – both at his own misguided decision that put him in the wrong place at the wrong time, and also the biased system that condemned him to a sentence he didn't deserve.
There isn't much to feel hopeful about in prison but Amal finds comfort in his art. Drawing and writing gives him an outlet for his furies and frustrations, a way to channel everything he feels about the injustice he's faced and continues to face daily. As days turn to weeks turn to months, Amal reflects on his life inside and outside of prison; the experiences – both positive and negative – that fuel his creativity, and the people that make him believe in a brighter future.
Amal is a boy stuck in a vicious cycle of racial violence and you only need to browse social media or switch on the TV to see that same violence and prejudice happening around the world. Zoboi and Salaam take inspiration from the Exonerated Five, but also from other cases including the Scottsboro Boys and the Jena Six, which only add to the devastating story being told here. We feel everything Amal feels – the anguish, the shame, the resentment and regret – and it's distressing to read, even more so when you try to imagine the harsh reality of such an avoidable situation.
Though this is a story of race, crime and injustice, it's also about hope, love and the immeasurable, healing power of art. Told with unflinching realism and honesty, Punching the Air is a book that demands an audience. So share it with those around you and let that audience be as wide reaching and varied as possible.
★★★★★
Punching the Air was published by HarperCollins Children's Books on 1 September 2020