Book Review: Out of Her Depth by Lizzy Barber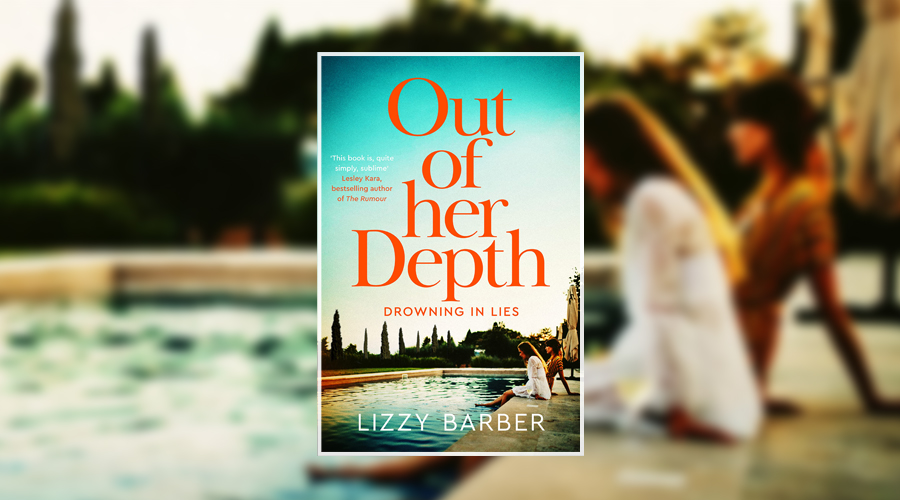 The first thing you need to know about Lizzy Barber's Out of Her Depth is that its killer of an opening line will hook you immediately. "Before you judge me, remember this," the opening teases. "A girl died, but it wasn't my fault."
What follows is a story of sun, sea, sex and privilege that unfolds both in the hazy heat of a Florence summer during narrator Rachel's four-month stay in the city as a teen in the Then, and the darker, colder, considerably less glamorous life she's leading some 20 years later when past mistakes and old memories resurface in the Now.
Back then, Rachel is an unassuming young woman from a quiet London suburb with an offer to study at Cambridge and her whole future ahead of her. When she's offered a summer job at the beautiful Villa Medici in the Tuscan Hills, Rachel is thrilled at the opportunity to live abroad, improve her Italian and enjoy her final summer before heading off to University. While there, she quickly meets her co-worker Diana – beautiful, wealthy, confident and everything Rachel is not. The two quickly cross paths with Sebastian, the rich, privileged, handsome boy next door, ready for a summer of sun-soaked days and lavish parties.
In the Now, however, Sebastian has just been released from Italian prison after serving over 20 years for a crime he swears he didn't commit, sending Rachel spiralling back to the events of two decades earlier. As Rachel obsessively picks back over the memories of their time in Italy, Sebastian remains convinced that Rachel knows more than she's letting on, but Rachel has been keeping quiet for more than 20 years, and she's not sure that she can ever come clean about what really happened on that fateful night in Florence.
Young and rich and attractive, falling in love under the Tuscan sun – the story wrote itself. The universe had plucked their stars in the sky and played them together in perfect harmony; there was no place for my discordant note in their love story."
From that gripping first sentence, it's absolutely clear that Out of Her Depth is going to be an addictive summer read – and, for the most part, it really is. This is a story about toxic friendships, terrible choices and the horrible consequences that continue to ripple throughout the years. Readers who are familiar with this kind of story will no doubt find themselves cringing and shaking their head as naive teenage Rachel continues time and time again to fall into the same manipulative, coercive and destructive traps that characters just like her have fallen into over and over in books that have come before.
It's to Barber's testament that this book remains so readable, even if we already have our suspicions about how, exactly, this is going to play out. Barber captures the scene beautifully and is able to completely transport her readers to the sun and scandal of Florence in the summer and she crafts her characters with incredible precision too, giving them enough layers and mystery that, like Rachel, you're forever questioning their intentions and second-guessing their actions.
Where this novel lets itself down, however, is in its dual narrative structure, which can often be tricky to get right in a thriller. The alternating Then/Now chapters only earn their suspense in the second half of the novel, as more hints about what happened are teased out while Rachel's behaviour in the Now gets increasingly more questionable (if not a little implausible) and the tension in the Then chapters reaches a fever pitch. Before that, it's the Then chapters that hold the most draw and intrigue, with the promise of glamorous teenagers, hot summer days and scandal always just a few pages away.
For longtime readers of the genre who are familiar with the likely twists and turns it takes, Out of Her Depth feels like something of a comfort read; there are few surprises, but the journey is an enjoyable one that's bolstered by Barber's stunning writing, as well as her obvious familiarity with and love for the gorgeous Italian locations that the majority of this novel takes place in. Those who are looking to read outside of their typical genres will find a lot to like about this novel too because, ultimately, Out of Her Depth is a great literary escape, boasting plenty of intrigue, lots of suspicion and more than a few secrets to uncover. The characters aren't always likeable, the narrative is a little uneven and the plot points may be a little predictable more often than not, but this is an absorbing and transporting read all the same, and it's both easy and a joy to sit down and lose yourself in these pages.
★★★
Out of Her Depth is published by Pan Macmillan on 28 April 2022