Book Review: One Of Us Is Next by Karen M. McManus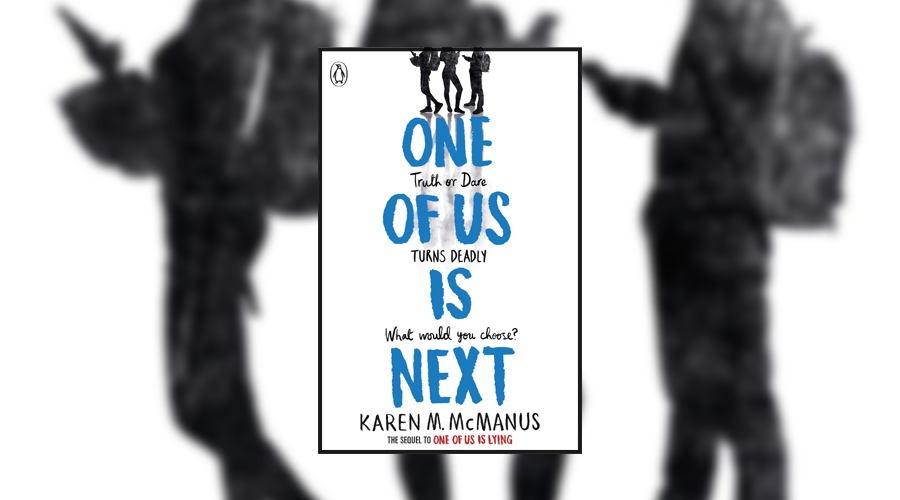 Nearly two years ago, Karen M. McManus burst onto the contemporary YA fiction scene with her phenomenal debut novel One of Us Is Lying, following four students at Bayview High School as they came under suspicion for their classmate's murder. It was a brilliant, addictive novel that kept readers on the edge of their seats throughout and, after a foray into another mystery in her second novel Two Can Keep A Secret, McManus is back at Bayview for another suspense thriller in sequel One of Us Is Next – and, happily, it's every bit as gripping as its predecessor.
Set roughly one year after the events of the first book, One of Us Is Next shifts the focus to Bronwyn's younger sister Maeve as someone is determined to continue gossip app creator Simon's legacy with a dangerous new game of Truth or Dare. The rules are simple: if you're tagged, you have 24 hours to make your choice – or, if you don't choose, it's a truth anyway. As the Bayview students are glued to their phone screens waiting to see what will happen next, friends Phoebe, Maeve and Knox are soon drawn deeper into the game than they ever wanted to be. But when things take a deadly turn it's clear that there's a whole new set of rules to play by, and if Phoebe, Maeve and Knox want to get to the bottom of things before it's too late, they may just have to take the investigation into their own hands.
"What's that Bayview you didn't know? Shame, you're behind on your gossip. Here's a little advice for the next time we play: Always take the Dare."
While One of Us Is Lying may not have seemed like a novel that warranted a sequel, it doesn't take long for One of Us Is Next to prove that it hasn't just been written for the sake of it. With the Bayview Four having graduated and begun moving on from their harrowing experiences in the first book, One of Us Is Next very much keeps the action firmly in high school, introducing two new characters to join Maeve in this latest mystery. Fans of the first book will probably be happy to hear that Maeve's presence does mean that we get to know updates about the characters from the first book – with Addy and Nate featuring most prominently, and Cooper and Bronwyn making appearances too – but this is very much a new story, with new stakes and new relationships to question, challenge and explore.
And each of those new things is delivered so well that you're barely halfway through the novel before you feel like you've known these characters forever. Maeve obviously has a slight advantage with readers, having previously played a role in One of Us Is Lying, but her best friend Knox and their acquaintance-turned-friend Phoebe fit seamlessly into the narrative, each getting their own complex family dynamics and relationships to work through as well as driving the overall mystery narrative forwards. Phoebe's story in particular stands out, exploring ideas of grief and loss, and it's her secret that launches the game of Truth or Dare in Bayview too, sparking a fallout with her once-close sister Emma and shifting the dynamics of the family as a result.
With just three POVs this time around, the story feels just that little bit tighter, resulting in a well-plotted, fast-paced read that's fuelled by plenty of twists, thrills and intrigue. Between each character perspective, snippets from a revenge-based forum and soundbites from TV reports and beyond, the narrative moves along at a steady pace where even the slight pauses are enticing and push you onwards. There is nothing in this novel that feels contrived, forced or unnecessary; instead, One of Us Is Next is gripping from the get-go, and unfolds as organically and naturally as you can expect a YA suspense thriller centred on a voracious school-wide need for gossip to unfold. And if the ending does stray a bit too far into action territory movie, it's to McManus' credit that by that point readers are wholly accepting that it doesn't feel too beyond the realms of believability.
The bottom line is, if you loved One of Us Is Lying, then you're likely to love its follow-up just as much, if not more. Two Can Keep a Secret offered a slightly different thriller and took its readers in a different – yet no less gripping – direction. But if One of Us Is Next has proved anything, it's that there's something about the goings-on at Bayview High that draws us in – and when you're reading this book there's no place else you'd rather be.
★★★★★
One Of Us Is Next is published by Penguin on 9 January 2020