Book Review: Nightchaser by Amanda Bouchet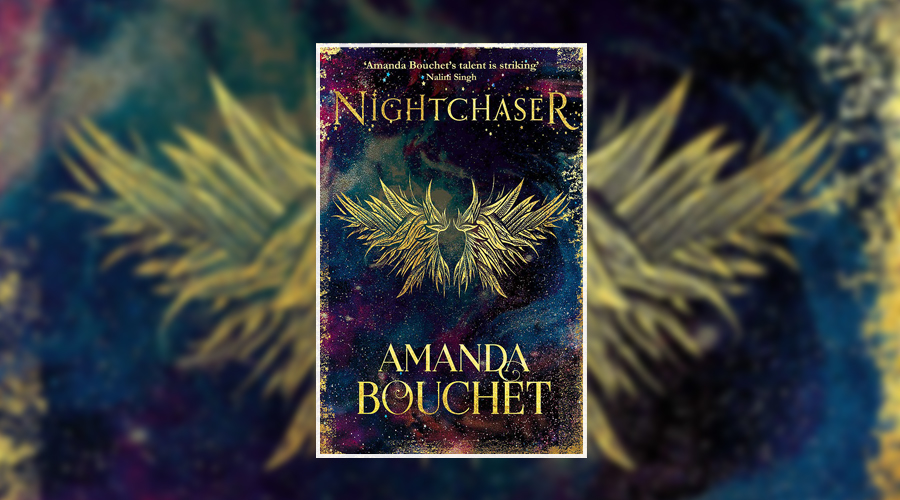 When I'm craving a book that combines both breathless action and heart-pounding romance, there's really only one author I turn to: Amanda Bouchet. Her latest book, Nightchaser, is the first title in the Endeavour Trilogy and whilst it doesn't have the magical, old-world fantasy of her previous series, The Kingmaker Chronicles, it's just as captivating. Swapping Greek mythology for thrilling interstellar adventures, Nightchaser introduces readers to a whole new world and an equally charming motley group of characters thrown together for an epic cause.
The story opens with Captain of The Endeavour spacecraft Tess Bailey and her misfit crew being pursued by one of the Galactic Overseer's premier warships. Having stolen a floating lab with precious cargo on board, Tess knows that only torture and death await them if they're caught. With their ship drained of juice, they're out of options. The only possibility of escape is jumping into a black hole known as The Black Widow – something that will surely kill them all anyway. Naturally they choose the lesser of two evils: the gaping black hole of nothingness.
By some miracle, Tess and her crew survive the jump, heading covertly to a planet called Albion 5 to recharge, breathe fresh air and repair their damaged ship. Yet Tess' problems extend much further than bent metal and a broken door. Thinking she was about to jump to her death in the Widow, she foolishly revealed her true identity to the warship, putting an even bigger price on her head. From that moment it's not just the stolen lab being hunted but Tess too, and she'd rather fling herself into a black hole a hundred times over than let the Overseer imprison her.
With both Dark Watch operatives and bounty hunters on her trail, Tess needs help. Her one and only offer comes from an arrogant rogue called Shade Ganavan who has his own ambiguous motivations that secretly threaten The Endeavour's crew. Switching between Tess and Shade's perspectives, we learn the immediate motivations that drive both characters to put their trust in the other. Tess has defenceless people depending on her, whilst loner Shade is desperate to win back something he unwittingly lost when he was at his most vulnerable.
"I didn't want to get caught. But I also wouldn't stop doing what I needed to do just because I feared the possible consequences. Fear was something I could accept. Abandoning the galaxy to a group of despots was not."
Tess and her rag-tag friends are every bit the Robin Hood-esque gang stealing from the wealthy to give to the poor. They're all wanted lawbreakers but their crimes are all relative. From vengeful ex-rebel fighter Fiona, fuelled by rage towards the men who wronged her, to stoic and steadfast Jax, still grieving the loss of his entire family, to gentle grandmother of the group Shiori and her devoted granddaughter Miko, Tess' crew are a tight-knit family. Their strength as a team comes from their loyalty to each other and they're all willing to follow Tess to the end of the galaxy if it's for a cause worth fighting for.
Nightchaser is a high-stakes quest through space that's brought to life by Bouchet's vivid world building and fun plot. Her dialogue sparkles with wit and the romantic chemistry between Tess and Shade practically crackles with electricity. My only grumble is aimed at the cutesy pet names thrown between Tess and Shade – a similar gripe I had with The Kingmaker Chronicles – which feel false and forced in a sci-fi tale of this nature. However, such a minor annoyance can be forgiven when the romantic duo are so inherently likeable as they are here.
Fans of Bouchet's mythical fantasy books will have to open their hearts to the very different science-fiction setting of this story but once you give yourself over to the delights of Nightchaser, it's difficult to resist.
★★★★
Nightchaser was published by Piatkus on 4 July 2019