Book Review: More Than Just a Pretty Face by Syed M. Masood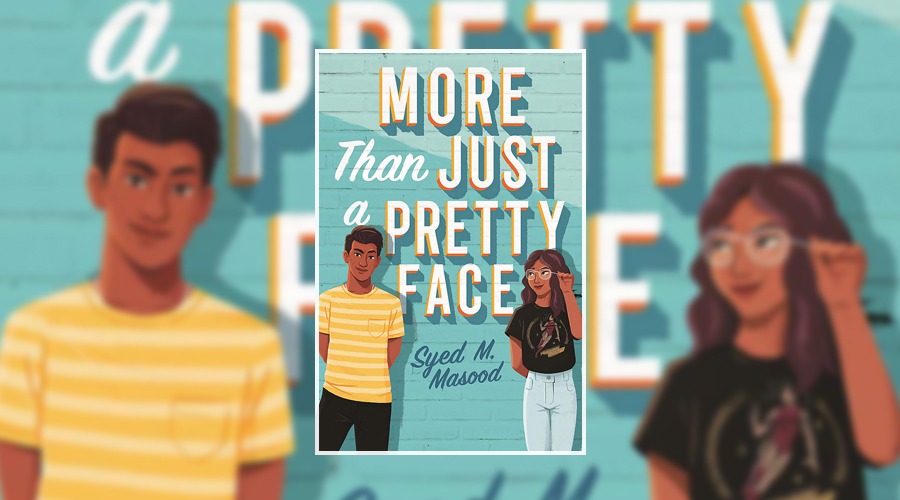 If you're after a funny, light-hearted and heart-warming read, you really can't go far wrong with picking up Syed M. Masood's debut novel More Than Just a Pretty Face. This is a cute, contemporary romance that's full of heart, touching on everything from friendships and planning for the future alongside familial expectations and first love, and while it never quite manages to explore anything in great depth, that doesn't stop it from being a charming read that addresses a lot of relevant and interesting topics too.
More Than Just a Pretty Face follows 19-year-old Danyal Jilani, a confident, good-looking high school senior who may not be the best academically, but is well on his way to becoming a great chef – even if his family doesn't exactly approve of his career choice. For now, though, Danyal is happy enough coasting through his final year of school and dropping plenty of hints to his parents that the only girl he's interested in marrying is the perfect Kaval, who he's been crushing on forever. Kaval's parents don't exactly consider Danyal a great marriage prospect, but when he's selected to take part in his school's Renaissance Man competition, the prestigious academic championship could be just what he needs to prove to everyone that he's smarter than they think he is.
As he gets to work on his thesis with the help of new friend Bisma – the superhero-shirt wearing, book-loving and brilliant girl his parents introduced him to at a rishta meeting – Danyal soon realises that he has more than a few choices to make. While he knows that he should write the thesis that's more likely to help him pass the class and set him on his path towards a future with Kaval, there's another topic that he feels more passionate about. And the more time he spends with Bisma putting his essay together, learning from her and getting to know her, the more he realises that his pretty face may have been looking for happiness in completely the wrong place.
More Than Just a Pretty Face is described as a romantic comedy for fans of Sandhya Menon's When Dimple Met Rishi and Jenny Han's To All the Boys I've Loved Before trilogy and it's easy to see why. Just like in those books, the romance in this novel is wonderfully built, beginning with compassion and friendship and slowly shifting into something more. It's particularly gratifying to see Danyal reconsider how he sees the world and what he wants in a partner the more he gets to know Bisma. It helps too that Bisma is a character that you want to see happy – perhaps even more so than Danyal himself – considering everything that she's been through, and it all contributes towards a slow build of feelings that delivers a particularly triumphant ending.
Beyond the romance, though, it's the Renaissance Man competition that gives Danyal the key motivation for the growth we see in his character. Despite knowing that writing an essay in which he praises Winston Churchill is what everyone expects him to do and would be the easiest way of passing the class, Danyal instead finds himself pulled in another direction entirely. The more he learns about Churchill, the more Danyal realises that he's not the uncomplicated hero he's typically presented as being, and he must decide whether he wants to choose the easy path or speak up about the topic he finds himself passionate about and critique Churchill's role in the colonisation of India, the Bengal Famine and the whitewashing of history. It's an interesting dilemma for Danyal to work through, and it opens up an important discussion about how history is taught and what Western societies choose to remember too.
"I couldn't remember the last time someone had believed that I could succeed, in the contest or in my life, by doing what I wanted to do."
However, while More Than Just a Pretty Face excels in many ways, including its sweet romance and its discussion of political, social, racial and religious themes in a way that's easy to engage with, it's not without its faults too. Many of the characters in this novel seem particularly one-note and are caricatured by one overriding trait, rendering them stereotypical and flat – not to mention unrealistic, as in the case of Danyal's history teacher who is so overly dry, dismissive and sarcastic towards Danyal that it becomes uncomfortable to read. It's a trait that's carried over into some of the wider ideas of the book too as Danyal's different worlds – school, Bisma, food – never really seem to successfully gel together beyond the surface connection of Danyal himself. We have to be told that his love of one is affecting his actions in another in order for a connection to be made, and it doesn't make for truly engaging reading.
But despite its slow start and patchy narrative, More Than Just a Pretty Face is ultimately a touching story of family, love, tradition and heritage, as well as figuring out what's important to you in life and deciding when it's right to speak out. It's all held together well by Danyal himself, who's funny, charming and endearingly conceited from the word go, and it's a book that offers a diverting insight into another culture from a male perspective, which we don't typically see in YA. All in all it makes for a quick and cute read that many readers are sure to enjoy, but it's let down by a mishmash of ideas that end up pulling the story in too many different directions to really connect with.
★★★
More Than Just a Pretty Face was published by Hodder & Stoughton on 4 August 2020