Book Review: Love, Unscripted by Owen Nicholls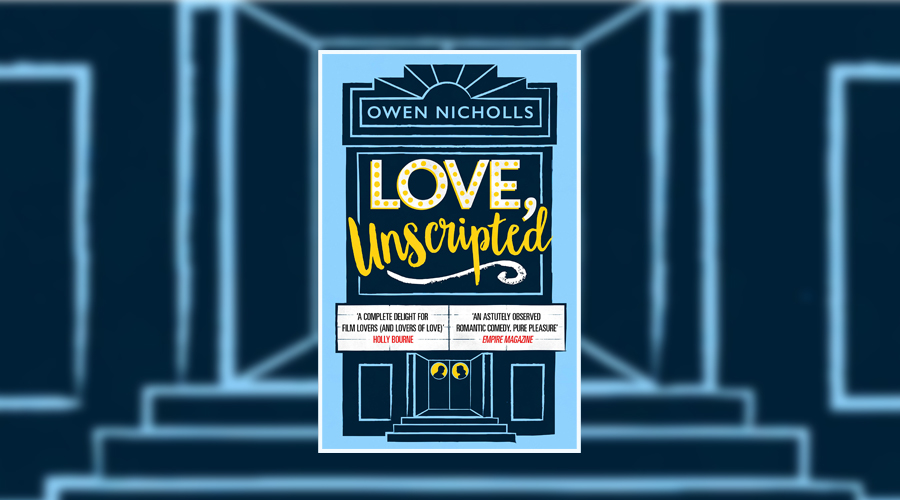 "Richard Curtis meets Nick Hornby" is a veritable catnip description for any rom-com devotee. There couldn't be a better way of describing Owen Nicholls' uplifting debut novel, Love, Unscripted, which is as much a love letter to cinema as it is a literary tribute to love itself.
Pondering whether real-life love can ever be as it is in the movies, the story follows film projectionist Nick Marcet at two pivotal points in his life. In 2008, on the eve of the Obama/McCain election, Nick meets Ellie at a house party. They hit it off immediately, the evening full of the kind of banter, awkwardness and romantic sparks that populate all the best indie rom-coms. For four years Nick and Ellie have a blissful relationship but Ellie, approaching thirty, is restless, and Nick is too complacent. Fast-forward to 2012 and Ellie has moved out, leaving Nick a wreck. As his life slowly falls apart, he tries to figure out where it all went wrong.
Switching seamlessly between 2008 and 2012, Love, Unscripted feels every bit like a movie chronicling the rise and fall of a romance. In the past, Nick and Ellie are young and vibrant twenty-somethings with dreams and desires. Nick is eager to impress, worried of saying the wrong thing and scared that he'll do something to chase this perfect girl away. Ellie plays it cool but there's a part of her that's broken and Nick is the first person to make the pain more bearable. In the present, everything feels wrong. Nick isn't happy. Ellie isn't happy. Yet they can't seem to find their way back to each other, not without one or the other of them making a sacrifice.
From the exhilarating fireworks of love at first sight to the heartbreaking anguish of calling time on a relationship that's no longer working, Nicholls captures all the wonderful, messy kaleidoscopic facets of love. This isn't a couple who've fallen out of love with each other; this is a couple out of kilter at a particular point in their lives. Ellie has grown up and Nick is still clinging to their youth, reminiscing about that one perfect night where a girl and a boy met and the rest is history. He wants to live his life like a movie, every line scripted, every action carefully choreographed, and part of this story is him realising, gradually, that he can't.
Nicholls peppers his dialogue with witty repartee and movie references. Like any cinephile, Nick has a film quote for every situation and even when he's depressed and miserable, his sense of humour is always on top, self-deprecating form. Movie lovers will be able to identify with the character's bittersweet yearning for life to imitate art; Nick's head has been lost in movies since he was a child, it's only natural that reality can't quite meet that expertly crafted fantasy.
All of this makes for a fun, entertaining story with bags of heart – the book equivalent of a classic rom-com. You'll fall in love with Nick and Ellie from the moment they meet and you'll want to reach inside the pages of the book and give Nick a shake as Ellie slips further and further away from him. Isn't that the mark of a great book though? When the characters feel like friends and you become genuinely invested in their lives. When the final pages arrive, you'll be waiting for that movie-worthy happy ending. Whether Nick and Ellie get it or not, you'll have to read and find out.
★★★★★
Love, Unscripted is published by Headline on 22 August 2019