Book Review: Jenny Sparrow Knows The Future by Melissa Pimentel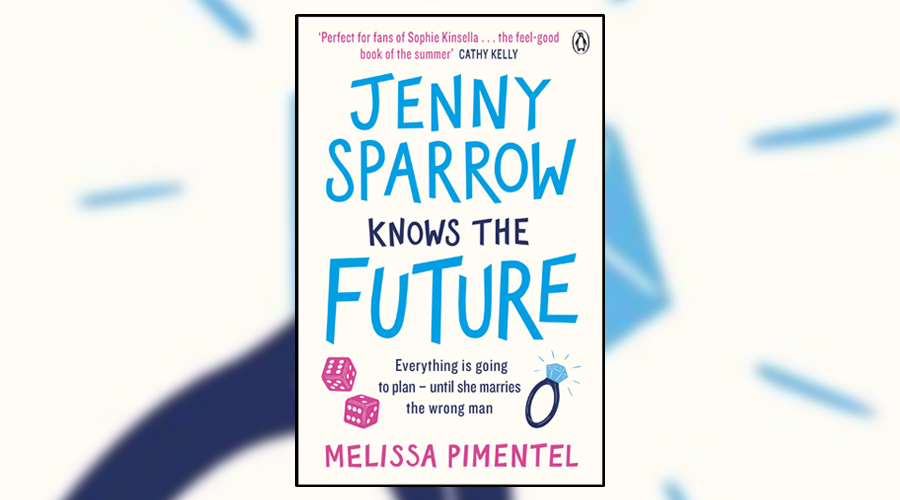 If ever there was an instruction manual to putting together a light, entertaining and enjoyable novel, Melissa Pimentel seems to have found it to write Jenny Sparrow Knows The Future. Over 355 pages, readers are presented with a warm and engaging story complete with an instantly relatable heroine and the kind of everyday escapism that you can't go wrong with in a summer read.
The novel begins with 13-year-old Jenny making a (very detailed) plan for her life with her best friend Isla, but when we jump ahead nearly twenty years to the present day, Jenny's plan is thrown off balance after her long-term boyfriend doesn't actually propose as she'd expected him to. Instead, he suggests they take a break from their relationship just as Jenny is due to fly to Las Vegas for a girls' weekend with Isla. And so, with a lot of help from alcohol, it's not long before Jenny wakes up in a stranger's bed newly married and late for her flight home.
Of course, this is all complicated slightly by the fact that Jenny's boyfriend, Christopher, proposes to her after all the second she lands back in London, and Jenny is excited to finally be planning a wedding to the love of her life – right up until her new husband Jackson shows up and wastes no time in trying to show Jenny that a life not going to plan isn't necessarily a bad thing.
Jenny is one of those characters you can connect with straightaway; her tendency to overthink, her stubbornness and her unwillingness to go too far beyond her comfort zone will undoubtedly strike a chord with many readers. Pimentel also really stresses the idea that Jenny is feeling lost, both literally as an American in London and figuratively in her relationship and her life, which in turn makes her journey one you can't wait to see play out and the character someone you genuinely root for. 
"What was it about Jackson that made me behave so… unlike myself? All the years carefully building order to protect myself from chaos, and he comes along and suddenly my whole life is careening out of control."
The only downside to that is that the characters surrounding Jenny don't benefit from as much detail and are instead reduced down to stereotypes: there's Isla, the pill-popping, party-loving best friend; Christopher, the long-term boyfriend going through the motions; and Jackson, the stranger that comes along to provide a new perspective. In fact, Jackson suffers from this most – his entire role in the story is based on a night that Jenny (and therefore the readers too) don't remember or know nothing about, and it makes their relationship very much one-sided. Jackson also uses this privileged information to further the plot in a way that focuses entirely on Jenny and not so much on him, while his own motivations for pursuing Jenny so fervently are only briefly touched upon, and even then they don't have much weight.
Which is why Jenny Sparrow Knows The Future felt less like a romance and more of a pseudo coming-of-age novel, which made it all the more interesting. By the end of the novel, Jenny's choice is less about which man she ends up with, and more about the kind of life she is willing to accept for herself: one of order, meticulously planned, or one where she's more open to new experiences and can learn to live with the events of her past that have caused her to seek comfort in knowing what to expect from life.
Jenny's predicament isn't one many readers are likely to similarly experience but her reactions are relatable and the more imaginative elements of the novel are nicely grounded by Jenny's everyday life too. When it comes to the romance aspect, Jenny Sparrow is a light and fluffy read that, while not entirely predictable, leads to the ending you'd expect – but that doesn't mean it's not an engaging read.
In all Jenny Sparrow Knows The Future is an enjoyable ride and a delightful example of women's contemporary fiction that you'll want to race through from start to finish.
★★★★
Jenny Sparrow Knows the Future was published by Penguin on 27 July 2017