Book Review: Gilded by Marissa Meyer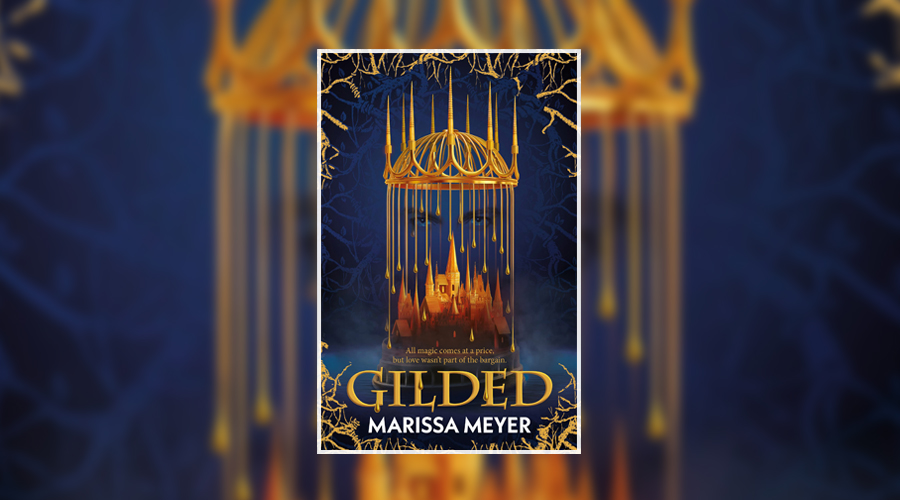 If you love losing yourself in classic fairytale retellings, there's no book more perfect than Marissa Meyer's Gilded – a dark and enchanting reimagining of Rumpelstiltskin. Rooted in the story's Germanic origins, Gilded centres on a poor miller's daughter who befriends a mysterious gold spinner after she's caught in the clutches of a sinister king.
Serilda is an outcast in her village but she's always had a talent for spinning stories. Whilst helping two forest creatures hide from the wicked Erlking one night, she weaves a story about being able to spin straw into gold – an outlandish lie that sees her locked in a castle as the dark king's prisoner. Commanded to turn a room full of straw into gold or face death, Serilda prepares herself for an untimely execution. In her desperation, she accidentally summons a mysterious and mischievous young man into her cell. And unlike Serilda, his gift for spinning gold isn't a fabrication. But his offer of help comes at a price.
As hollow-eyed ravens track her every move and ghoulish spirits threaten the people she loves most, Serilda is forced to keep up the gold spinning charade, using her new friend Gild's magical gift to repeatedly trick the King. Yet the more Gild spins for Serilda, the less she has to offer him as payment. What will the King do to her once he realises his prisoner cannot actually spin straw into gold? Serilda has no intention of finding out, leading her to strike a terrible bargain that she can't come back from.
With her Lunar Chronicles series, Meyer put a futuristic twist on fairytales including Cinderella, Little Red Riding Hood, Rapunzel and Snow White. Steering away from the science-fiction genre, Gilded remains faithful to its classic Germanic origins, complete with a traditional old-worldly setting and a disturbing Brothers Grimm-esque atmosphere that creates a perpetual sense of menace and darkness. Meyer weaves other folkloric elements into the tale but the actual story of a girl who lies to a king and then has to strike a deal with a magical being to stay alive doesn't deviate as much as the futuristic retellings that came before.
Which isn't necessarily a bad thing. Meyer's latest book works because it's such a familiar tale, and reading it feels like settling down to read an old favourite. The way that this retelling is different is in the relationship between Serilda and Gild. Traditionally, Rumplestiltskin is an ugly imp-like creature but Gild is nothing of the sort. Charming, witty, playful and soft-hearted, he's a friend to Serilda first, before their relationship blossoms into something that gives them both hope in a situation that feels so utterly hopeless. Serilda herself is a likeable and tricksy character for different reasons – weaving tales and lies not just to protect and save herself, but because she understands the value and significance of a story. Something that Meyer knows too.
For all its sweet, young romance and dark, haunting atmosphere, Gilded does have some pacing issues. After an exhilarating opening, where Serilda meets the Erlking, becomes his prisoner and strikes her first deal with Gild, the story falls into a bit of a slow, repetitive lull that goes back and forth without much progression. But, like the opening, the final part is full of genuine horror and ominous thrills that reminds readers why Marissa Meyer is the queen of fairytale retellings. It has a pitch perfect cliffhanger end that sets the scene for a sequel with even higher stakes and inevitable heartache. With Gilded, Meyer asks who the true villain of the Rumplestiltskin tale is. And whilst this first book presents the Erlking as the story's antagonist, the next book might just surprise us with another.
★★★★
Gilded was published by Faber & Faber on 2 November 2021