Book Review: Felix Ever After by Kacen Callender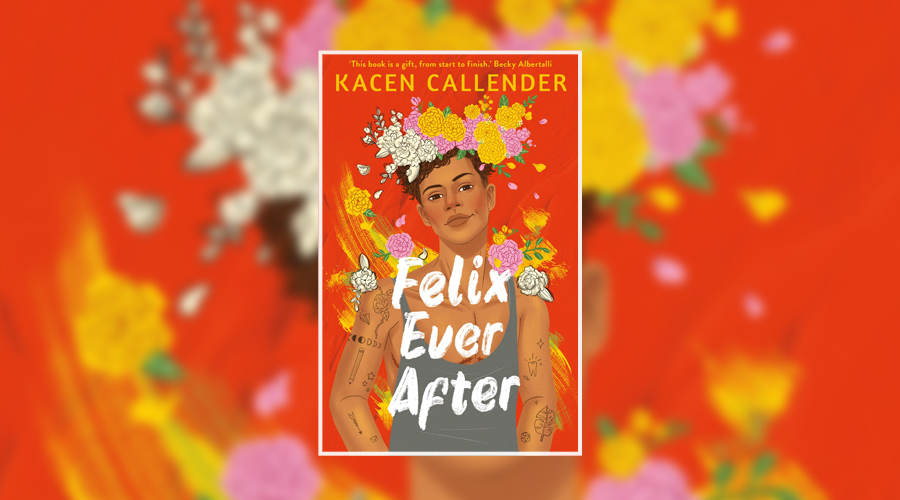 Felix Love has never been in love, so isn't quite sure what it feels like or if that's something he'll get to experience. After a transphobic incident at school, he starts to receive messages from the perpetrator. In his revenge plot to prove who is sending the messages, he ends up in a catfishing love-triangle that teaches him what everyone eventually has to learn: you never really know what's going on in someone's life.
Felix Ever After is the kind of queer YA novel that has you cheering its central character on, shouting "no!" at his mistakes and feeling pained by his struggles. What makes this book feel so special is how much it is a reflection of the modern teenager. Felix himself is Black, queer and trans, and surrounds himself with a group of fellow artists who are brown and white and lesbian and gay and labelless by choice. They talk about what it means to be queer in the modern day, as teens in New York, and what struggles still make it feel unsafe for them to be out or affectionate in public. And yet, they are also teenagers who have the universal traits of most teens; they bicker and make up in the same conversation, they have crushes that are unrequited, they assume someone hates them without really knowing if it's true, and they find fun in the simple moments of being with one another.
Identity and validity are two core themes that run through this novel. Felix knows that he's trans and has said that he's a guy, but also isn't sure if being a guy feels entirely correct. His mother has abandoned him and his father, who does all the supportive things of helping him get hormones and top surgery, does things that show maybe he hasn't quite accepted who Felix is, such as misgendering him and never saying his name, making Felix feel invalidated. Felix struggles to assert himself when it comes to his gender identity because there are parts he's still trying to figure out, though he eventually does find the new word he needs.
What someone chooses to identify as, what words they choose, or don't, can often be difficult because there can feel like there is a scale of validity that has to be weighed down with a certain amount of evidence before it can be seen as true. This can make it hard to know who you are. As Felix and his friends discuss, the letters of the LGBTQIA+ community don't get treated equally and some letters, particularly white, gay men, often invalidate the others. Adding intersections of race and gender to sexuality only compounds the divisions. It all makes finding your place in the world, at a formative age, that much more complex and hard. But with the right support, it's much easier to navigate.
Any teenager, or person of any age really, who is developing their understanding of themselves, deserves to have a supportive best friend. Felix has that in his best friend, Ezra. Ezra says he's an empath and acts like it. Whenever Felix has a strong feeling that he is wrestling with, Ezra can sense it. He's also quick to point out where there is misplaced anger, where Felix is putting himself down and making himself the person in the wrong when he isn't. Ezra is caring and affectionate, while still being someone who has his own complexities as someone wealthy, queer and mixed-race.
The other side of the coin is Declan. While not every teenager needs a social nemesis, they are often there and they force you to confront yourself all the more. Declan does this for Felix, riling him up in what seems like cruel and antagonistic ways. But through Felix attempting to catfish Declan, in order to prove he's an enemy, he discovers truths about Declan, his life and his feelings for Felix that he could never have guessed.
Felix Ever After isn't a love story exactly, but it is a finding love story. Felix learns what love feels like for him and how to have more love for himself. One of the ways he's able to explore this is through his art, as a painter. Kacen Callender truly paints with words in the way they describe how Felix chooses acrylic colours and conjures a series of portraits of himself. It feels vivid and mesmeric and makes you want to pick up a paintbrush.
For lovers of YA, Felix Ever After hits all the beats you want it to, while still feeling fresh. It's honest and empathic, nuanced and warm. It doesn't shy away from pain but doesn't try to pull you down with it, making this novel an easy to devour read.
★★★★★
Felix Ever After is published by Faber & Faber on 18 May 2021