Book Review: Come and Find Me by Sarah Hilary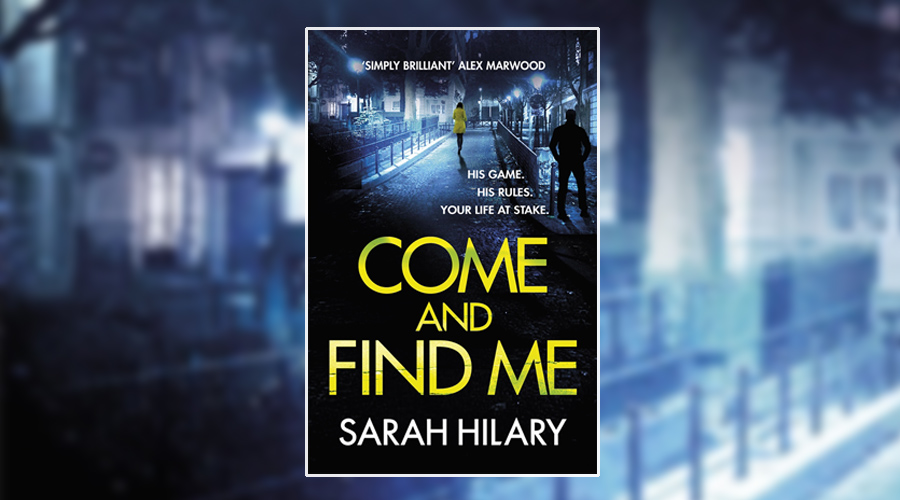 A prison riot. An escaped inmate. A Detective Inspector still struggling with the murder of her parents by her foster brother and living with the guilt every day. One thing's for sure as you head into Sarah Hilary's fifth DI Marnie Rome novel: this author certainly knows how to hook a reader.
Come and Find Me is a tightly-plotted novel full of twists and turns as a manhunt for sadistic prisoner Michael Vokey, who escaped amidst the chaos-theory-in-action that was the Cloverton prison riot, gets underway. With two inmates left blinded in the attack and two more hospitalised and left in life-threatening condition, it's clear that Vokey is dangerous and, worse still, no one knows where he's hiding.
It's a situation that's made worse by the fact Vokey has attracted a band of followers and two women – Lara and Ruth – in particular. Two women who have no connection other than they both send Vokey letters sharing their personal details and secrets, and, as time goes on and Vokey can't be tracked down, Marnie begins to fear one of those women may have found him, and may be about to pay the price.
"Was it possible Vokey's hold over her had at first felt safe? Sitting here in her grey stone prison, writing to him in his. Held captive in the photos she sent him, ageless and unchanging, a form of death."
With Come and Find Me, the title is very much a good indication of what you get: a police procedural drama with a hidden criminal at its centre, and near 400-pages of teasing out his hiding place, with plenty of red herrings and misdirections along the way. In approaching the central mystery from several different viewpoints throughout, Hilary offers readers more of the information with less of the connections, making for a detailed and in depth puzzle you need to solve.
And, for the most part, it's a joy to sit down and solve too. Five books in and Marnie's narrative voice is engaging, confident and strong enough to stand as a solo story. Even with four books of backstory out there that's only touched upon here, Hilary gives just enough information to sketch in the details without feeling like going back to read the books that came before wouldn't be worth the effort.
But above all else, this is a crime novel, and a police procedural at that, and the fact that Hilary embraces that in all of its glory will either sell this novel to you, or make it a bit too dense to sit back and enjoy. The genre that does so well on TV becomes a chore to read at times as the investigation team discuss evidence, motives and suspects with all the practicality that you'd want from a police force, turning highly tense, action-packed, suspenseful scenes into a briefing room with a flick of the page.
There's no denying Hilary can tell a story; her scenes are all vividly realised, her mystery is intriguing and doesn't always go down the expected path and her characters are all complete, flawed human beings – and it's easy to see why Marnie is the grounding force tying all the threads of the plot together, too. But as clever as the story is, and as interesting as the premise is, the novel itself can be too heavy-going at times, making for a stop-start kind of narrative that struggles to really keep you within the world of the book throughout.
Come and Find Me is not a book to fill a quiet evening with a bit of light reading, it's true. But for more of a psychological drama that's heavy on the police work and offers up a few deliciously dark twists, you can't go wrong here.
★★★
Come and Find Me was published by Headline on 22 March 2018