Book Review: Chloe Snow's Diary – Confessions of a High School Disaster by Emma Chastain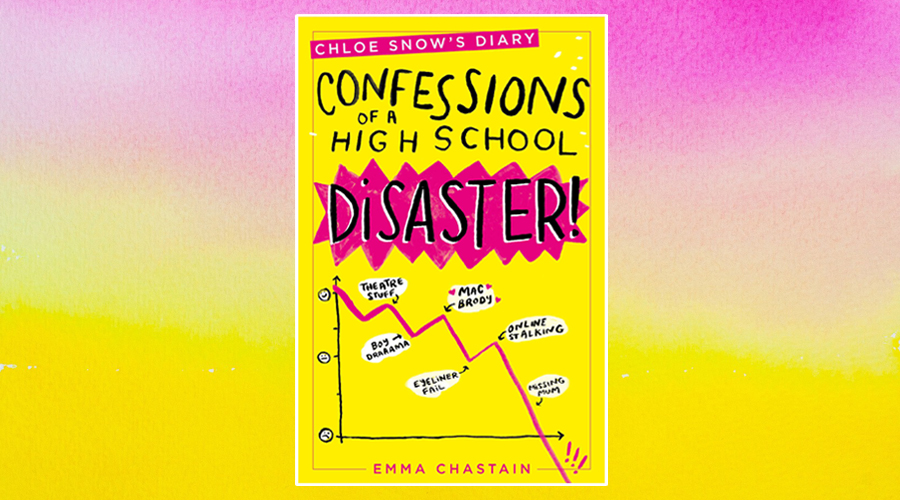 Emma Chastain's hilarious and brutally honest new novel, Chloe Snow's Diary: Confessions of a High School Disaster, might be aimed at the younger teen generation but that's not to say adults won't love it too. Like Louise Rennison's Confessions of Georgia Nicolson series, this book is a cringy delight from start to finish, the type of novel you read with one hand slapped across your forehead because it's so relatable to anyone who knows what it's like to be a teenage girl.
The titular Chloe Snow is a fourteen-year-old just about to start ninth grade. Her hormones are raging, she's worried about fitting in and to top if off, her mum has announced that she's going to Mexico for a few months to work on her novel (code for leaving her husband). Reeling from being abandoned with her socially awkward dad, Chloe embraces the typical American high-school life with gusto. She auditions for the a cappella group, forces herself to make new friends and attempts to flirt with the older boys.
Chloe has her priorities firmly in check and number one on the list is having her first kiss before New Year's Day. Like her British equivalent Georgia Nicolson, all Chloe can think of is boys, sex, boys, sex, boys, even though she's nowhere near ready for any kind of sexual relations. Her initial encounters with the 'cool' boys are as awkward as you'd expect, but she does catch the attention of popular jock Mac Brody, who Chloe falls in love with instantly despite the fact he already has a beautiful girlfriend with legs that go on for days.
When she doesn't get into the a capella group, Chloe auditions for the school musical with her new BFF Tristan and wins the role of Maria in The Sound of Music, much to the annoyance of the senior girls. Between rehearsals, pining over boys, social media stalking, reading, getting into arguments with her oldest friend and worrying about her parent's marriage, Chloe gets her first taste of stardom and realises that being the girl everyone's talking about isn't always a good thing.
"Oh, to a be a grown-up and walk around feeling blank and bland all day!"
Chloe Snow's Diary is the most fun you'll have reading a book all year. Chastain captures how simultaneously wonderful and awful it is to be young, impressionable and have all these feelings you don't know what to do with. Chloe treats minor dramas like epic Greek tragedies; everything is a disaster or the worst thing in the world. Through 365 diary entries – one for each day of Chloe's eventful year – we live all of her ups and downs; the school struggles, the friendship clashes, the romantic dramas and the family anxieties.
Whilst much of the action takes place at school, as Chloe navigates the usual teen problems, the heart of the story comes from her conflicting feelings towards her mum and dad. Any child who's experienced divorce in their family will understand that sides get taken, and they're not necessarily the right ones. The fact that the story is so firmly rooted in the modern age, with smartphones, iPads and social media at the centre of every teenager's life, makes everything feel so immediate and important. Chloe wastes whole hours fretting over twitter or Facebook or waiting for people to message her back, and it's toxic to her happiness.
Like Bridget Jones for teenagers, Chloe Snow is a brilliantly written character whose lively diary entries are funny, tragic and heart-warming. Chastain's writing is relevant and filled with hyped-up, youthful emotion, something that's easy for teens, young adults and fully-grown adults to enjoy. A mash-up of Mean Girls, High School Musical and MTV's Awkward, Chloe Snow's Diary is one of the best teen reads of 2017.
★★★★★
Chloe Snow's Diary: Confessions of a High School Disaster was published by Simon & Schuster on 20 April 2017