Book Review: At Night All Blood Is Black by David Diop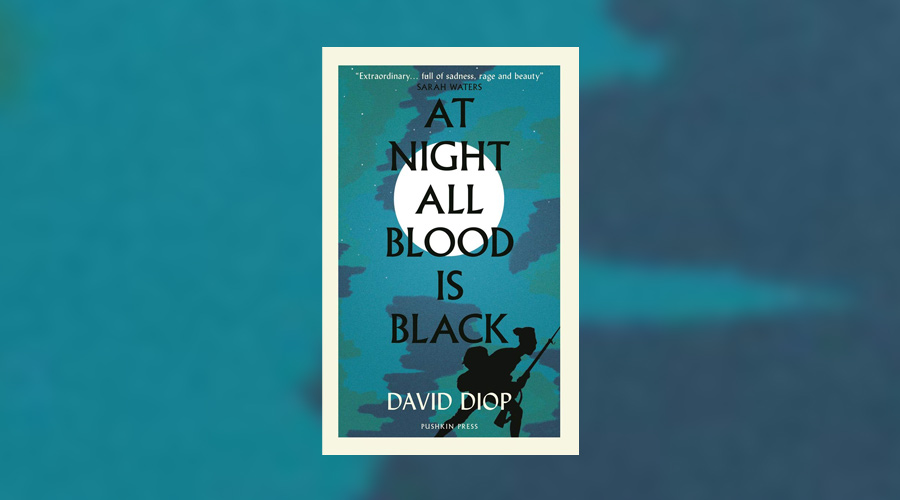 In recent years there has been a slew of anniversaries and film adaptions focussing on the First World War, and if your appetite for wartime stories is as small as mine, you would not instinctually go to pick another one up when browsing through the slew of new novels being published this month. In not doing so however, you would run the risk of missing out on this English language debut novel from French Senegalese writer David Diop, translated by the preeminent team at Pushkin Press. At Night All Blood is Black has already seen widespread success in its home country, picking up the Prix Goncourt des Lyceens, an award notable for being voted on by French high school students.
It's understandable why the book may resonate with younger readers, which is not to say that the themes at hand are in any way simplified, or the war's horrific nature shied away from. The opposite is in fact true, and it is refreshing to have a First World War story that focuses on a Senegalese soldier and the experience of the colonial regiments that are so often ignored or erased. There is also no hint of the typical mawkish tone of so many war films and books that can be off-putting, particularly in regard to the First World War and its horrifically high death toll. Younger generations learning this history for the first time may well find it hard to see the heroism in a war with no clear cause, where the cost of life was so monolithic.
In this way the story separates itself from war stories past in the same way the central character, Alfa, finds himself progressively distant and alone throughout the novel. As the novel opens, he is struggling after the death of his close friend, and fellow Senegalese soldier Mademba. His grief and guilt at not offering Mademba a quick death and relief from his agony manifests itself in crazed killing, whereupon Alfa disappears beyond enemy lines in the night and returns with dismembered hands of German soldiers. At first treated as an insanely brave hero, as the pile of bodiless hands grows, his fellow soldiers reject him and Alfa finds himself increasingly isolated.
The story is written in a relentless stream of consciousness, so that Alfa's attempts to deal with his guilt and trauma are laid fully bare and it is impossible not to empathise with him, although some actions in the latter half of the novel aim to truly strain that. What it also showcases fully is the deepest ironies of the war and the racism within the army, where Alfa begins to be seen as a savage for what he does after his friend's death, and yet there is no savagery seen in the European officers' orders to mow down thousands of men in a day. The other soldiers reject him as he begins to lose his sanity in the loss of his friend, yet at the same time seem to carry on after being ordered to kill their own friends who sought to defect. At one point, his French officer advises Alfa to take a break and, moving forward, to kill the enemy, not mutilate them – "the civilities of war forbid it." Despite his loosening grip on reality, Alfa does not miss the irony in this, or the fact his officer is the true "devourer of souls."
In the final act, there are memories of his life in Senegal and of future promise found in young love and familial folklore, an escape for both Alfa and the reader from the terror of what he has become. This is a powerful, truthful look at the meaningless horror of war from the perspective of those whose experience as soldiers from colonial countries has been so undervalued and unexplored.
★★★★
At Night All Blood Is Black was published by Pushkin Press on 5 November 2020