Theatre Review: 15 Heroines – The War, Jermyn Street Theatre online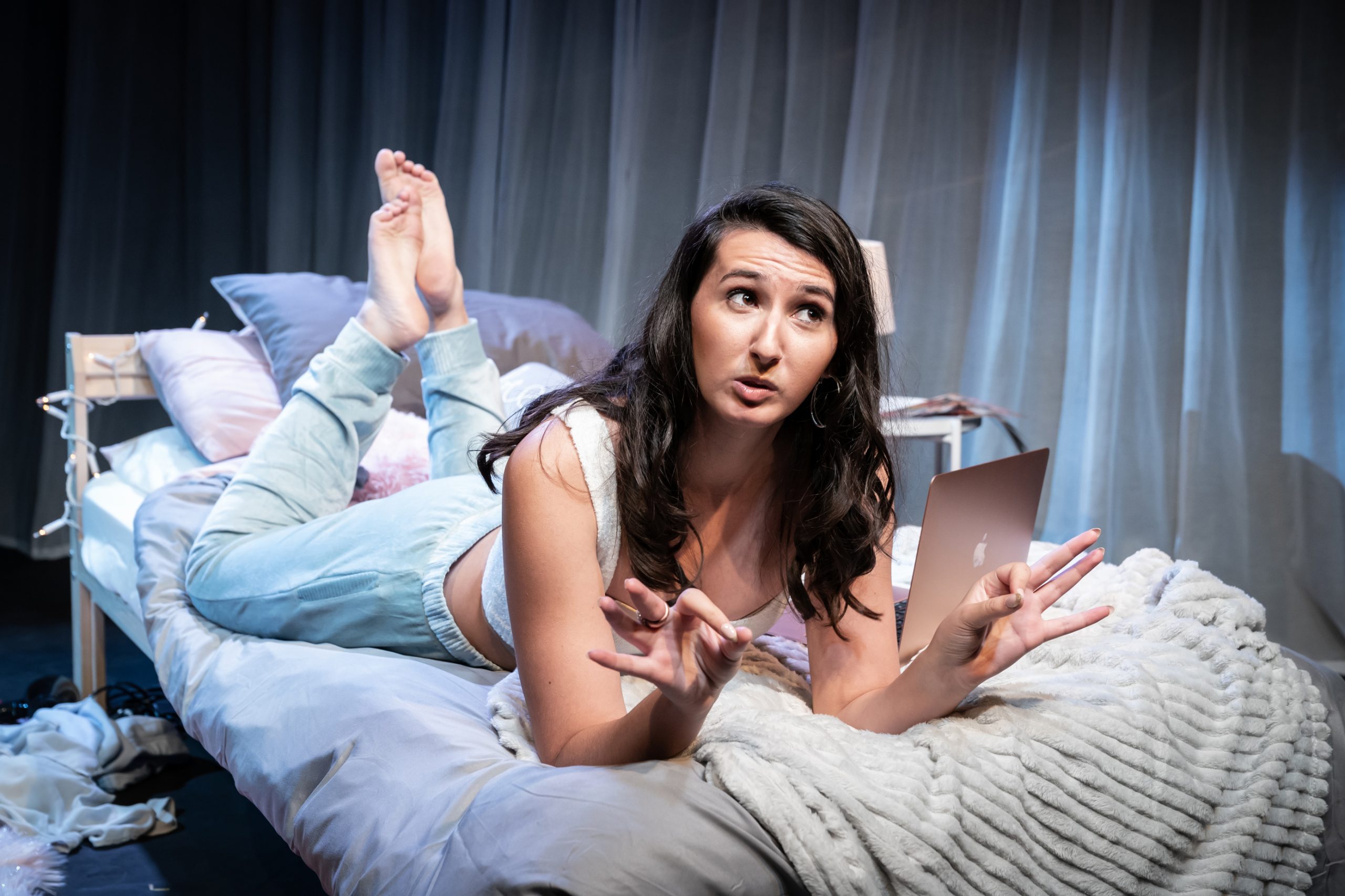 Jermyn Street Theatre's deep dive into Greek myths offers five filmed monologues reacting to Ovid's Heriodes with The War. The focus is the epic Greek-Trojan war starring Paris, Helen et al but these are stories from women left at home to worry. Moving between the sides means there are some references to victory and defeat but mostly these characters exist in an interesting grey area.
First port of call is the bedroom of princess Laodamia in Our Own Private Love Island. She is recording a video message for her husband Protesilaus who is aboard the huge Greek fleet heading for Troy. The rapid fire and rhythmic delivery of Sophia Eleni fits perfectly with the chaos and excitement of a teenager discussing the start of the conflict. It's an intricate script by Charlotte Jones with stuff about social media trolls and useful gossipy details about who is fighting and why. A glamorous woman with a humorous edge and psychic powers is a set up that doesn't let up.
Oenone is in a more sombre mood as her former lover Paris returns to collect his things. In The Cost of Red Wine she reflects on their relationship and gradually moves through the emotional stages of a breakup. She can be petty and confrontational but mostly it's with heavy sadness that Ann Ogbomo performs the heartfelt words of Lettie Precious. Confronting her paramour about race and his inconstancy, she is another victim of the wider narrative and convincingly conveys the weight of romantic pain.
More experienced in the ways of the world is Briseis, slowly changing out of her bridal wear in Perfect Myth Allegory. She reflects on a life where prettiness has been a prize, dressing up to marry an older man whose death allowed her to get an education before being promised to Achilles. Now she has the wherewithal to address micro aggressions, revel in her sexuality and consider a different future. It's a charming performance from Jemima Rooper, full of biting pleasure as she flips the narrative. Abi Zakarian has written a story full of twists and fascinating reflections on the life of a woman.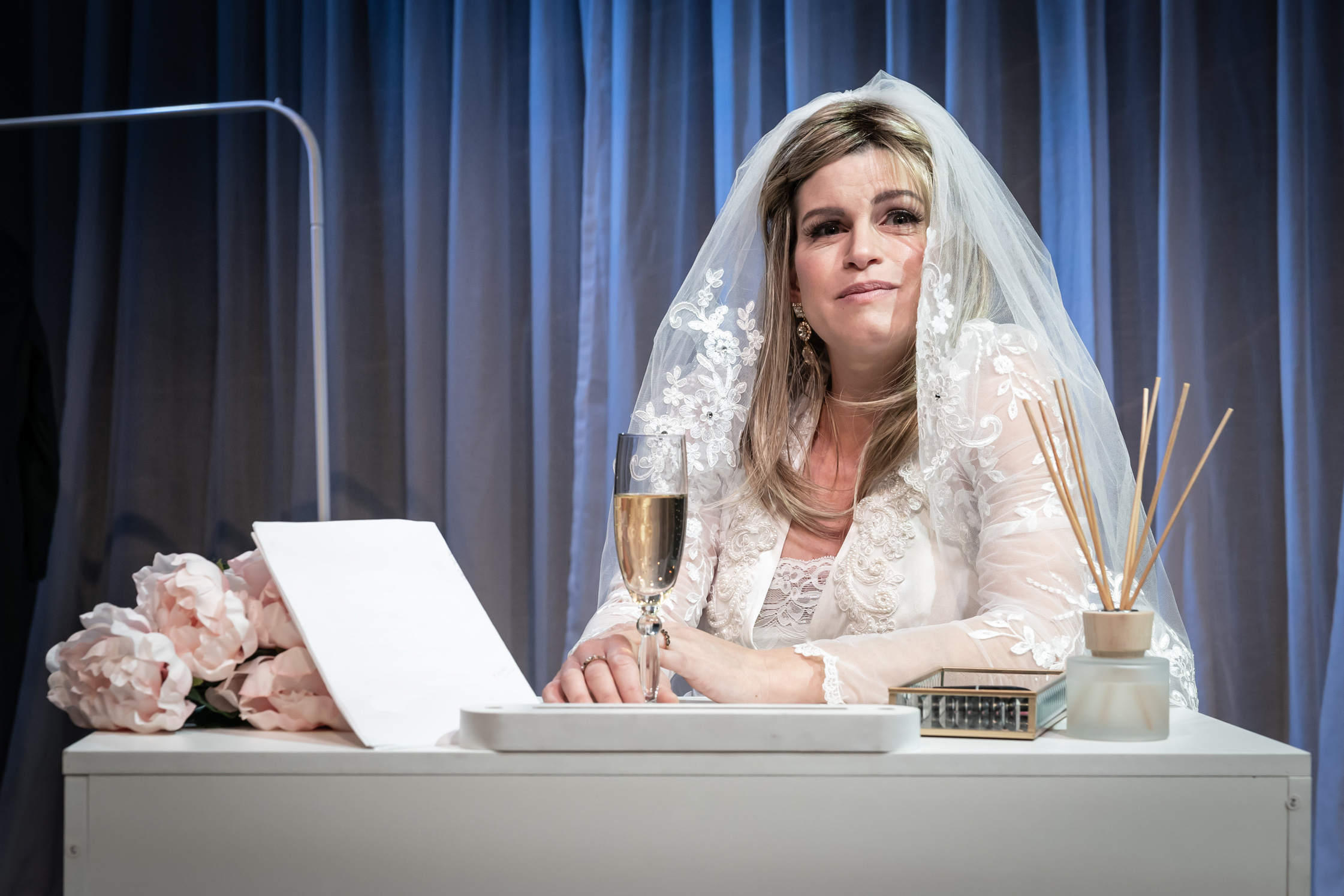 Now the war is over and we join Hermione as she reflects on a messed up childhood, the decade that disappeared while her father Menelaus chased down her mother Helen. There's a predictably unpleasant tug of war for her affections and the police are questioning her about the death of Clytemnestra. Will You? covers a complicated story, filling in more details about the war. Rebekah Murrell brings a feisty zeal to a stark interview room, her punky aesthetic fits nicely with the modern reflections of Sabrina Mahfouz on Sparta as the birthplace of toxic masculinity and fundamental problem of Zeus. As a revolutionary member of the aristocracy, she confidently challenges long held beliefs about Gods and royals.
Finally the story arrives home with sensible Penelope in Watching the Grass Grow. Gemma Whelan is the sweary and melancholic wife of Ulysses, trying to make dresses over Zoom. She waits for the hero of the hour to return home but it's a week since the war finished and there's not even a text message to confirm he's en route. It's a gentle performance brimming with anxiety, blaming the boss for an extended work jolly and reimagining war as a networking opportunity. Hannah Khalil maintains a smart sense of modern life balanced with the fundamentals of stories from 3,000 years ago.
Another set of five fabulous women looking in at the same traumatic event, allowing the narrative of war to develop and shifting their reflections between personal and political. The staging and text introductions are simple and clear, giving performers space to explore unexpected emotions. Keeping things fresh is a key part of the performance and the directors Adjoa Andoh, Tom Littler and Cat Robey weave through these violent stories with a confident touch.
★★★★★