Book Review: An Astronomer's Tale – A Bricklayer's Guide to the Galaxy by Gary Fildes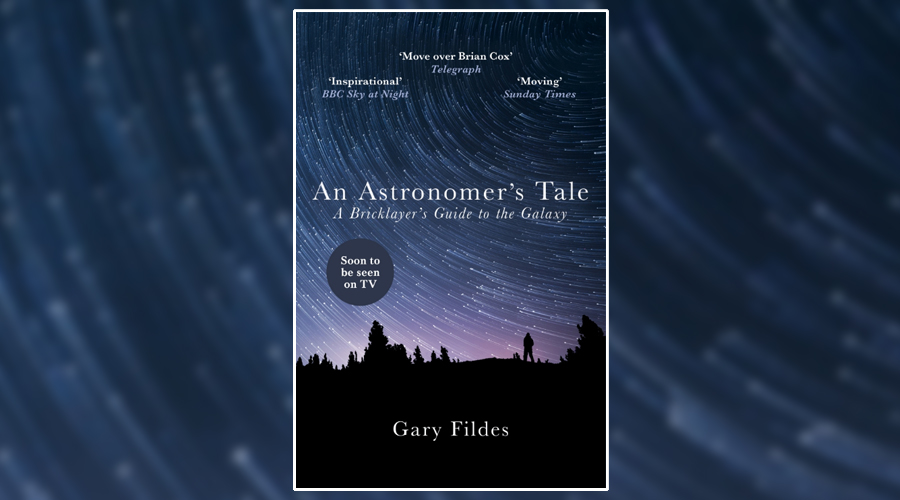 'Space Arcs, Light Eclipses, Time Bends' are the specially composed words of a circular poem on the blades of a wind turbine which helps power the computers, solar panels and generator at the Kielder Observatory, Northumberland, situated within Europe's largest protected dark sky park. The founder and lead astronomer at the Observatory is Gary Fildes, whose new book, An Astronomer's Tale: A Bricklayer's Guide to the Galaxy, is part memoir, part nature writing and part seasonal guide to the night sky.
Like many people, I've long harboured a wish to not only gaze through the lens of a telescope at the sky, but to understand more about astrology, space and beyond. However, I felt that the scientific bit was beyond me and until now, hadn't read any astronomy literature which embraced the night skies in the same enthusiastic, easy to assimilate ways that An Astronomer's Tale does.
Gary was born in Sunderland a had a secure childhood with parents who encouraged his love of stargazing. Despite having to learn a trade like most of his peers and become a bricklayer to earn a living, his passion for astronomy was always there, quietly smouldering in the background, which he nurtured by reading and studying in his spare time, and stargazing at night.
His journey really progresses when he meets a like-minded neighbour, who coincidentally shares a similar fascination with stargazing. When Gary discovers that his neighbour possesses an enviable 'dream' telescope, an alliance is born between the two. He joins a local group called SAS (Sunderland Astronomer's Society) and, amongst their many activities, the group of keen enthusiasts find the perfect site to build their first star camp, the Cygnus Observatory in Tyne and Wear, which was made possible with bricks donated from Gary's work.
Gary's dedication and enthusiasm towards his next project – building Kielder Observatory – are living proof that believing in yourself and working with something you're passionate about can pay off. From finding the perfect site to the correct architect for this unique building, he and a committed team achieved their aims with Kielder, which offers some of the UK's most spectacular views of stars, planets and galaxies. It's also now one of the top ten stargazing sites in the world.
Cleverly composed into logical chapters, alternated with autobiographical narrative, this book offers seasonal bi-monthly stargazing guides to the constellations and includes star charts. The night sky chapters can be read in or out of sequence, and each one spans four constellations which can be witnessed in the northern hemisphere.
There's also an annotated glossary at the back of the book which is essential reading for newcomers, and I found this helpful in understanding concepts which I'd previously found went straight over my head. I can now confidently aim my clenched fist skywards and judge distances by degrees using my hand, without needing hi-tech gizmos.
In 2012 Gary was given an honorary master's degree from Durham University in recognition of his services to astronomy. His mission in 'a golden age for humanity to discover the boundless possibilities of our universe' is to inspire people from all walks of life and help excite and enthuse the next generation of scientists.
This book is testament to one man's dedication to inspire others to discover and embrace our awe-inspiring universe. I've found myself challenging my interpretation of what is imaginable, of what we are a part of, and reading this has helped me to visualise the bigger picture of the universe we exist in. My next wish is to visit Kielder and witness all the wonders within its walls, and, if I'm lucky, I might even see an aurora.
★★★★
An Astronomer's Tale: A Bricklayer's Guide to the Galaxy was published by Arrow on 5 April 2017