Book Review: All About The Hype by Paige Toon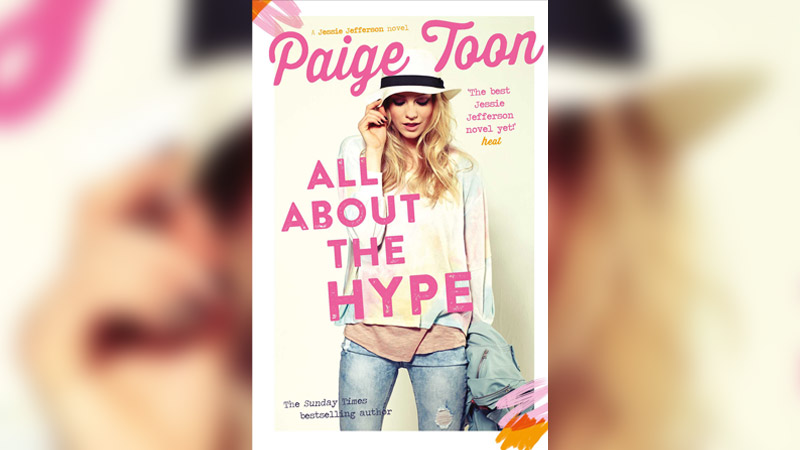 When it comes to Jessie Jefferson, All About the Hype is right; being the newly discovered daughter of a rockstar will do that, after all – cause lots and lots of hype. Being the third and final book in a series will also do that – especially one that technically also comes with two other, adult novels as backstory – so it's probably understandable that I came to this novel with a lot of expectations. And then probably also to-be-expected that I felt a little let down by it when I was done.
Paige Toon is brilliant at crafting enjoyable stories that are full of substance with her adult novels, but it feels like she's let herself down a bit here by believing that she had to change that writing style to suit a teen audience. Compared to a lot of the other, brilliant YA novels out there, All About The Hype just feels a little bit too superficial. Of course, between the glitz and the glamour of living in Los Angeles with a newfound, incredibly famous new father, going to school with Hollywood starlets and jamming with her own up-and-coming indie band, Jessie's life in this novel is pure escapism in its best form – but it also kind of loses its grip on reality in doing so.
It started off positively, opening on Jessie's 16th birthday (and also the 1st anniversary of her mother's death) with a character that readers empathise with as she struggles to reconcile her old self with her whirlwind new life in LA, but when Jessie inevitably loses herself to the crazy California vibes, her character becomes considerably less tolerable. And with Jessie now coming off as more selfish and self-entitled, the rest of the novel unfolds as a series of her making one bad decision after another – often at the expense (both figurative and literal) of her new family.
That's not to say that this novel doesn't tackle a lot of real life issues, though – because it does, and in great detail. And when it comes to teen issues, All About the Hype definitely delivers. Jessie's grief over her mum's death is never shied away from and remains in constant discussion, even while she also goes through the struggles of starting a new school, making new friends while trying to maintain relationships with her old school mates, first love, first sexual experiences and the if-it-isnt-there-it-isnt-YA love triangle. And, for the most part, a lot of these are handled extremely well – even if we can't all assuage the first-day-of-school nerves by throwing a massive party before you start there.
It was a bit disappointing to find the characters fall flat too, especially when Johnny and Meg, Jessie's dad and his wife, have been fleshed out so well in Toon's adult novels Johnny Be Good and Baby Be Mine. There were a couple of times, for example, when it seemed like an interesting new conflict would emerge in which Jessie's bandmates Brandon and Miles only want her in the band for the publicity that comes with being Johnny Jefferson's daughter, so it was a bit deflating when ideas like that are never really explored, with Toon instead preferring to focus on petty teen dramas, young Hollywood events and unnecessary revenge subplots.
But, for all the problems I have with this novel, I am very aware that I'd probably feel differently if I had read the first two in the series beforehand. Toon is very good at telling you everything you need to know to get caught up in the earliest pages of each of her novels, and the journey Jessie has gone through to get to where she is in All About the Hype has undoubtedly rubbed off on her behaviour throughout the novel – and maybe if I'd experienced all of that first hand in the first two novels I'd understand her actions (and the rest of the characters) a little more now. But as it is, I didn't, meaning Jessie and Jack's relationship felt a little forced (not to mention completely insecure, and underdeveloped), and the party girl wild act didn't sit with the kind of character I was expecting from those promising early chapters.
On its own, All About the Hype is an enjoyable enough story, making it the perfect antidote to a breezy autumn's day, and there's plenty going on to make it an easy, gripping read – just don't expect too much from it.
★★★