Book Review: A Thing Called Love by Nell Carter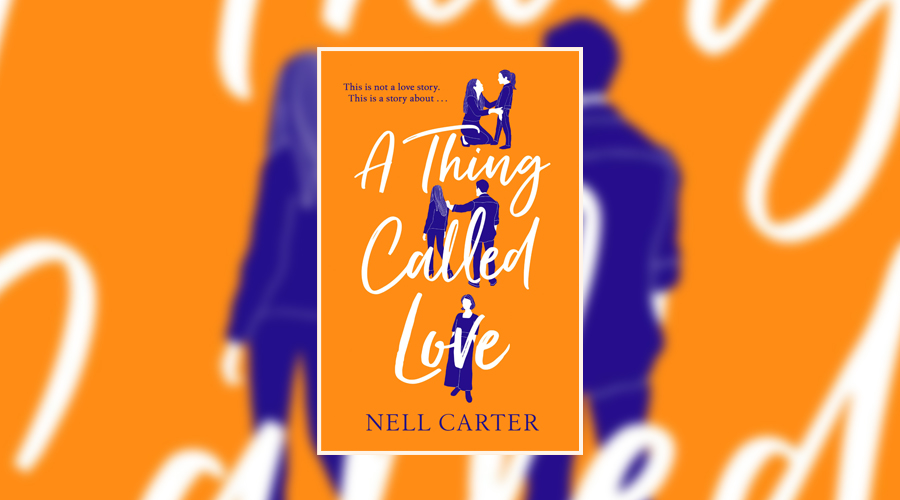 "This is not a love story" the front cover of this Nell Carter novel warns readers, even before they pick it up and dive right in. Instead, as the title tells us, it's a story about A Thing Called Love, and by the end of this novel it's very clear that the title couldn't be more apt. This is a book that explores every version of love in all of its confusing, overwhelming, all-consuming forms, for better and for worse. Between young love, romantic love, old love, grieving love, toxic love, unconditional love and so many more, A Thing Called Love isn't always the most easy-going of stories, but there's no faulting its honesty and what brings this book together most of all is its underlying, unwavering and ever-growing sense of hopefulness and the power of second chances, making this a read you're unlikely to forget in a hurry.
Jack and Clare have both been left battered and bruised by life – emotionally, physically and figuratively – but one day, each finding themselves at a crossroads, they decide to make a change. As Jack is left taking stock of his life so far ahead of his 50th birthday, and Clare sets out to build a new life for herself and her daughter Grace, both soon realise that deciding to change isn't just a one-time thing, but rather a choice that they have to continue to make over and over again.
But when fate, chance, luck – or whatever you want to call it – places Jack and Clare in each others' paths, they are also given the opportunity to help support each other, as well as themselves. With Jack on the verge of leaving for a potentially life-changing trip abroad and Clare determined to put her past relationships behind her, both Jack and Clare are left questioning whether they will be strong enough to continue making the choices that need to be made and brave enough to embrace the new opportunities they're making for themselves, and if they will ever fully understand all the nuances of a little thing called love.
"Clare found her own hands joining together as if après clap or in prayer and felt herself uplifted, removed from the previous twenty-four hours. It was amazing. It was totally exciting and it was something that she was making work."
The first thing to establish in this review is that A Thing Called Love is by no means a fluffy novel; while there is love and lust and friendship and all of the feel-good elements we love to read about, there is a lot of pain, conflict and heartbreak in there too. In this novel, Carter has chosen to tackle a number of heart wrenching topics head-on, and she refuses to shy away from the messy grey areas that life sometimes places us in. For Clare, there's the struggle of trying to break away from the abusive husband that has been controlling her too long, while also having to keep him in her life for the sake of her daughter's relationship with her father. At the same time, Jack is still trying to learn how to live with the grief and guilt that he's held onto since the tragic event that upended his world completely nearly 30 years earlier.
It's clear throughout the novel that there are no easy choices, no decisions that are entirely right or wholly wrong, and Jack and Clare both find themselves making and reflecting on their many mistakes just as much as they revel in the excitement and joy of making decisions that give them new clarity and affirm that the changes they're making in their lives are for the best. And while this doesn't always make for easy reading, it does mean that Jack and Clare are both wonderfully well-written and well-rounded characters – and, as such, they're both instantly likeable too, meaning theirs is a story that you get invested in, and quickly.
More heartening, too, is the fact that Jack and Clare's stories are largely independent of one another. While their narratives and plot lines are inextricably entwined and a friendship does develop between the pair, ultimately both Jack and Clare are given their own stories. In their own ways, each of these two lead characters is given the chance to move forward and champion themselves and their own dreams, wants and needs without overly relying on anyone else, allowing them to go on very personal journeys as they address complicated histories, guilt, grief and so many more things that have been a huge part of their lives for so long.
A Thing Called Love is a heartwarming and optimistic story, but it is one that is let down a bit in its telling. The alternating first person (for Jack) and third person (for Clare) narrative is jarring, while the addition of extra emails, WhatsApp messages and voice note transcripts are an interesting idea to provide a bit more of an insight into some characters – mainly Clare's daughter Grace – but is used too fleetingly to really make an impact, and you're left with the feeling that either more should have been done to make the most of this, or it shouldn't have been included at all.
But love is complicated, and life is messy, and these are both things that Nell Carter considers and explores in such heart-rending detail in this novel, giving due diligence to everything from romance and loss to relationships, make-ups and break-ups, families, friendships and everything in between. A Thing Called Love is all of this and more, resulting in a sweeping story of life and love in all of its multitudes.
★★★
A Thing Called Love is published by Welbeck Publishing on 7 January 2021